News
»
Go to news main
Meet Dr. Sachin Seth, associate dean of academic affairs
Posted by
Jane Doucet
on August 21, 2023 in
News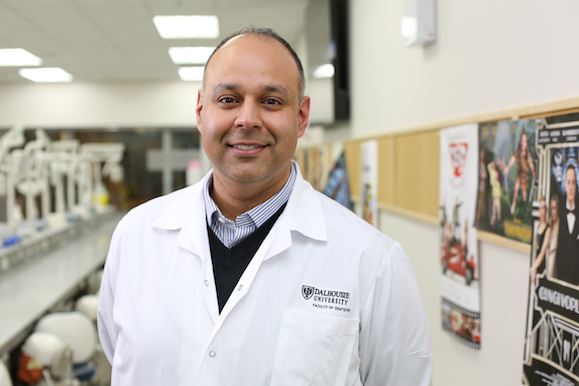 When Sachin Seth (BSc '96, DDS'00) was 12, he needed braces – and he became fascinated by the work of his orthodontist, Dr. Lee Erickson (DDS '81). "It was all the neat tools and instruments he was using and, of course, seeing my teeth go from not the greatest to really great," he says. "My time with Dr. Erickson really piqued my interest in dentistry and is a large part of why I became a dentist."

Seth was born and raised in Halifax by parents who had emigrated from India in the late 1960s. After earning his DDS degree, he chose to move to New Haven, Conn., to work as a dentist, which required some travel across the state. "I had lived in Halifax my whole life, and I wanted to go somewhere new and have an adventure," he says. "But after two years, I realized I missed home."

In 2002, Seth returned to Halifax, opened a dental practice, and started teaching in the Faculty of Dentistry on a part-time basis. Five years later, his enthusiasm for teaching led him to become a full-time faculty member. "I was at a stage in my career where I knew I had to make a tough decision: devote my life to private practice or devote it to the school? I have absolutely zero regrets. Teaching, for me, is a labour of love. I wake up each day looking forward to the day ahead…well most days, that is!"

A passion for teaching
When he started teaching, Seth knew he wanted one day to become associate dean of academic affairs. With admirable foresight, he earned a Master of Education from Acadia University in 2011 to help prepare himself for the future demands of this position. He was aware that in the associate dean's role, he could share his enthusiasm and passion for teaching with his students.

Making the switch from working full-time in private practice to teaching in the Faculty of Dentistry also appealed for other reasons. "When I was a solo practitioner, I missed working on a team," says Seth. "I felt like I was on an island all by myself. I love the people I work with here – they challenge me to see things from different perspectives – and make me feel like I am part of a family."

In June 2021, Seth became acting associate dean of academic affairs, he then assumed the role in full in February 2022. He aims to ensure that faculty members are upholding the Faculty of Dentistry's curriculum goals and that students are successful in the program, graduating as competent dentists.

Seth works closely with Dr. Ferne Kraglund, associate dean of student affairs, to provide student support. "Our students are all very smart individuals, but they're human, and academic success doesn't occur in isolation from personal wellness," he says. "I'm so fortunate to work in a close-knit faculty – we're a small team, and that's to the students' benefit. Being able to help a student who is struggling to progress to a higher level is so rewarding."

The art and science of dentistry and baking
Along with the rewards of teaching in an institute of higher learning come challenges, of course. "Sometimes rules and regulations impede our ability to move things forward quickly, but we know they're in place for good reason," says Seth. "We have to learn to be patient when we're following protocols."

Over the next decade or so, Seth is looking forward to continuing to work on diversifying program offerings and delivering courses in a thoughtful manner. Although retirement isn't currently marked anywhere on his calendar, throughout his career, he has always aimed for a work-life balance. That includes carving out time for a life-long hobby that made its way onto small screens across Canada five years ago.

In 2018, the Faculty of Dentistry was rooting for Seth as he competed in the second season of CBC's The Great Canadian Baking Show, working his way through the competition to the final episode, where he was named a runner-up. "I was a creative child who liked art and science, and to tinker with things," he says. "I like to think of dentistry as the perfect blend of art and science. Baking is the same for me. I've been baking since my early teens – it's my creative outlet."

Getting on the show was a bucket-list moment. At the time, Seth told the CBC, "I love eating and have a big sweet tooth! Food is a big part of any gathering we have in my family. Growing up, I was always around a kitchen. It was just a matter of time before I started making some things of my own."

For now, Seth plans to focus on his work in the Faculty of Dentistry, with baking as a hobby on the side. "I love my job, and I love Dalhousie," he says. "I believe we turn out some of the best dental clinicians in the country. I want to see the Faculty of Dentistry stay at the top of dental education in Canada, and to help elevate it even more."


Q&A

What do you do in your own time for fun?
Fairly obvious, but baking! I always have a fun baking project for a family member's birthday cake, or I try something new that I've seen on TV. The one thing I've learned is there is always someone willing to try something I have baked.

What would you do for work if you had to choose an alternative career?
Tough one…you'd think a pastry chef or café owner, but I think I would do something in computer science. Currently, software development is such an essential part of life. I grew up in a time when computers were just becoming mainstream, and I've seen the progression they have made into being integrated into everyday life. I am a problem solver by nature and think developing software to tackle a problem would be fun.

Do you have a hero or role model you look up to?
My grandmother was a role model. She was so funny, caring, and loving. She was also such a smart and bright person, without any formal education. She was the foundation of our family – along with her children, she immigrated to Canada from India with little to no English and made a successful life for herself and the future generations to come.

What would you take to a desert island?
My iPad…hours of entertainment!