News
»
Go to news main
Meet Dr. Ferne Kraglund, associate dean of student affairs
Posted by
Jane Doucet
on August 21, 2023 in
News

Dr. Ferne Kraglund (Bruce Bottomley photos)
In junior high and high school, Dr. Ferne Kraglund (DDS'04) volunteered on the geriatric floors at Saint John Regional Hospital in New Brunswick. There, she enjoyed chatting with patients who had dementia. That might seem like an unusual way for some teenagers to spend their spare time, but it wasn't odd for Kraglund. "I grew up around older individuals, and I liked talking to them," she says. "I thought I'd become a geriatrician specializing in dementia."

Kraglund's mother was a nurse, and her father was a teacher. Some of her friends' dads were physicians, but she eventually ruled out a career in medicine when she noticed they weren't home very much. Knowing she wanted to have a family someday, she considered optometry and dentistry because of their regular hours – and chose the latter, partly because she had a good rapport with her own dentist.

After completing a BSc with a double major in biology and psychology from the University of New Brunswick Saint John, Kraglund sent away for applications to the dental schools at Dalhousie and McGill. "I ripped up the one for McGill and just applied to Dal," she says. "I had never been to either of them, but I knew I wanted to be close to home."

From practice to teaching
After graduating in 2004, Kraglund returned to Saint John and practised there for two years. While she enjoyed treating patients, she discovered she didn't care for the business side of private practice. So, she reached out to Dal to ask about teaching. She was encouraged to try it part-time, which she did for a year.

It was a gruelling schedule. Kraglund, who was 28 at the time, would work in Saint John Mondays through Wednesdays, then hop in the car late on Wednesday nights and drive to Halifax, where she slept on her sister's couch. On Thursdays and Fridays, she taught in the Faculty of Dentistry from 8 a.m. to 5 p.m. During those 12 months, she realized she enjoyed teaching more than practice.

When it was brought to her attention that there were no public health dentists on faculty, Kraglund was asked if she'd like to return to school. There was only one Canadian university offering a dental public health master's degree, at the University of Toronto. "My husband and I had bought a house in Saint John the year before, so it wasn't good timing in that way, but I knew the program was a specialty made for me," she says.

In 2007, Kraglund moved to Toronto, leaving her husband and dog missing her back home. As lonely as she was for them, too, she was determined to complete the two-year program. In July 2009, degree in hand, she moved to Halifax (with her husband and dog!) to teach full-time. "I loved it right away because it was such a good fit," she says. From then until 2019, she also worked one private practice day at the Faculty Practice Clinic.

At the clinic, Kraglund experienced a full-circle moment from her days as a hospital volunteer. For more than a decade, two of her regular patients were an older married couple. Over time, she noticed a cognitive deterioration in the husband. "His wife talked to me about what was happening to him, and it was like therapy for her," she says. "It felt like my volunteer work, and my psychology studies, had prepared me to have those kinds of conversations with patients."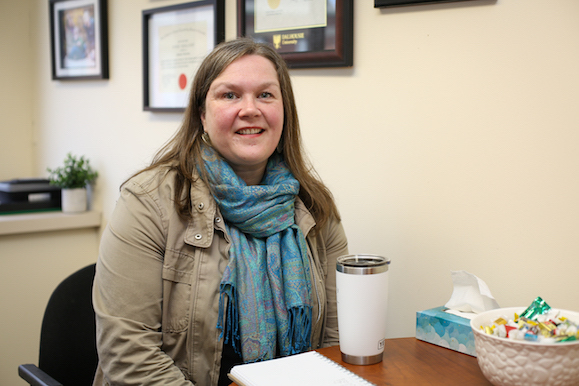 Candy and Kleenex
Kraglund's teaching has encompassed all four years of the DDS curriculum and clinical instruction in the School of Dental Hygiene. In 2014, she was appointed assistant dean of student affairs, and in 2019 her title changed to associate dean. "It's a 24/7 job because I'm here for our students during the good, the bad, and the ugly," she says. "I tell them I'm like their mom here – I have candy and Kleenex on my desk."

Students are advocating for themselves now more than ever, says Kraglund, especially around mental health and wellness, which she supports. "We want them to enjoy their time in this community, and to be involved partners," she says. "You have to accommodate when it's reasonable, but also not be afraid to say no with good reason."

The students' welfare is always at the forefront for all faculty. "The students bring us into the building, and they're inquisitive and fun to work with," says Kraglund. "We spend a lot of time with them, and it's sad to say goodbye when they graduate. But I'm also super excited to welcome our new students each fall."

In 2021, Kraglund received the Rosemary Gill Award, which demonstrates a high level of commitment to students. Today, she's reflective as she prepares to step away from her associate dean role in 2024. "I'd like to think I made headway in allowing the students to have a lot more say than I did when I was in their shoes, and having the staff and professors think about them in a different way," she says. "If we're all happy, it helps us show up and do our best. It's an honour and a pleasure to work with them from recruitment right through to when they become alumni."

Q&A

What do you do in your own time for fun?
I love spending time with my husband and son. We love music, playing games, watching movies, and adventuring in local parks. Personally, I like to do puzzles, build Lego, cross-stitch, and hike.

What would you do for work if you had to choose an alternative career?
I would be a geriatrician specializing in dementia. They were the individuals I enjoyed the most when I volunteered as an adolescent.

Do you have a hero or role model you look up to?
I have too many to mention! There have been so many wonderful people who have had an impact on me, both personally and professionally. I try to take the qualities I admire the most about people I meet and apply them to my own life.

What would you take to a desert island?
Can I take a contestant from Alone?! That's probably cheating. I wouldn't want to subject my family to being on a desert island, so I'd want to have a dog for company…and a multi-tool and tarp!