News
»
Go to news main
Supporting diversity in oral health care
Posted by
Cheryl Bell
on February 15, 2023 in
News

l to r: Sam Soni, Nikhil Bansal, Hatimali Mithaiwala
Seven Doctor of Dental Surgery students from Dalhousie University were presented with QEII Foundation Diversity in Health Care bursaries at a celebration ceremony in October: Ebraheem Alhammadi, Mohammad Alhammadi, Nikhil Bansal, Mariam El-Aghil, Hatimali Mithaiwala, Nour Eldin Mohamed, and Sam (Sumit) Soni.

With their roots in Egypt, India, and Yemen – some of them arriving in Canada under difficult circumstances – the bursary recipients are happy for the financial support. But what really matters to them is the recognition the awards represent, not only for the role they play, but also that diversity in health care is important.

The QEII Foundation has been funding Diversity in Health Care Bursaries since 2018 to support students from diverse backgrounds who are pursuing careers in health care. The aim is to build a health care system that meets the cultural needs of the people and communities it serves.

The challenge of starting over
Nikhil, Hatimali, and Sam landed in Canada from India where they had trained and practised as dentists. They are now in the final year of the Qualifying Program at Dalhousie for internationally trained dentists and will graduate this spring.

Nikhil is an endodontist from Pune who spent a year in Toronto before moving to Nova Scotia to study at Dalhousie. Aware of a shortage of doctors and dentists in rural India, Nikhil decided to become a dentist to help serve that community. "I felt that I should take some steps to improve oral health care in India."

Hatimali, a prosthodontist, arrived in Toronto from Mumbai in 2018, where he spent several months working in a Tim Hortons restaurant. "It was a grounding experience," he says, "and it is where I started learning about the diversity in Canada."

Sam immigrated to Nova Scotia in 2014. Initially discouraged by the process to practise dentistry here, Sam taught at NSCC, thinking he would change careers. But in 2019, the time felt right to return to his profession and he was accepted into the dentistry program.

Sam shares what he learned about the immigration process with other internationally trained health care workers by volunteering with Immigrant Services of Nova Scotia (ISANS) and making YouTube videos to explain the process of requalifying.  

He feels that health care workers can usually immigrate to Canada easily, but then face many hurdles to be allowed to practise. "We need diversity in healthcare," he says, "but it doesn't just happen. I would like to be able to help bring a more diverse population here because I've been on the journey of making it work."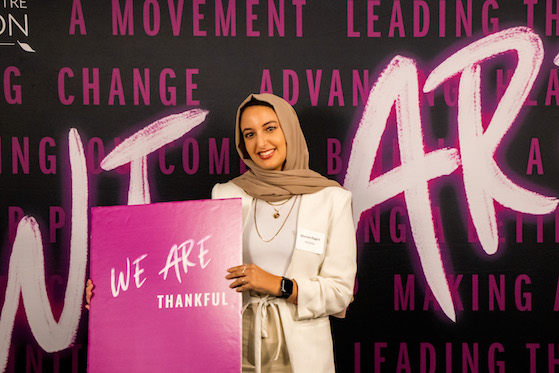 Mariam El-Aghil
Overcoming hardships
Nour Mohamed (DDS2) arrived in Halifax with his family 12 years ago from Egypt. He says the process of applying for the bursary, which involves writing short essays on three topics, made him reflect on where he came from and what he has now. "And to give yourself some credit for the things you've been through."

Going to the award ceremony, he says, was very "unifying". "You could see that the bursaries inspired people from different parts of the world and different backgrounds. Being celebrated showed us what we have in common."

Mariam El-Aghil (DDS3) and brothers Ebraheem (DDS3) and Mohammad (DDS2) Alhammadi are from Yemen, a country that has been wracked by civil war for nearly 10 years.

Mariam arrived in NS as a refugee in 2013 after finishing high school and became a refugee in 2016. She believes strongly that diversity in the health care system both the providers and the patients. "If you go to a dentist and you see that they can speak the same language as you do, or you share the same background," she says, "it makes you trust them more and build rapport with them."

Ebraheem and Mohammad were small boys when their family arrived in NS. Ebraheem says that receiving the bursary makes him feel recognized. "I feel like I'm almost a voice for diversity in health care so that people can look and say, 'Hey, that could be me.'"

Being part of the diversity
All seven bursary recipients regard the QEII Foundation Diversity in Health Care bursaries as a positive way of encouraging people from different backgrounds to pursue health care as a career.

The process of submitting the application and answering the questions about what they have done with their lives so far and why diversity in health care is important has made them think about what they have achieved – often despite hardships – and what they can continue to achieve.

"I think that putting those thoughts on paper helped me discover a lot more about myself and gave me extra motivation towards my goals," says Mohammad. He also says that seeing a bursary based on promoting diversity in the health care system was "refreshing" and "something you don't see very often".
 
Most of the recipients plan to remain in Nova Scotia or Atlantic Canada. They have plans and dreams to serve rural populations and advocate for new immigrants and underserved populations.

"We are part of the diversity here now," says Hatimali.

The QEII Foundation Diversity in Health Care bursaries are offered to students who identify as African Nova Scotian/Black, Indigenous, Racialized, Immigrant, 2SLGBTQIA+, or experiencing physical, cognitive, or learning limitations that affect the activities of daily living. For more information: www.QE2Foundation.ca/Diversity.