News
»
Go to news main
Ho ho ho! Patients receive a gift at the NECHC dental clinic
Posted by
Cheryl Bell
on December 23, 2021 in
News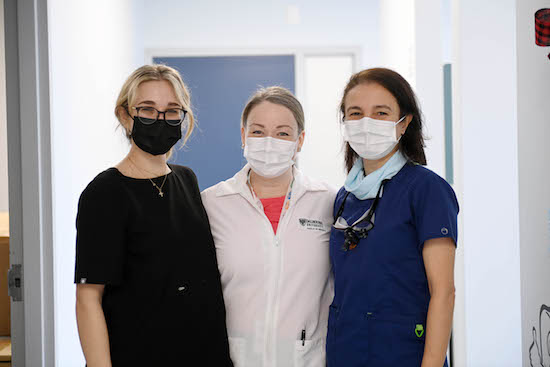 l to r: Mya Haidar, Francine Leach, and Dr. Nada Haidar organized the eight-day Dental Blitzen    Photos by Danny Abriel

The North End Community Health Centre dental clinic was the setting for a Dental Blitzen during the first two weeks of December. It was the first event of its kind, but given the enthusiasm of the 124 patients who benefited from this early Christmas gift and the many dentists and dental assistants who volunteered their time to do the work, it is unlikely to be the last.

Pandemic-related shutdowns had created a backlog of around 160 extractions and over 300 restorations at the clinic. In the first two weeks of December the dentistry and dental hygiene students are busily writing exams and the dental clinic is normally closed, so the timing was perfect to bring in a squad of experienced alumni to "blitz" the backlog.

The blitzen is the brainchild of Dr. Nada Haidar (DDS'97), her daughter Mya (a fourth-year science student at Dal and an aspiring dentist), who are both regular volunteers at the NECHC clinic, and Francine Leach, a faculty member in the School of Dental Hygiene and the NECHC oral health outreach coordinator.

It started off small, says Haidar, but it quickly grew to eight full days, 35 volunteers, and three chairs going morning and afternoon. By the end of the second week, $44,562 worth of oral health care had been provided.

Mya recruited and scheduled all the volunteers, Francine recruited sponsors, prepared the clinic, and scheduled patients, and the Faculty of Dentistry alerted its former public health students.

"I think people were just waiting for something like this at Christmas time," says Nada, explaining the great uptake from volunteers. "They know these patients need the care."

Drs. Ayman Awad (DDS'19) and Jordan Bonang (DDS'20), both part-time clinical instructors at NECHC, volunteered their time, with Jordan bringing in his father Jeff (DDS'87). Other volunteers include Drs. Heather Carr (DDS'88), Joanne Miller (DDS'89), Kilby Townsend (DDS'91, Erin Nowe (DDS'16), Tom Steeves (DDS'17), and Trish Brady (DDS'07).

Dr. Haidar's dental assistant, Carolyn Ball, was on hand during the Dental Blitzen, as was Nicole Whitehouse, who is on the faculty at NSCC, and Dawn Bevis-Young and Janet Mosher, dental assistants who work together.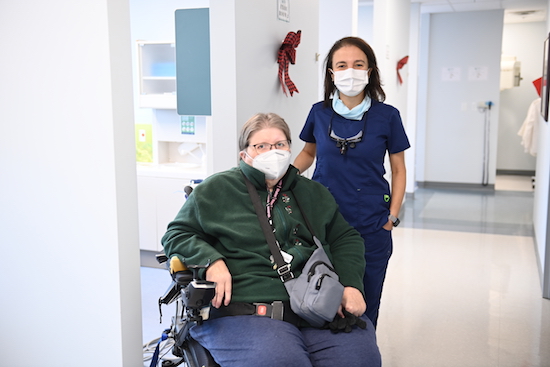 NECHC patient Linda Pottie with Dr. Nada Haidar

A Christmas gift for patients
Linda Pottie lives locally and has been a patient at the NECHC since 1996. She has just received a new denture. When the clinic was closed during the early days of COVID-19, Linda had some painful teeth that she just had to live with. She is delighted with her Dental Blitzen experience. Not only will she be able to chew her Christmas dinner now, but the work was done at no cost to her.

"People without resources can get the dental work they need here," she says. "It helps their general health, too. It's a great Christmas gift."

Another patient, Pam Carr, had eight rotten teeth and says she was suffering before she received her new dentures. Having the work done has "changed my life", she says. Like Linda, Pam is also looking forward to enjoying her Christmas meal.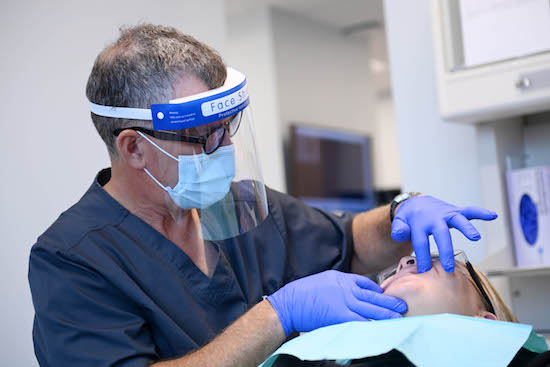 Dr. Archie Morrison at work during the Dental Blitzen

Volunteers enjoy the gift of giving
Both Mya and Nada Haidar have gone on health-care missions to Honduras with Global Brigades and planned to go again in April 2020. When COVID shut that down, they looked for volunteer opportunities at home and found a welcome reception at the NECHC dental clinic.
"When I'm here, I feel like I'm using my skills to make a difference for people who really need the care," says Nada.

"Volunteering here was an easy yes," adds Mya.

Dr. Archie Morrison (DDS'82, OMFS'92) is no stranger to volunteering. He has been on several missions to Vietnam and Africa to perform oral and maxillofacial surgeries. The Dental Blitzen was his first time volunteering locally and he found himself doing mainly extractions. The patients he saw were happy to have the work done and very appreciative, he says.

Dr. Sara Moore (DDS'16) is a public health alumna who went to Tanzania on a mission in between her second and third years of dental school. She spent two days at the  Dental Blitzen doing extractions and minor restorations. The clinic was well organized, she says, and she felt appreciated for the work she did. "I will do it again," she says.

Plans are already starting to gel for another volunteer clinic during the spring study break. It turns out that the Dental Blitzen is not just for Christmas.

If you are interested in volunteering at future events, please email dental@nechc.com.