News
»
Go to news main
Mentorship makes it better
Posted by
Cheryl Bell
on December 20, 2019 in
News
The 2019 mentorship panel (from left): Rick Raftus, Marianne Dobbin, Joanne Thomas (moderator), Juli Waterbury, Kirk Blanchard, Dean Miller

"We all become better when we have a mentor in our lives," said Dr. Ben Davis as he introduced Dr. Joanne Thomas (DDS'89), this year's NSDA president and moderator for a panel on mentorship on November 20 in the Faculty of Dentistry.

Five alumni – Drs. Kirk Blanchard (DDS'97), Marianne Dobbin (DDS'12), Dean Miller (DDS'90), Rick Raftus (DDS'86), and Juli Waterbury (DDS'07) – offered their insights and answered student questions on three important issues: dealing with student debt, their career plan and how it changed, and their sources of advice and encouragement.

How did you handle any student debts that you had after graduation?
The differences between the decades was stark when it came to the level of student debt each had to deal with after graduation. For Dr. Raftus, debt was "not a big concern". He was more eager to finish dental school and being working. However, he stressed the importance of finding a lawyer and an accountant to work with as soon as possible.  

Dr. Miller graduated with about $100,00 in debt, which he said took him about 10 years to repay. He jokingly admitted that "every $3 drink I had in dental school cost me $9 to repay." His solution was to "be disciplined about making payments."

Dr. Waterbury said that, after 12 years out of dental school, she was getting to the end of her student debt. She works a four-and-a-half-day week and says she took a "slow and steady" approach to repaying the debt. It was "not easy for the first few years", she admits, having graduated with a 10-day-old baby, but she says the banks are understanding because young dentists have "future potential."

Ruthlessly honest about her situation, Dr. Dobbin said that she did not have a plan for paying off the debt and did not take the debt seriously while she was a student. She admits that she didn't understand money or know how student debt can affect future purchases, like a mortgage. After feeling like she was "drowning", she took the vital step of hiring a good accountant and learning to track where her money was going.

"I felt out of control before, now I have a plan for retirement, my husband and I live below our means, and I couldn't be happier with my life."

What was your career plan/philosophy? Did it change?
For the most part, all of the mentorship panel members followed their initial plans – with a few unexpected changes of direction.

Dr. Dobbin planned to work as an associate first and eventually buy a practice. After a few years of working as an associate, she moved to Antigonish. Seeing that the market was saturated there, she opted to work as an associate again until she had the opportunity to buy into one of the existing practices, which she was able to do.

Dr. Waterbury knew from the outset that she wanted to do family dentistry. "I wanted to build relationships with my patients and see their children grow up."

She worked as an associate briefly and then paid a monthly fee to rent an operatory before buying into the practice. When her partner at the clinic lost an eye to infection and was no longer able to practise, Dr. Waterbury was catapulted into buying the whole practice, which included two associates and 16 staff. There was a "lot of stress" she said, but "sometimes you just have to go with what life throws at you".

Part-time teaching and owning a family practice were what Dr. Raftus wanted from his professional life. He had no interest in the "politics of dentistry". Fifteen years later he found himself involved in organized dentistry through the NSDA and wished that he had done it earlier. "It's a useful tool," he said.

Although he now divides his time between a sleep apnea practice and business coaching, Dr. Blanchard recommended to the students that they not discount the idea of working in a rural practice. "Teeth are teeth and people are people," he said, but expenses are generally lower in rural areas.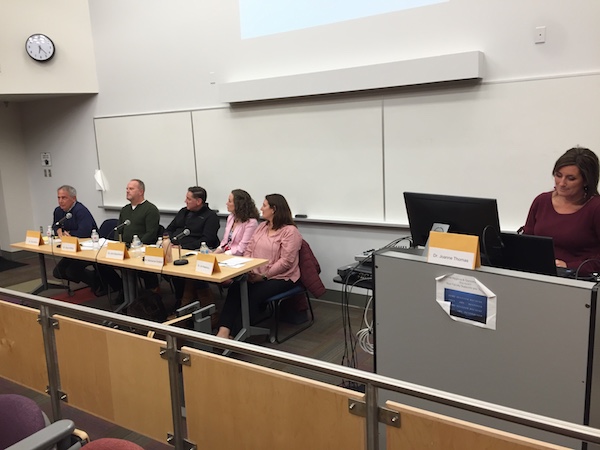 Where did you get advice and words of encouragement?
"Put yourself in situations where you can interact with other professionals, such as local societies, study groups, boards, and teaching," advised Dr. Raftus. "You need those interactions so that you know you're not on your own."

Dr. Miller said he learned a lot about professionalism and ethics from the Faculty of Dentistry and in his role as president of the NSDA. He also maintains close ties with his peer group from dental school. "My classmates are my best friends," he said.

Similarly, Dr. Dobbin said that she sought out advice from faculty members while she was a student and then from her peer group, accountant, and business partners after she graduated. She has also built relationships through professional dentistry and study groups.

Dr. Waterbury relies on regular conversations with a friend from dental school who is now a paediatric dentist in Kelowna. "Don't lose the bonds you already have," she recommended.

The mentorship panel's final advice to the students was about communication. Look at your day sheet before you begin work and be prepared, said Dr. Raftus. Dr. Waterbury advised them to write down snippets of information they learn from their patients, such as name of their dog or a trip they are going to take. "It makes a huge difference to your ability to build relationships," she said.

NSDA mentorship platform
The NSDA offers dental students access to a mentorship program through a new platform on its website. Contact the NSDA to request access: 902.420.0088.