News
»
Go to news main
"It all started at Dal": Five questions with Dr. Carol Anne Murdoch‑Kinch
Posted by
Cheryl Bell
on March 8, 2019 in
News
Dr. Carol Anne Murdoch-Kinch (DDS'85) has been named the first female dean of the Indiana University School of Dentistry

The Indiana University School of Dentistry recently announced the appointment of its first female dean in its 140-year history. Dr. Carol Anne Murdoch-Kinch (DDS'85) will take up her position on July 1, 2019. It's big news for the Faculty of Dentistry, too. To the best of our knowledge, Dr. Murdoch-Kinch is the first female alum to be appointed to a deanship.

The daughter of Dr. Fred Murdoch, also a Dal dentistry grad (DDS'61), Dr. Murdoch-Kinch grew up in Fredericton, attended the University of New Brunswick, and arrived in Halifax to study dentistry in 1981. It was at Dal that her interest in teaching began and the seeds of so much of her academic career were planted.

Q: What does this new role mean for you? Was this a position you always aspired to or was it an opportunity that arose?
CAMK: No, it wasn't something I aspired to. I went to Dal to learn to be a dentist, but when I was invited back to teach part-time, I loved it. I saw that, at heart, I was a teacher. Early in my career, when I was teaching full-time at the University of Detroit Mercy and the University of Michigan, I enjoyed course design and testing teaching innovations in my own courses. And then I saw that as academic dean – my current role at the University of Michigan – I could have a broader impact on the entire curriculum, as well as our other degree programs. In this capacity I gained leadership experience and insight, both on campus and nationally through service in professional organizations. My interest in bigger issues in higher education and the future of the dental profession grew. I also had the opportunity to step in for my dean when he was unavailable and interact with alumni and donors in a different way. That was a lot of fun!

During my time here at the University of Michigan, I had the opportunity to complete a year-long program called Executive Leadership in Academic Medicine – it's like a mini executive MBA for female leaders only – at Drexel University in Philadelphia. I found it gave me a lot of additional insight and skills. As part of that program, we had to undertake an action project at our own institution. I chose to initiate interprofessional education in the health professions across my campus. This wasn't a usual part of the academic dean's job, but it was a fantastic opportunity to be a change agent, to bring people together, develop a shared vision, secure broad-based support from the leadership, and propel the project forward. And it was just the type of work a dean would do. So, I eventually landed on this realization that I had many of the leadership skills in place and the interest to take the next step – to pursue a dean position. I also knew that it had to be at a public university for my knowledge and skills to be directly applicable, at a place that shared my core values, and whose mission included education, research, and patient care.

Q: Could you talk a bit more about why shared core values are so important to you and why Indiana University is a special place for you?
CAMK: Indiana University (IU) is a place that has done so much for me. I went there as a student in 1989 to complete specialty training in radiology and oral medicine and ended up also completing my PhD there. It was a time of great personal and professional growth for me. I hadn't initially planned to do a PhD, but it was such a supportive teaching environment and I was encouraged, so I completed a PhD in Dental Science, for which I conducted clinical research on Crouzon syndrome, a genetic disorder.

When the deanship became available there, I felt that it was a great fit for me. IU has always demonstrated a commitment to excellence in education, patient care, and research, and it shared my vision for the best dental school in the world. I also felt that I could help by working to make explicit the core values we share because it's those core values that should guide decision-making, set priorities, and define how and why we do things.

Q: What will be your first priorities when you take up your new role at Indiana University on July 1?
CAMK: I see my first year as being about listening, uncovering and refining our core values, and building trust. It's important to understand what people care about, their concerns. Highlighting our core values will be one of my first jobs so that we can talk about why we are here, and what we're going to do and how we're going to do it. This work will lead into our strategic plan.

I also want to increase our impact in the community. There is a lovely new clinic building at IU and I'd like to see us make maximum use of it, particularly through increasing access to care which, in turn, will enhance the clinical education experience for students. And, importantly, we will need to enhance and grow our impact through research to improve oral and general health for the people of Indiana.  This is intrinsic to our mission as a great public research university and the only dental school in Indiana. Overall, I believe that everything we do, the four pillars of our mission – service, patient care, research, and education – need to align for maximum impact.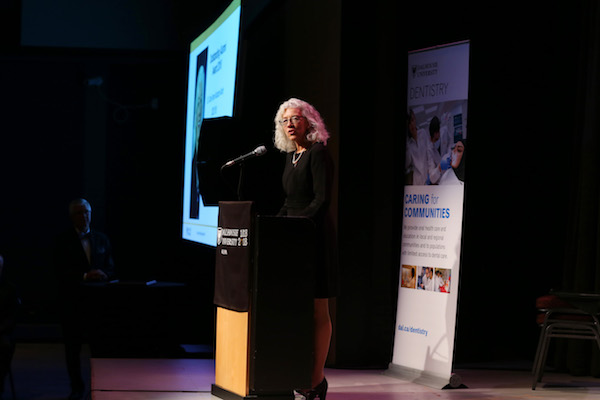 Q: We were delighted to present you with an Outstanding Alumni Award during Homecoming last September. What was it like to come back to Dal and Halifax? What were your impressions of the new clinic?
CAMK: It was a very emotional weekend for me. Most of my classmates were there, family, and many of the faculty I know – some of whom knew my father. The new clinic is clean and bright and full of the most current technology. Patients will feel good about the care they receive in such an environment and it will help the Faculty to recruit the best students. It is lovely to see the physical space reflect the excellence that the Faculty provides.

When I was at Dal in the 1980s, it was a leader in innovative dental education. The focus was on active and engaged learning, team-based care, competency-based education, using data and computers to track learning and patient care, evidence-based clinical decision making, and evidence-based teaching and assessments. It was way ahead of its time. There's a reason Dal was awarded the Gies Award for Achievement in 2012! When I went to the US to study and work, other universities wanted to teach in these ways but felt it couldn't be done. But I know it can be done because that's what I saw and experienced as a student at Dal.  

A new clinic facility also supports interprofessional education and collaborative care, which is patient-focused care. The Dal Dentistry philosophy for patient care has always emphasized a public health approach that includes prevention and health equity. It's about caring for all patients, including those with special needs and those who might have trouble paying for their treatment. As health professionals, we all have to share responsibility for the health of everyone in our communities. I learned this at Dal and I'm delighted to see that it is part of IU's mission – to advance the health of those who live in Indiana. As oral health care professionals we have so much to offer. We are head and neck experts, we can motivate people to change their health behaviours, and we can provide screening for – and help treat – complex health problems.

Q: Who influenced or inspired you along the way?
CAMK: I was raised by parents who made feel that that there was nothing I couldn't do. My father was a dentist and my mother a nurse. When I came to Dal in 1981, I was at the beginning of a wave of women in dentistry. There were only six of us in a class of 32. There weren't many female faculty either. Elaine Gordon was a trailblazer. She reached out to all the female students in the class and invited us to her home. She was a real role model in the way she conducted herself as a dental professional.

I worked with Ed Spracklin one summer developing teaching materials for his courses. He taught me so much about course design, and one-on-one teaching. Adry Elgeneidy taught me oral medicine, which I went on to study at Indiana University. Michael Cohen inspired me to think about dentistry in a different way, as part of medicine, and taught me about genetics and cranio-facial development, which ended up being the area I pursued for my PhD. Bruce Graham taught me removable prosthodontics and gave me my first full-time faculty position at Detroit Mercy.

Frank Lovely – who was a classmate of my father's – took me under his wing.  He and his wife Harriet were very kind to me. He taught oral maxillofacial surgery, and trained at the University of Michigan, in my home department! (Dr. Sean Edwards and Dr. Justine Moe are two other Dal alums in my department!). Not only that, but he talked to us about the need to work hard and do our best, and also to look after our own health and well-being, to be the best doctors we can be. That was unusual at the time.

So much of what I have achieved and become started at Dal. It all started at Dal. I am so grateful for the solid foundation Dal gave me and I am very proud to be an alum. It is common for dental schools to "toot their own horns" even when they may not have that much to toot about. And then there is Dal, quietly and humbly doing great things, and leading the way.

Dr. Murdoch-Kinch received a Faculty of Dentistry Outstanding Alumni Award in September 2018