News
»
Go to news main
20 years of the Prosthodontic Olympics
Posted by
Cheryl Bell
on February 24, 2017 in
News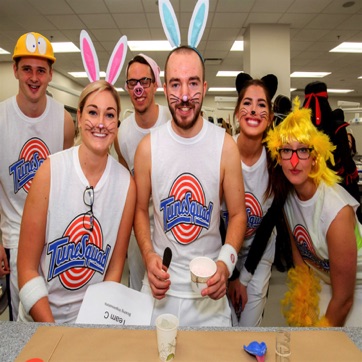 The 20th annual Prosthodontic Olympics took place on January 23 with its usual wacky costumes, lively music, and mad dashes to be the first to complete a task.
Seven teams competed in five events: alginate impressions, rubber dam, boxing an impression, crown preparation, and provisional crown. There was flying plaster, some disqualifications, plenty of dancing between events, and lots of banter among the teams.
In the end, it was Harry Potter and the Floss-ifers Stone team that claimed top honours with 32 quality points and a total of 64 points. They were only narrowly ahead of Lord of the Garrison Rings, which also had a total of 64 points, but a lower number of quality points with 29.5.
Dr. Robert Loney, prosthodontics professor and chair of the Dental Clinical Sciences department, started the Prosthodontic Olympics in the Faculty of Dentistry in 1997. But the germ of the idea started farther back than that, when Dr. Loney himself was a graduate student at the University of Michigan.
Let's have a race
"The chair of prosthodontics used to come in at lunchtimes and sit beside us and do lab work," says Dr. Loney. "He'd say to me, 'Come on, Bob, let's have a race.' He'd challenge us to see who could pack our denture the quickest. It takes most lab guys between one and two hours to process a denture. But we all wanted to beat Dr. Lang, and so we would be getting it done in under an hour."
Dental students learn many competencies in the classroom and the labs, but the challenge for many is to build the speed necessary for working in a dental practice.
When he attended a teaching institute in Saskatoon after leaving Michigan and was assigned the task of coming up with an innovative way to teach and stimulate students, Dr. Loney recalled those races with Dr. Lang. As a result of that assignment, the Prosthodontic Olympics were born and were held for 10 years at the University of Saskatchewan when Dr. Loney taught there. When he moved to the Dalhousie Faculty of Dentistry, the Olympics came with him.
Looking to document the success of the Olympics as a teaching and learning tool, Dr. Loney wrote and published a paper in the Journal of Dental Education in April 2000 about an experiment he conducted, which demonstrated that students were able to make custom trays in half the time and with no reduction in quality as the result of practising for, and competing in, the Prosthodontic Olympics.
Speed is one component in the Prosthodontic Olympics, but quality is vital. In the event of a tie on overall points – as there was this year – it is the number of quality points that make the difference. Competitors are also disqualified from an event if their product is unacceptable.

To be faster, to be better

As Dr. Loney declared at the 20th Prosthodontic Olympics in January, "Many things have changed, but the purpose is the same: to be faster, to be better, and to do things easier."
The students would agree. Tired but happy after his event, crown preparation, was over, Space Dam member Alex LeBlanc said, "It's a good learning experience. Until you are under time constraints, you don't realize how fast and how good you can be."
Jakob Nickerson, from the Mortal Komposite team, would agree. "It was a real blast and a ton of fun. Being in a competition like the Olympics forces you to look at the tasks we have to do in a different way – it really makes you learn."
Space Dam team member Lexi McLean observed that "Once you have learned the fundamentals for your event, the time pressure of the competition teaches you to troubleshoot, so it's good training for us as future dentists."
Even those who were disqualified from their event felt that they had learned valuable lessons from the event, including taking more time to prepare and practise, and never losing sight of the need for quality. As Dr. Loney said at the conclusion of the event, "You are all winners this morning."
Photographs and video from the 2017 Prosthodontic Olympics.
Individual winners:
Alginate impressions          Danial Shirvani
Rubber Dam                       Mitchell Hanna
Boxing an Impression        Charles Lee
Crown Preparation             Abdulmuhsen Marafi
Provisional Crown              Nathan Vanderlinden
Best costumes: Plaquebusters