News
»
Go to news main
Oral health care for an aging population
Posted by
Katie Ciavaglia
on June 5, 2015 in
Community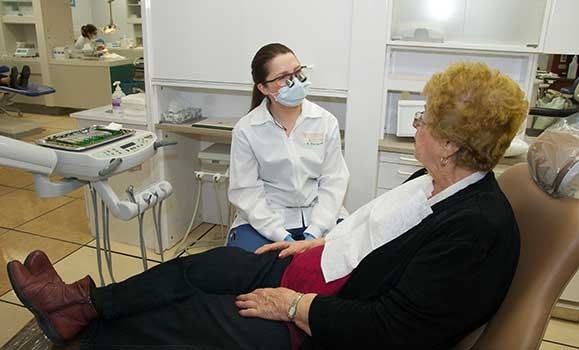 Relaxing and comforting: for the past three decades, that's what has kept Janet Langille coming back to the Dalhousie Dentistry Clinic.
Janet Langille, who will be turning 80 later this year, has been a patient at the Dalhousie Dentistry Clinic since 1981. Just over five years ago she made the transition from the regular clinic to the Eldercare Clinic.
"There is such great service here; everyone remembers you and is very friendly," says Langille. "Everyone is very congenial."
Eldercare Clinic
The Eldercare Clinic provides care to older adults — most of them over the age of 80. It evolved from an outreach dental clinic founded in the early 1990s by former faculty member Dr. Bob MacDonald. As the population served by the dental clinic aged, more and more people were keeping their natural teeth, and the need for oral health care for seniors increased.
Each year, the Eldercare Clinic sees over 150 patients. Providing care for older adults often takes extra time as many have complex medical histories, mobility problems or are mildly cognitively impaired.  The Eldercare Clinic provides an opportunity for dentistry and dental hygiene students to cater to these special needs.
Specialized care
"You have to modify a lot of things," says Samantha Cicciarella, a second-year Dental Hygiene student. "Sometimes you have to provide care standing up so patients aren't receiving treatment in a position that is uncomfortable for them. They often have extensive medical histories and are on several medications, so it takes a bit of extra time and care."
The clinic not only provides senior patients a facility where their special needs are accommodated, but it also helps the students become more aware and sensitive to issues facing seniors.
"We see patients coming back for 20 to 30 years just because they love the students and love providing the students with an opportunity to learn," says Dr. McNally, coordinator and clinical instructor for the Eldercare Clinic. "It also provides the students with more understanding and sensitivity to the special needs of many older adults that they will with them into private practice."
Although the appointments may take a little more time and extra care, Cicciarella says she loves every minute of the experience.
"[The patients] all love to chat! We get to know each other so well and everyone has a different story so it's so interesting," says Cicciarella. "I definitely know all of their grandkids by name!"
For more information on our Eldercare Clinic or to inquire about becoming a patient, please call 902-494-2101.