News
»
Go to news main
Summer Research 2013 Underway!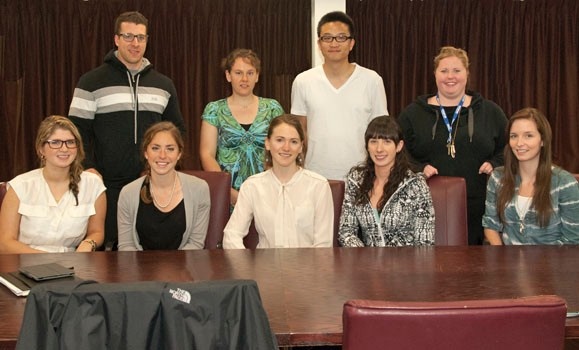 Ten dentistry and dental hygiene students have joined the Faculty of Dentistry for the summer to take part in the Summer Research Program. The students will be conducting research projects under the supervision of various faculty members and residents and will present their research at the Undergraduate Health Research Day in the fall.
Amanda Demsey will assist with a study on Orthognathic surgery and postoperative antibiotic use under the supervision of Drs. Curtis Gregoire and Clayton Davis.
Pember Edwards will be working on two projects with Drs. Reg Goodday and Karim Al-Khatib: The effect of maxillimandibular advancement surgery on blood pressure in patients with obstructive sleep apnea and The effect of sequencing of maxillary and mandibular advancement surgery on achieving planned movements in obstructive sleep apnea patients.
Nick Emmanuele will Investigate oral cancer trends in Nova Scotia with Drs. Chad Robertson and Robin Howell.
Ethan Kang will be conducting a Literature review of periodontal capillary imaging with Dr. Ed Ghiabi.
Amanda Lee and Vanessa Hann will be researching the Optimization and validation of injectable ionomer cement for percutaneous vertebroplasty under the supervision of Dr. Daniel Boyd.
Patricia Logan will work with Dr. Ferne Kraglund on an Evaluation of the dental public health elective and with Dr. Chris Lee to study the Financial burden on MSI from dental patients attending Emergency Departments in the Capital District Health Authority.
Claire McKibbin will work with Dr. Mary McNally on the project Kungatsiajuk: Supporting the healthy smiles of NunatuKavut children.
Nabil Moussa will investigate the Effectiveness of hospital vs clinic-based sterilization protocols with Drs. Archie Morrison and Peter Stefanuto.
Madison Parcells will Construct Bioluminescent strains of Steptococcus mutans to investigate the effect of antimicrobial agents under the supervision of Dr. Yung-Hua Li.
Funding for this years' summer research program was provided by the Faculty of Dentistry, the Department of Oral and Maxillofacial Sciences and the Canadian Institutes of Health Research.