»
Go to news main
Lessons from the land: Dal's SuperNOVA teams up with Indigenous educational group for first land‑based STEM camp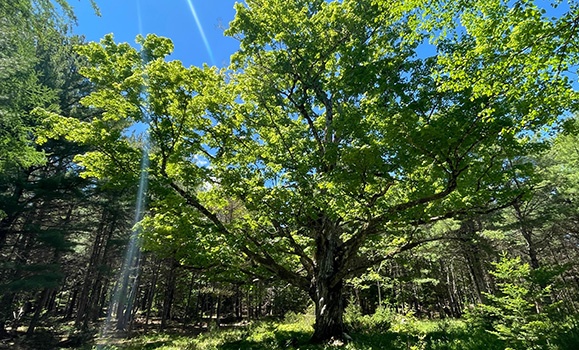 A new land-based learning program designed by Dal-based STEM initiative SuperNOVA in partnership with a local Indigenous educational group arrives this August on Nova Scotia's South Shore for 20 high-school students from Acadia First Nation.
The program, known as Melkiknuawti and developed by SuperNOVA and the Ulnooweg Education Centre (UEC), draws on the principles of Etuaptmumk — a Mi'kmaw word that directly translates into "seeing with two eyes" — and promises to bring Indigenous youth more opportunities in STEM.
"There's been a real move towards back-to-the-land education," says SuperNOVA Executive Director Alexandra Fenton, whose group offers educational initiatives targeting barriers to STEM (Science, Technology, Engineering and Mathematics) learning for youth across Atlantic Canada. "Melkiknuawti is an opportunity for us to bring our expertise to a type of program that we've never done before but will be something that sets a model for the future."
This week-long program will align STEM concepts with regional Indigenous knowledge in the same forests where ancestors of the Mi'kmaq have flourished for thousands of years.
In practice, the concept of two-eyed seeing involves reconciling multiple ways of knowing across cultures. In Etuaptmumk, science and Indigenous knowledge become harmonious by mutually respecting the other's contributions, while also recognizing that colonization has devalued Indigenous knowledge. The goal: creating stronger forms of collaborative learning for future generations.
Coming together on the land
Melkiknuawti's inaugural session this summer will see students converge on the land known as Windhorse in Sin So'sepe'katik/Bridgewater, Nova Scotia.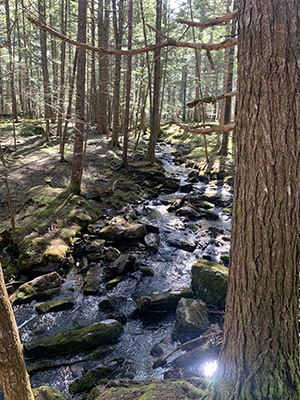 UEC, an Indigenous-led charitable organization that empowers Indigenous communities in Atlantic Canada through the advancement of education, purchased Windhorse last December. Windhorse is a rural retreat located on the shore of Atuomkuk/Wentzell Lake of the Pijnuiskaq/LaHave River Watershed. This land holds host to the ancient Wapane'kati forest, a woodshop, organic permaculture gardens, a conference centre, and off-the-grid cabins across nearly 200-acres.
Last winter, SuperNOVA reached out to UEC about creating Melkiknuawti together. "We were thinking about what would make the most sense in terms of a robust partnership to support us in the delivery of this and Ulnooweg just seemed like a natural fit," says Fenton.
Working with local Mi'kmaw elders and knowledge keepers, SuperNOVA and UEC instructors will mentor students in a living classroom near the Acadia First Nation.
"It's really important to be running the program in the community, rather than bringing the kids to Dal," says Fenton. "This gives them the connection that this sort of same university experience, the STEM experience, exists where they live and where they're from."
A pathway to new ideas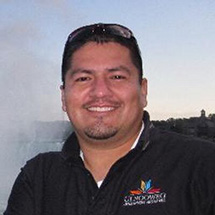 The UEC's Chief Operating Officer Chris Googoo says this partnership with SuperNOVA brings Indigenous youth new ways to engage with STEM fields.
"We want to present them with different ideas and give them different things to aspire to be," says Googoo. "But it's equally important to familiarize kids today that this science, technology and engineering — we've been practicing this for thousands of years. And we're just now bringing our knowledge into it and validating this science, and vice versa."
The program is free of charge and offers students unique learning opportunities across a rich landscape. From studying fish life cycles along traditional Mi'kmaw waterways to applying engineering concepts while building a sweat lodge, activities will use nature as a guide, recognizing the inherent connection that Indigenous peoples have always had with the land.
Googoo says language is crucial to the practice of Etuaptmumk, or two-eyed seeing.
"When our elders share the way they harvest ash trees they share it in our language, in Mi'kmaw language, and when they incorporate language into science it's part of that validation process."
Further reading: Ko'jua Okuom — Dal's new Indigenous community room offers a space for reflection and celebration
Aligning priorities
By design, Melkiknuawti's activities will follow Acadia First Nation's educational and cultural priorities. SuperNOVA and UEC held a community forum last April to develop the program's curriculum based on the input of youth and community members from Acadia First Nation.
"In terms of cultural priorities, there was a real emphasis on providing opportunities for youth to learn and speak Mi'kmaw while they're at Melkiknuawti, as well as providing space for the youth to learn about ceremony," says SuperNOVA Partnership and Development Coordinator Caitlin MacPhail.
Melkiknuawti fits with Dalhousie's larger commitment to become a civic university, by building long-lasting partnerships with Mi'kmaw and other Indigenous communities surrounding higher education and research.
The hope for all involved is that Melkiknuawti will grow and reach more communities across Mi'kma'ki, as well as provide year-round learning and accreditation to high schoolers.
"It's a matter of building allyships," says Googoo. "And when we get a chance to work with SuperNOVA, as an arm of the university, that gives us a chance to share what we're talking about, too."