Convocation returns to campus — and to in‑person
»
Go to news main
Convocation Returns to Campus ‑ And to In‑Person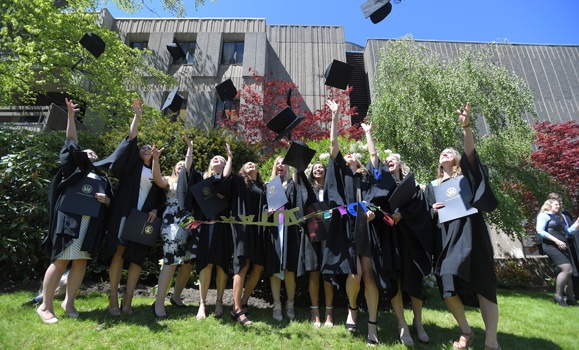 Graduation gowns are officially back in fashion.

After two years of remote celebrations, Dalhousie University is set to welcome its latest graduating class to in-person Convocation ceremonies this spring, followed by special ceremonies this summer for students who missed their graduation moment due to the COVID-19 pandemic.
Convocation 2022 will represent a return in another respect as well: with the Dalhousie Arts Centre renovations nearing completion, Halifax ceremonies are once again scheduled to take place on campus in the Rebecca Cohn Auditorium. (Fall ceremonies in 2019 were held at the downtown Halifax Convention Centre.)

"We're moving forward in our planning with caution, absolutely, but also a great deal of optimism that we'll be able to celebrate Convocation ceremonies together again in 2022," says Adam Robertson, university registrar. "We're starting to communicate our schedule to graduates and making plans to see everyone here in May, June and July."
A big moment — celebrated safely
 
The "May and June" part of that mix represents the university's celebration of the new Class of 2022: a total 17 ceremonies set to take place between May 24 and June 3. Notably, this marks the first year that Truro ceremonies — held at the Langille Athletic Centre — will take place concurrently with ceremonies in Halifax. (You can find the full schedule on the Convocation website.)

Then in July, Dalhousie has scheduled dates to host special in-person Convocation ceremonies for graduates from the Classes of 2020 and 2021: Tuesday, July 5 and Wednesday July 6 in Halifax, and Friday, July 8 in Truro. Graduates who missed out on an in-person Convocation over the past two years can expect to receive a formal RSVP request in early May.

With news that Dalhousie has extended its mask protocols into early June, masks will be required at all ceremonies in May and June. (Additional details will be shared with attendees by email and on the Convocation website in early June.) Robertson says the Convocation team will be closely monitoring the state of public health measures and protocols in the coming weeks and months leading up to all Convocation dates and will follow the latest advice and guidance, communicating any potential changes or cancellations promptly should they become necessary.

"This is such a big moment for our graduates — whether they're new grads or recent ones — and we want to make sure they can make the most of it as safely as possible," he says.

For more information, visit the Convocation website.