»
Go to news main
Going boldly: Five Dal scholars receive $1.1 million to move in ambitious new research directions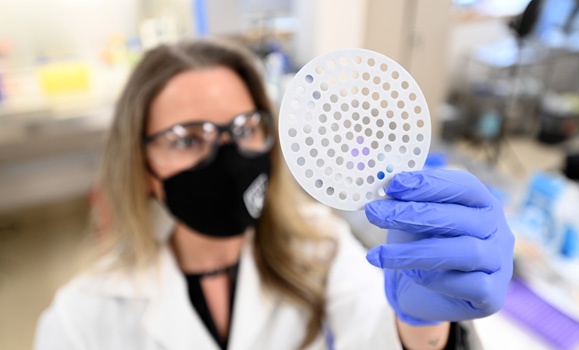 From trying to discover the mystery of what makes our hearts tick to investigating whether social media is stoking systemic racism in Canada's gentrifying cities, Dalhousie researchers are being empowered to take big swings for the benefit of society.

On Monday (April 4), the Government of Canada shared the winners of the New Frontiers in Research Fund's "2021 Exploration" and "Special Call on Innovative Approaches to Research in the Pandemic Context" grant competitions. The results were announced by the Honourable François-Philippe Champagne, Minister of Innovation, Science and Industry, and the Honourable Jean-Yves Duclos, Minister of Health, in Ottawa, with a total of $45 million going to institutions across the country.

"This funding is especially meaningful because it encourages our scholars to push the boundaries of knowledge. This is how great discoveries are made," says Alice Aiken, Vice-President, Research and Innovation. "It's exciting to see our researchers harnessing machine learning, natural language processing and other cutting-edge techniques to reveal new truths that can improve our health and society."

The New Frontiers in Research funding programs are intended to support high-risk and high-reward research. They are designed to push scholars to explore new ways of doing research without being stifled by concern of failure. With risk comes the benefit of new research methodologies that significantly enhance our capacity for knowledge generation, dissemination, and impact. In particular, the funding for research affected by and in response to the COVID-19 pandemic provides a unique opportunity to explore previously unimaginable or unexplored directions for inquiry.  

Read more about Dalhousie's recipients
Exploration grant winners
 
Lisa Berglund, Faculty of Architecture and Planning
School of Planning

Exploring social media vigilantism in Canada's gentrifying neighbourhoods

As Canadian neighborhoods gentrify, residents are using social media to share perceived danger of crime and as a means of informal surveillance. Dr. Berglund and her colleague Ayobami Laniyonu of the University of Toronto will use new methods in natural language processing to analyse the impact of social media participation on the perception of crime, safety, law enforcement, and behavior in neighborhoods undergoing demographic shifts. Focusing on gentrifying areas of Toronto and Montreal, the research team aims to understand how social media use may relate to polarized views on public safety and law enforcement and imagine strategies to develop more prosperous and inclusive Canadian cities.
Alex Quinn, Faculty of Medicine
Department of Physiology and Biophysics

Exploring the intracardiac nervous system to improve health
The intracardiac nervous system that regulates the function of the heart has proven impossible to investigate due to limitations of experimental models and technologies. Dr. Quinn and his research team aim to address this by adopting a new interdisciplinary approach to define the mechanisms and integral role of the intracardiac nervous system for cardiac regulation and disorder. Studying zebrafish hearts, they will conduct experiments that allow the team to challenge the assumption that the intracardiac nervous system is simply a 'relay station' adopting and transmitting central nervous system signals. For the first time, their work will provide evidence of whether the intracardiac nervous system processes, integrates, and feeds back neuronal signals within itself.
Lead Science, NICHE Research Group
Harnessing machine learning to reduce cancer risks
Arsenic is one of the most prevalent environmental carcinogens in Canada linked to a wide range of cancers. However, a lack of study has led to missed opportunities to reduce environmental arsenic exposure, such as treating contaminated groundwater currently consumed by Canadians. Dr. Abidi and his colleagues in Dalhousie's Department of Community Health and Epidemiology and AtlanticPath will take on this challenge by investigating environmental cancer biomarkers and using these biomarkers to develop novel data-driven environmental cancer risk assessment tools. By harnessing machine learning algorithms to create predictive models that identify arsenic exposure risk, they will enable the creation of population health-based cancer prevention strategies that reduce the burden of arsenic exposure-related cancers in Canada.
Pandemic context grant winners
Department of Microbiology and Immunology
Fighting drug resistant microbes
Major achievements have been made in the fight against infectious disease through sanitation, vaccines, and antibiotics. Unfortunately, many of these achievements are increasingly undermined by the emergence of drug-resistant microbes. A global survey shows that in 2019, antimicrobial resistance (AMR) killed more people than HIV/AIDS or malaria. Dr. Cheng and his colleagues plan to tackle this problem by identifying high-priority AMR bacteria and harnessing the power of CRISPR genome editing to label them and monitor their emergence. Their goal is to revolutionize AMR surveillance by creating a novel point-of-care detection tool that can be used to test in communities under pandemic restrictions.
Department of Civil and Resource Engineering
Developing next generation wastewater surveillance
Dr. Gagnon and his research team will build on their innovations in wastewater surveillance for SARS-CoV-2 to create a new system that will empower community leaders to make data-driven decisions and be proactive in anticipating potential health concerns. During the pandemic, Dr. Gagnon's research team created a passive wastewater sampling approach for SARS-CoV-2 that was deployed across Canada, the UK and Australia. Results demonstrate more reliable detection compared to conventional approaches. They will now work with the Atlantic First Nations Water Authority to detect other wastewater viruses by improving on their previous innovations and develop a new system for more rapid and simplified detection.