»
Go to news main
Scholarship allows computer science student to focus on making technology inclusive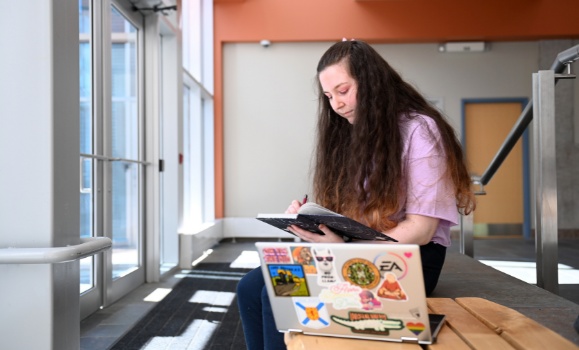 When Olivia Handspiker was first introduced to the world of computer science at a Women in Technology event at Dalhousie, she realized she could merge two passions – art and technology.
"I had some exposure to technology such as editing my high school yearbook and some coding during an astronomy class, but I did not know much about computer science," Handspiker, now completing the third year of an undergraduate Computer Science degree at Dal, says. "But I discovered that you could use it to integrate music, which I have played since I was very young, with art, and technology."
Dalhousie became the obvious choice to pursue these passions for several reasons. It was close to home, her brother was studying engineering, and Dal offered an impressive array of courses that she knew would broaden her horizons. But a key factor for Handspiker was the financial and community support she received through the Women in Technology Scholarship.
Scholarship opened the door

"That scholarship and the donors who support it made all the difference for me because it was the only way I could have enrolled in this program," Handspiker says. "It was also beneficial as I was able to connect with other scholarship recipients and that created a strong sense of community because they are my best friends now."
The spirit of accessibility and community Handspiker found through the scholarship is reflected in her studies. She is specializing in user experience, a discipline focused on how people interact with technology and making those interactions more meaningful. Handspiker says the possibilities for how she will apply that knowledge are limitless and she is looking forward to exploring them.
"I want to help ensure that technology is as inclusive as possible and each course I take confirms I made the right choice for my degree," she says.
The Dalhousie Fund helps create outstanding learning experiences and connects students with scholarships, bursaries and other important resources. You can empower students to make the most of this formative time by making a gift today.