»
Go to news main
Passion and purpose in student life: Meet Dal's 2021 Board of Governors' Award winners
Posted by
Matt Reeder, Stephen Abbott, Stefanie Wilson, Lindsay Dowling-Savelle, Hannah Whaley
on April 30, 2021 in
Awards
,
International
,
Outreach
,
Undergraduate
,
Women in Tech
,
Students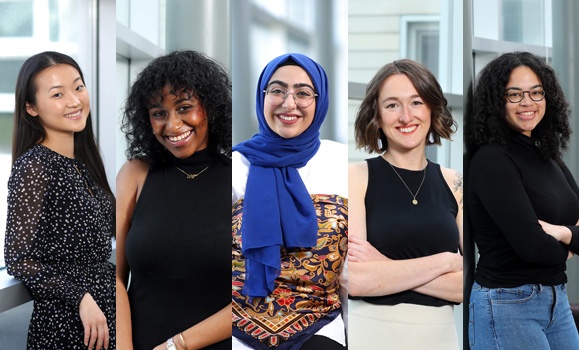 Get involved. It's a common refrain, especially familiar to those heading off to university for the first time. "You'll learn new skills, build your social network and create lasting memories," the wisdom goes.

But getting engaged in student life is about so much more than a student's own experience, as this year's Dalhousie Board of Governors' Award winners illustrate so well. It's also about building community and supporting others. And that's just what these five outstanding individuals have done through their work with some of Dal's more than 400 student societies, in student and university governance, and in the broader community.

The university's top award for student life, the Board of Governors' Award is presented annually to recognize exceptional contributions or leadership in the extracurricular realm — building community on campus, service in the broader community, improving diversity and inclusion and much more. The recipients are nominated by their peers in the Dal community, and chosen by a committee consisting of the president, three Board members and the vice-provost student affairs.

Meet the 2021 Board of Governors' Award recipient and computer science student, Sarah Meng Li:
Sarah Meng Li, Computer Science and Mathematics
Creating connections through code and quantum research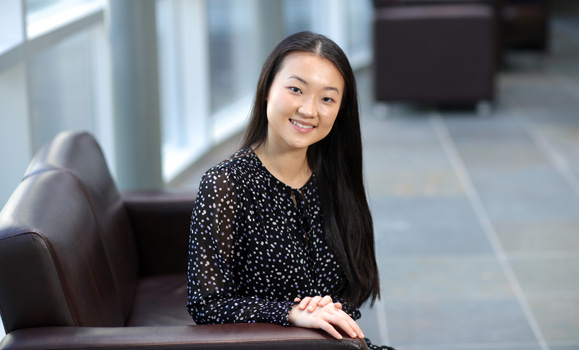 When Sarah Meng Li first came to Dalhousie from China more than five years ago, she wasn't sure what she wanted to do with her life. But as she graduates this spring, not only has she discovered her passion — she's also left her mark on Dal and the Halifax community.
Sarah came to Dalhousie on exchange while studying Atmospheric Science at Ocean University of China, but she wasn't interested in her program. She took this opportunity to explore her options.
"When you exchange here, normally people are expected to take ocean science courses. But I'm the complete opposite," Sarah says. She took courses in a variety of disciplines to figure out what she was interested in.
After a positive experience at Dal, she decided to transfer. Five years later, she is graduating with combined honours degree in Mathematics and Computer Science and a minor in Statistics.
Sarah quickly made a name for herself at Dal for her outstanding work ethic and community spirit.

Throughout her undergraduate degree, she has consistently carved out time to give back with different groups at Dal and in the Halifax area. As a volunteer with Canada Learning Code, she has helped hundreds of children and adults learn computer coding skills — an experience she found empowering.
"What I learned from the textbook is not just about the knowledge or like the piece of code. It actually can be really helpful," Sarah says.
She also took her teaching abilities to local schools as a volunteer with Nova Scotia Math Circles, engaging high and junior high school students in different topics of mathematics.
All this while maintaining a rigorous academic and research workload. Sarah has completed two undergraduate honours theses, held numerous research positions, more than ten head teaching assistant positions, and numerous awards from her faculties.

Sarah was first exposed to her current field of research at a conference on quantum information, a topic she knew nothing about first but was soon enchanted by. "Could you imagine it's like a combination of computer science, mathematics, physics or even ethics! So, I feel like there's just so much to do about this discipline," she says.

This interest led to her first research assistant position in quantum computing. It was around two months in, while working late into the night on a problem, that she reached a breakthrough moment.
The work that summer led to her first of two publications, which she finished the night of December 31, 2019, a deadline Sarah set for herself.
Leaving Dalhousie, as she prepares to begin her master's program in quantum information at the University of Waterloo, she hopes to continue giving back to her community. While her time at Dal hasn't been without its challenges, personal and academic, Sarah says she owes her amazing accomplishments to the support from her professors, research supervisors and friends. (Stephen Abbott)
Meet all of the 2021 Board of Governors' Award recipients and read the full article in Dal News.