»
Go to news main
Student Societies at Dal 'Choose to Challenge' Gender Bias and Inequality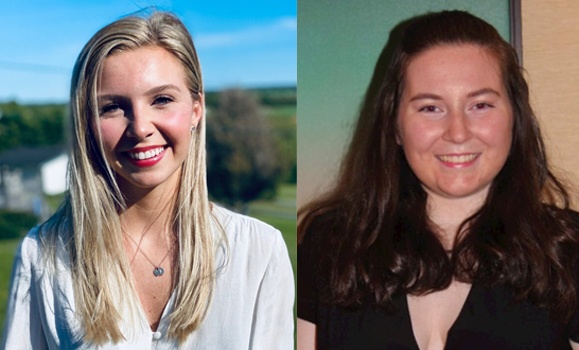 When International Women's Day rolls around each year on March 8, it's a chance for people worldwide to pause and consider some of the achievements of women and the many hardships they continue to face. This year's IWD campaign theme aims to inject the day with an even more explicit call to action: 'choose to challenge.'
It was this spirit, in part, that drove female students in engineering and computer science at Dal more than a decade ago to organize together and create student societies to empower their fellow female students in fields they were commonly shut out of.
And it's that same desire for action and support that motivates Alexis Mulligan and Olivia Handspiker in their work as the current presidents of the Women in Engineering Society (WiE) and Women in Technology Society (WiTS), respectively. Dal News caught up with Alexis and Olivia about the history of their societies, some of their goals and what they'll be doing to celebrate IWD this year.
Olivia Handspiker - Dalhousie Women in Technology

When was the Dalhousie Women in Technology Society formed and who created it?
It was created in 2006-2007 by a group of students who were finding they were the only girls in their class and they wanted to create a space to meet with each and discuss their issues. A space to feel comfortable and not to feel like the only girls in the space.
Why do you think this society remains relevant today?
Today, a lot of women in computer science do still feel like they are the only women in the room, or maybe they are afraid to speak up in classes and lectures. When they come to the society, they feel like they can really be themselves, for both women and gender non-conforming people. A place where people can feel themselves and be comfortable outside of the classroom.
Do you think it is hard to attract women into the field of technology. If so, how are you, or others, trying to combat that?
There is a little bit of a stereotype: When people think about the technology field, they think this is for men. One of the ways we like to show women there's a place for them in the field is by having women who are well established in the field showing that they are here and doing well. We have our "We Talk Tech' events where we get those who are in the industry to come and talk to students and talk about their experiences
What does International Women's Day mean to you and other members of your society?
IWD is really important to us to feel recognized. A lot of the time there isn't recognition of women and the incredible things they are doing in the tech field. On IWD, we can remind everyone of the incredible things we're doing. It's a nice way to connect with everyone during the pandemic.