Faculty of Computer Science News
»
Go to news main
Using technology to give power to the human mind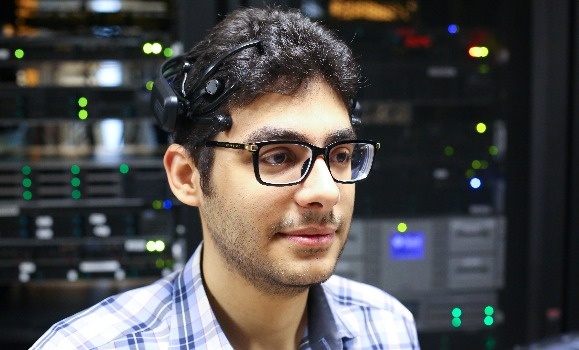 Steve Mostafa Dafer is a Master of Computer Science student working in Dr. Srini Sampalli's EMerging WIreless TECHnologies (MYTech) lab on a project called Mind Power. In this blog, he tells us about how he came up with his research idea and what he hopes to accomplish.
"Usually people assume that because I'm a computer science master student, my undergrad was in the same field. I, however, graduated as a computer and communications engineer, where I had to deal with electronics and robotics. One of my early jobs was to develop ATMs and self-service kiosks; that's in addition to many projects in the field of Internet of Things (IoT) that I've delivered, some of which have earned internationally-recognized awards.
Microsoft's Imagine Cup 2014 is notably one of the main influences on me embracing the development of IoT solutions for medical purposes. The national winning project was a robot that not only reminds patients to take their medication, but also administers it to them, thus preventing many medical errors – and saving lives along the way.
I also worked with Halifax Learning (an organization best known for its reading remediation program, SpellRead) on a project that helps children overcome dyslexia challenges. I became further fascinated by the power of the human mind and how technology (namely EEG) can be leveraged to help people, particularly those who have lost their ability to communicate – suffering, for example, from locked-in syndrome, ALS disease, and some coma cases – as well as those who have lost their ability to move their bodies freely due to paralysis.
In collaboration with Dr. Aaron Newman's NeuroCognitive Imaging Lab in Dalhousie's Department of Psychology & Neuroscience, under a MITACS scholarship, I have been able to experiment and innovate with an EEG headset for my own research in the MYTech lab!
One of the by-products of my research is the Mind Power solution. Although controlling devices using brain waves (EEG) is anything but new, the novelty of my project lies in the fact that no middleware interface – or, computer – is required to control a targeted device. The whole purpose is to make controlling a desired device possible by simply looking at it and thinking about what the user wants it to do. Simply put, the device would read our minds and obey our commands as a result of a simple glance.
One can easily imagine how the story of a scientist such as Stephen Hawking could have gone had it not been for the technology that empowered him with the ability to share his thoughts. Stephen Hawking was not only able to help us better understand physics, he even wrote books and pushed his theories by controlling a single muscle – or a group of muscles – that acted as a single input method.
The project I'm currently investing my time in would not only give patients the ability to control devices, but also type at a rate at least twice as fast as what is possible through the system used by Stephen Hawking (developed by Intel and SwiftKey – resulting from years of research, the system utilizes machine learning  and natural language processing algorithms and provides a highly-customized scanning keyboard). The project also empowers such patients with the ability to make phone calls! Imagine enabling someone who can't even speak to make a seamless phone call!
What greater purpose can we achieve other than giving those who can't speak a voice - and empower people who have no means of expression or communication with the means to share their thoughts and emotions again?
In MYTech lab, the only limit is one's imagination and, arguably, coursework! As the lab consists of students and collaborators from different backgrounds, support – both technical and emotional – is in abundance. Nothing is impossible when a group of experts from different backgrounds and expertise are passionate about the same goal."