Faculty of Computer Science News
»
Go to news main
Facing an "Internet of Things" future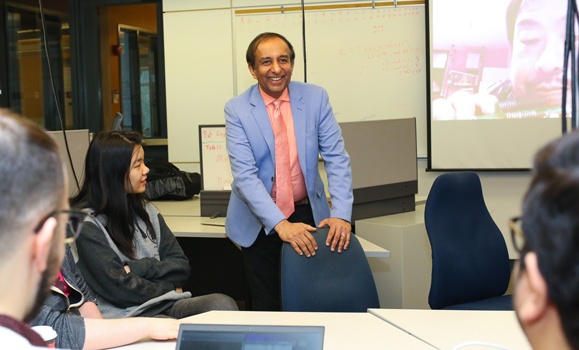 There has been a phenomenal amount of growth in wireless technologies and mobile communication systems over the last decade.

The Internet of Things (IoT) — the embedding of the Internet and computing devices into everyday objects — is one example of this, and is on the brink of revolutionizing almost every sector.

Technically speaking, IoT refers to a collection of autonomous, smart, connected and uniquely identifiable objects with embedded processes that have capabilities in sensing, computing and communicating (sending and receiving data).

"Market analytics estimate that in the next few years, there will be nearly 30 billion IoT devices," explains Srini Sampalli, professor and 3M National Teaching Fellow at Dalhousie's Faculty of Computer Science. "This promises advances in connected health and critical infrastructures with smart grids, cities, and autonomous vehicles, and enormous application benefits within our environment, the military, and for disaster prevention and rescue."

With this comes an array of questions and concerns around security, reliability, and ultimately wondering how to ensure these technologies are being used in the most effective and positive way.

Fostering a culture of innovation
This is what motivated Dr. Sampalli to establish his EMerging WIreless TECHnologies (MYTech) lab six years ago.
"My goal was to create a collaborative environment that would foster a culture of innovation to move us ahead in this emerging area of research."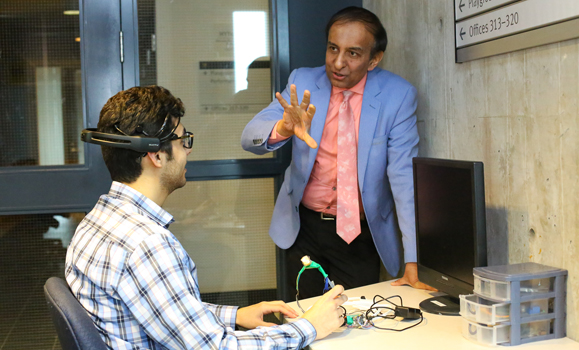 Dr. Sampalli speaks with master's student Steve Mostafa Dafer.
There are currently 19 students (5 PhD, 10 masters, and 4 undergraduates) working alongside Dr. Sampalli, focusing not only on the security and reliability of IoT, but also on the applications of sensor networks, critical infrastructures and mobile computing, generally. Recently, the team has also welcomed professor and expert on IoT, Dr. Hiroyuki Ohno, from Kanazawa University in Japan as an active participant in the lab, bringing with him years of hardware expertise for developing IoT applications.

In just six years, MYTech has accumulated many success stories, from graduating 60 graduate students to helping two local organizations create spin-off companies from their work within the lab, to two MYTech students co-founding their own companies.

Rooted in academic excellence
When asked why each student decided to complete their research in this field at Dalhousie, without fail, every student says it was for "Srini". Whether Dr. Sampalli taught them during their undergraduate degree here at Dalhousie, presented at their university in India, or simply came up in conversation with a friend, he made the kind of impression that motivated them.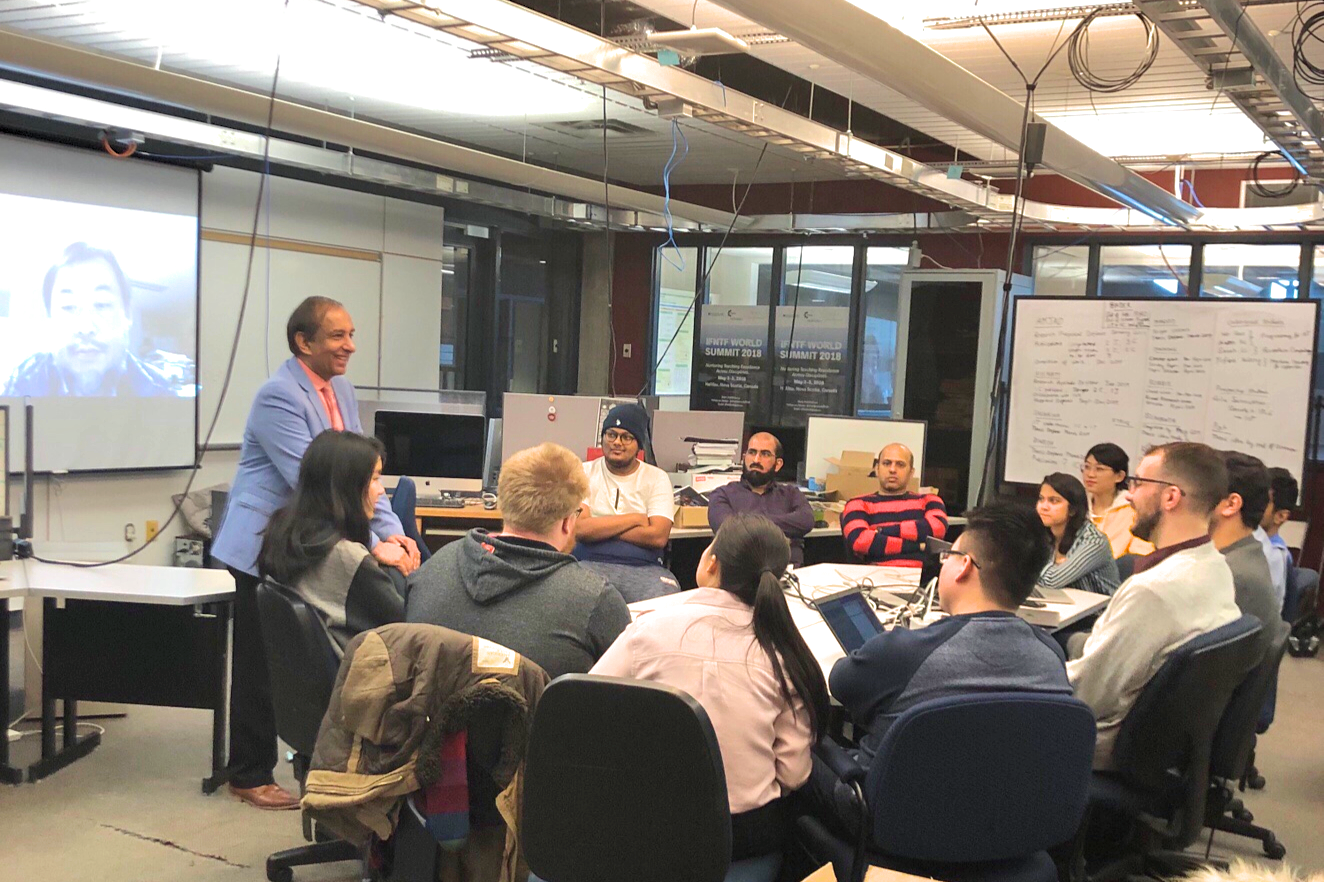 Dr. Sampalli and members of MYTech in a team meeting with Dr. Hiroyuki Ohno.
With more than twenty years of teaching and research experience, Dr. Sampalli has graduated 120 students under his supervision, something he's extremely proud of.

"Teaching and supervising students will always remain one of my primary passions," he says.

He has received many awards and recognition for his impacts in teaching, including the 3M National Teaching Fellowship, the most prestigious in Canada. He holds an honourary position of the Vice President (Canada) for the International Federation of National Teaching Fellows (IFNTF) – an important role for driving teaching excellence across any field of study.

"I look forward to meeting every new student and really enjoy following them in their journey," he says. "Nothing makes me happier than hearing from one of my past students. I love seeing where they took my teaching – or where they've gone with the hard work they put into their time here in the Faculty."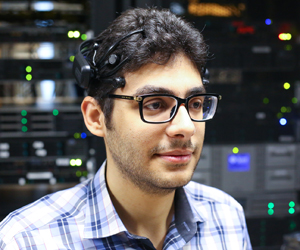 Steve Mostafa Dafer (pictured) is a Master of Computer Science student working in MYTech lab on a project called Mind Power. With an undergraduate degree in computer and communications engineering, Steve has a background in dealing with electronics and robotics.

After working with Halifax Learning (an organization best known for its reading remediation program, SpellRead) on a project that helps children overcome dyslexia challenges, Steve became fascinated by the power of the human mind and how technology (specifically, EEG) can be leveraged to help people, particularly those who have lost their ability to communicate — suffering, for example, from locked-in syndrome, ALS disease, and some coma cases — as well as those who have lost their ability to move their bodies freely due to paralysis.

In collaboration with Dr. Aaron Newman's NeuroCognitive Imaging Lab in Dalhousie's Department of Psychology & Neuroscience, under a MITACS scholarship, Steve has been able to experiment and innovate with an EEG set for his research. "Although controlling devices using brain waves (EEG) is anything but new, the novelty of my project lies in the fact that no middleware interface — or, computer — is required to control a targeted device," he explains.
 
The whole purpose is to make controlling a desired device possible by simply looking at it and thinking about what the user wants it to do. Simply put, the device would read our minds and obey our commands as a result of a simple glance.

"What greater purpose can we achieve other than giving those who can't speak a voice — and empower people who have no means of expression or communication with the means to share their thoughts and emotions again?" says Steve.
In Dr. Sampalli's lab, Steve says the only limit is one's imagination — and motivation.
Read Steve Mostafa Dafer's blog for more details about his work.
MYTech Lab is part of the Systems, Networks and Security research cluster.