MacKay Lecture Series
The annual MacKay Lecture Series features up to four lectures given by internationally renowned speakers, addressing subjects related to the liberal and performing arts. Three of the lectures revolve around a common interdisciplinary theme chosen each year by the Faculty's Research Development Committee from a selection of faculty proposals. The fourth lecture is on a broadly based historical theme, in recognition of the generous donation funding the lecture series that was given by Gladys MacKay in appreciation of the education that her husband, the Reverend Malcolm Ross MacKay, received at Dalhousie as a B.A. student in History (1927).
2023 MacKay Lecture Series
Our Aesthetic Possibilities: Lectures on Art-Making in the 21st Century. 
Organized by:
Erin Wunker, English department and Gender and Women's Studies program 
erinwunker@dal.ca
Bart Vautour, English department and Canadian Studies program
bart.vautour@dal.ca
The three lectures in this year's MacKay Lecture Series will explore academic and artistic perspectives on what cultural production means in our current moment. Taken as an umbrella term, "art-making" refers to cultural production from across multiple fields of practice, from literature to performance art, from music to painting, from screenwriting to memoir and the essay form. As the conditions for making art are continually shifting under the weight of different pressures, be they local or global, today's artists are also working under a changing mixture of technological, social, cultural, health, and economic conditions that are rapidly re-shaping the ways we make and consume art and culture. In these shifting conditions, space is needed to form and articulate our understandings of the politics and poetics of how cultural production comes to make meaning—how art makes incursions into the conditions of its own making. This lecture series means to explore cultural production in our current moment while allowing a forum for understanding the political and social implications of that production alongside an exploration the role of art in our ever-complicating lives.
Lecture One:
NATALIE LOVELESS — "The Politics of Non-Relation: or, How the University Broke My Heart"
Friday, September 29th, 2023
7:00 pm
Scotiabank Auditorium, Marion McCain Arts and Social Sciences Building
6135 University Avenue, Halifax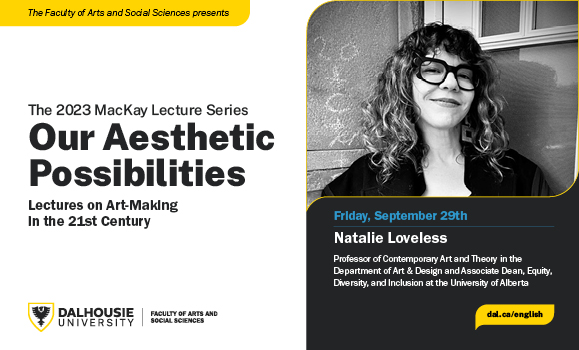 Natalie Loveless is Professor of Contemporary Art and Theory in the Department of Art & Design, and Associate Dean, Equity, Diversity, and Inclusion at the University of Alberta (ᐊᒥᐢᑿᒌᐚᐢᑲᐦᐃᑲᐣ /Amiskwacîwâskahikan, Treaty Six territory and Métis Region 4), where she also directs the Research-Creation and Social Justice CoLABoratory. She is  a fellow of the Royal Society of Canada (College of New Scholars, Artists, and Scientists), the author of How to Make Art at the End of the World: A Manifesto for Research-Creation (Duke UP 2019), editor of Knowings and Knots: Methodologies and Ecologies in Research-Creation (University of Alberta Press 2019), co-editor of Responding to Site: The Performance Work of Marilyn Arsem (Intellect Press 2020), and the forthcoming Routledge Companion to Performance Art. (www.loveless.ca)
Lecture Two:
CANISIA LUBRIN - "After This Sentence"
Friday, October 20th, 2023
7:00 pm
Scotiabank Auditorium, Marion McCain Arts and Social Sciences Building
6135 University Avenue, Halifax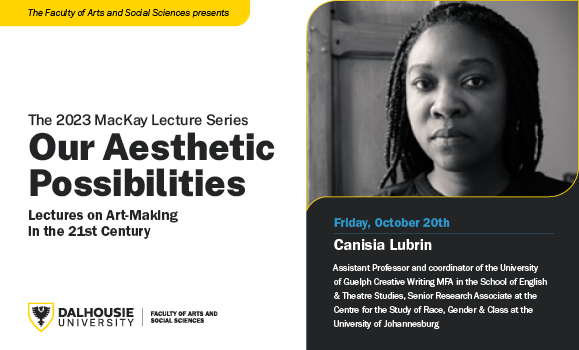 Canisia Lubrin is a writer, editor, and teacher, author of three books, including The Dyzgraphxst. Her work has received a 2021 Windham-Campbell Prize, the OCM Bocas Prize for Caribbean Literature and the Griffin Poetry Prize, among others. Lubrin has held fellowships at the Banff Centre, Civitella Ranieri, Literature Colloquium, and several universities. She is Assistant Professor and the coordinator of the University of Guelph Creative Writing MFA in the School of English & Theatre Studies, Senior Research Associate at the Centre for the Study of Race, Gender & Class at University of Johannesburg, and poetry editor at M&S. Code Noir (Knopf, 2024) is her fiction debut.
Lecture Three:
HANNAH MOSCOVITCH - "Narrative Activism and Internet Fans: or, How I think about audiences now that they clap back"
Friday, December 1st, 2023
7:00 pm
Scotiabank Auditorium, Marion McCain Arts and Social Sciences Building
6135 University Avenue, Halifax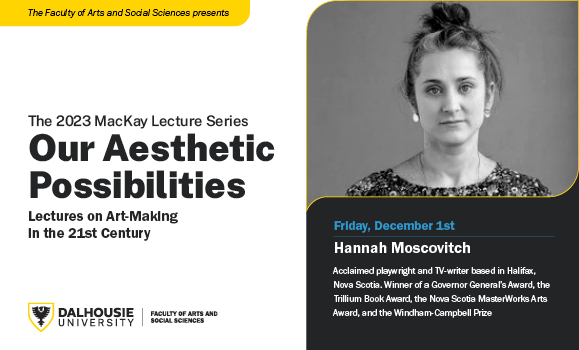 Hannah Moscovitch is an acclaimed playwright and TV-writer, based in Halifax, Nova Scotia.  Hannah has been described as "Canada's most prominent playwright" by the Globe & Mail, "the dark angel of Canadian theatre" by the Toronto Star, and "the wunderkind of Canadian theatre" by CBC. Hannah has written sixteen plays and been honoured with numerous awards for her work, including Canada's highest literary honour, the Governor General's Award. She has also received the Trillium Book Award, the Nova Scotia MasterWorks Arts Award and the prestigious international Windham-Campbell Prize administered by the Beinecke Library at Yale University. In television, Hannah was the Co-Creator, Executive Producer, and Head Writer of Little Bird alongside show runner Jennifer Podemski for Crave and APTN Lumi. Ahead of its premiere date, Little Bird won the Prix Public or Audience Award at the international TV festival, Series Mania, in Lille, France.  Most recently, Hannah was Co-Executive Producer on season one and season two of AMC's hit series Interview With The Vampire.
2023-24 MacKay History Lecture
Organized by Will Langford (w.langford@dal.ca)
Department of History
From Nuclear Power to Nuclear War: Ukraine's History as a Nuclear Colony
by Kate Brown,
Distinguished Professor in History of Science, Massachusetts Institute of Technology
Thursday, October 26th 2023
7:15pm
Ondaatje Auditorium, Marion McCain Arts and Social Sciences Building
6135 University Avenue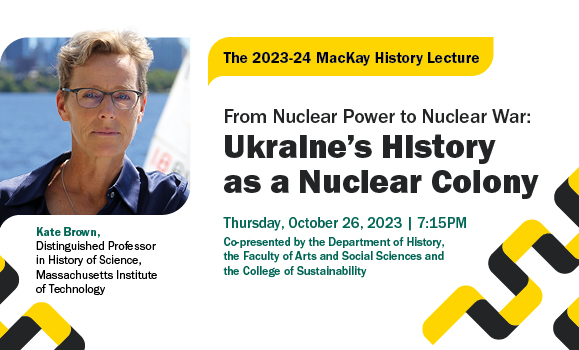 Professor Kate Brown is a historian of science whose most recent book, Manual for Survival: A Chernobyl Guide to the Future, was a finalist for prizes including the National Book Critics Circle Award.

The author of three other enthusiastically-received books, Professor Brown's path-breaking research has addressed the production of nuclear weapons within planned communities, the health and environmental consequences of nuclear fallout, and the intersections of science, technology, and bio-politics. She has held several fellowships, including most recently at the Netherlands Institute for Advanced Study in Amsterdam. She is also co-founder of "History Unclassified," a special section of the American Historical Review incorporating contributions beyond the usual research article format. Professor Brown is currently working on a history of the people and plants involved in urban agriculture and gardening in the 20th century.

Co-presented by the Department of History, the Faculty of Arts and Social Sciences, and the College of Sustainability.
PAST MACKAY LECTURES
2023 MacKay History Lecture
Siloed Knowledge: Mennonite Settlers vs. the Farm Expert
Featuring Dr. Royden Loewen, University of Winnipeg
Organized by Dr. Will Langford, Department of History
2022 MacKay History Lecture
Old Beginnings: The Scene of Decolonisation
Featuring Professor Priyamvada Gopal  (University of Cambridge)
Organized by Ajay Parasram, Departments of History and International Development Studies
MacKay Lecture Series 2021-22
Organized by Martha Radice, Department of Sociology & Social Anthropology
This year, the Faculty of Arts and Social Sciences hosted a virtual MacKay Symposium, Happiness in Troubled Times.
Presentations:
Dr. Carol Graham, The Brookings Institution - Unequal Hopes and Lives in the U.S.A.: Insights for Research and for Policy from the New Science of Well-Being
Dr. Helen A Regis, Louisiana State University - Troubling Joy: Learning from Activists for Racial Justice in the Festival Archive 
Dr. Joel Faflak, Western University – Got Happy?
Dr. Francisco Cruces Villalobos, UNED – Little Joys and Agonies of the Intimate Space
Watch the video recordings of the 2021-22 MacKay Symposium presentations.
MacKay History Lecture 2020-21
Professor Derek Penslar, Harvard University
"Towards a Unified Field of Israel/Palestine Studies"
Organized by Denis Kozlov, Department of History
MacKay History Lecture 2019-20
Professor Joan M. Schwartz, Queen's University
"Picturing Place & The Writing of History: The Lens & Legacy of Frederick Dally"
Organized by Lisa Binkley, Department of History
MacKay Lecture Series - 2018-19
"Learning Machines: Who builds AI? Who benefits?" - organized by Karen Foster (Department of Sociology and Social Anthropology) and Darren Abramson (Department of Philosophy)
AI, Automatization and Social Transformations
Dr. Ross Boyd,
Senior Research Associate
Hawke EU Jean Monnet Centre of Excellence and Network
University of South Australia
Transparency, Accessibility, and Ethics in AI
Dr. Larry Medsker, Research Professor of Physics
Associate Editor, Neural Computing and Applications
Public Policy Officer, ACM SIGAI and Member, ACM US Technology Policy Committee
The George Washington University, Washington, DC
MacKay History Lecture 2019
Professor Robbie Shilliam
John Hopkins University
Fire Pon Rome: Rastafari and anti-Fascism
Organized by Ajay Parasram, Department of History, Department of International Development Studies
MacKay Lecture Series - 2016-17
"Immigration Politics in Review" organized by Pauline Gardiner Barber and Ruben Zaiotti. 

Living Race in the Post-Racial Era? Mixed Race Amnesia in Canada
Dr. Minelle Mahtani
Associate Professor of Human Geography and Program in Journalism
University of Toronto - Scarborough
Resettler Society:  Private Sponsorship of Refugees and the Making of Citizenship
Dr. Audrey MacKlin
Professor and Chair in Human Rights Law
University of Toronto
The Futures of Migration in Europe and Germany: A New Normalcy?Dr. Thomas Faist
Professor of Sociology of Transnationalism, Migration and Development
Bielefeld University, Germany
MacKay History Lecture 2017
Containers & Humans in Deep Time: An Environmental History
Dr. Daniel Lord Smail
Frank B. Baird, Jr. Professor of History
Harvard University
MacKay Lecture Series - 2015-16
"Multilingualism Matters--Beyond Babel," organized by Krista Kesselring, department of History
Patricia Lamarre: "Parkour de ville: What the linguistic trajectories of young multilingual Montrealers tell us about Quebec post-Bill 101"
Sherry Simon: "The Translational Life of Cities: How Language Exchange Shapes Urban Culture"
Monica Heller: "Multilingualism in the Globalized New Economy"

MacKay History Lecture 2015
Marcia Chatelain: "Teaching in the Age of #BlackLivesMatter: Social Media, Social Justice, and Social Change in Classrooms and Communities"
Dal News story: Marcia Chatelain Talks #FergusonSyllabus at Dal
MacKay Lecture Series - 2014-15
"Performance Across Boundaries,"
Organized by Roberta Barker (Fountain School of Performing Arts).  
Christopher Baugh (University of Leeds): "Devices of Wonder and the Spectacle of Power"
Philip Auslander (Georgia Institute of Technology): "Barbie in a Meat Dress: Performance and Mediatization in the 21st Century"
Marlis Schweitzer (York University): "Precious Objects: The Material Culture of Nineteenth-Century Child Performers"
MacKay History Lecture 2014
Maria Subtelny (University of Toronto): "Rules for Rulers: Political Ethics in Medieval Islam"
MacKay Lecture Series - 2013-14
"European and Canadian Separatisms"
Organized by Jerry White, Canada Research Chair in European Studies
"Myths, Nations and Collective Imaginaries: A New Frontier for Cultural Research"
Gérard Bouchard
"The Language of Incomprehension: How Not To Be a Minority Language Writer"
Christopher Whyte
"Recognition and Political Accommodation, From Regionalism to Secessionism: The Catalan Case"
Ferran Requejo Coll
MacKay History Lecture 2014
"Dis-united kingdoms? Debating Britain in Seventeenth-Century Scotland"
Roger Mason

MacKay Lecture Series - 2012-13
Reconciliation:  The Responsibility for Shared Futures
 
Organized by Brian Noble, supported by Sociology and Social Anthropology, Canadian Studies, and International Development Studies 
"Back to the Future:  The Confederation Treaties and Reconciliation"
Dr. Michael Asch
"Aki-noomaagewin (Earth's Teachings):  Stories of the Fall, Indigenous Law and Reconciliation"
Dr. John Burrows
"Reconciliation Here on Earth:  Shared Responsibilities"
Dr. James Tully

Previous Series Themes:
2011-2012: Reconciliation:  The Responsibility for Shared Futures

2010-2011: Global Change and the Need for a New Social Imagination
2009-10 - Sustainability: Past, Present, Future
2008-09 - Music, Culture, and Society
2007-08 - Identities and Ideologies:  Changes and Transformations in the Modern Islamic World
2006-07 - The Early Modern Family
2005-06 - With Respect to Readers: Book History and the History of Reading
2004-05 - Finding the Balance: Citizenship, Immigration, and Security
2003-04 - Europe: A Multidisciplinary Feast
2002-03 - Origins
2001-02 - Cross-Cultural Exchanges in North America