Nadira al-Nasleh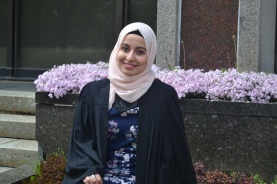 Dr. Firanescu's Foreword
Nadira was one of the most passionate of Arabic, most perfectionist students I've had at Dal: when she joined the Intermediate Arabic class, a few years ago, she already was at a pretty good level of proficiency in reading and writing Modern Standard Arabic (as she had studied it for a few years in school, and had worked individually on various literary texts), but Nadira's aspirations were much higher! She wanted to acquire richer and more diverse vocabulary in the formal variety of Arabic (the most rigorous and sophisticated), to eliminate any grammar mistakes (not easy thing, as native speakers of Arabic know very well), to become able to express herself in Standard Arabic orally and through composition. She achieved these goals through serious, thorough work, but what distinguished her was the passion, the love she put in it! Beyond doing homework and extra-work, Nadira loves to read literature, which (sadly) has become an increasingly rare passion… I would emphasize this for all my students who are native speakers of an Arabic dialect: the ideal way to raise one's level in the beautiful Standard Arabic is to read literature, read its Masters (at least some samples!) of the Arabic literature, watch cultural TV programs in Standard, listen to music and poetry in Standard, make it your beloved, noble companion!
As a professor, I feel wonderfully rewarded when students don't just "do their duty", but get to love Arabic and share their passion; it takes me back to a time when I fell in love with this fascinating language, as it makes me optimistic for the future of Arabic among modern languages! Thanks, Nadira, for sharing the passion and for becoming a teacher of Arabic in the making! No doubt, you will be a good one; one who loves learning as much as teaching… I wish you much success with your Master's degree in Education, trusting that you will keep staying close to our Arabic program and students!
Dr. Rodica Firanescu
Nadira writes:
I graduated with a Bachelor of Science in Microbiology and Immunology and a Minor in Arabic Studies, in June of 2016.
Being of Palestinian – Jordanian origin, I am a native speaker of the Arabic language, as I have attended elementary school in Jordan from grades 2-6 before moving back to Halifax, where I had first moved to with my parents when I was 2 years old. Because of my background, I could speak, read, and write the Arabic language but those who are familiar with the Arabic language would understand how much the Modern Standard Arabic (MSA), with its structure and grammatical rules, is different from the everyday spoken Arabic dialects. My grammar skills, vocabulary, and sentence structure in MSA were very weak and needed improvement and refinement to be at optimum level.
My love of the Arabic language started to grow inside my heart noticeably during my high school years. I had always preferred to watch Arabic TV shows or listen to Arabic music over the popular shows and music that my friends were into. I specifically preferred shows and music that were performed in MSA rather than the dialects because I was just so in love with the way it sounded and the musical rhythm of it. I then took this a step further by channeling my reading hobby into Arabic literature and I started reading novels and short stories that were written in MSA, taking my time to admire the choice of words and looking up meanings of any new words that I did not understand. This helped me immensely with increasing my vocabulary and becoming more familiar with grammatical rules. I also was attending Sunday Qur'an School at the time, and being that the Qur'an is written in Classical Arabic, which the MSA was derived from, it also made me more familiar with the Arabic language structure.
After being admitted into Dalhousie University, I had made it a goal to take Arabic language courses to further grow my knowledge of the Arabic language and improve myself even more. I did not get the chance to incorporate the Arabic language courses into my course schedule until my second year, when I registered directly into Intermediate Arabic (due to being a native speaker) with Dr. Rodica Firanescu, and was part of the more advanced group split in the class. I successfully completed the Intermediate Level and Advanced Level courses as well as the Arabic Culture course, all which were very enjoyable courses given by Dr. Firanescu from which I learned so much and fell in love with Arabic even
more. Taking the Arabic language classes has helped with improving my grammar and increasing my MSA vocabulary. Dr. Firanescu was a great professor to have, she would always challenge me and encourage me to work harder and harder to improve myself and perfect the language. The culture class in particular (ARBC2100) was one of my favorite courses because I realized that even as an Arab, there were so many things about my own culture, and history of the Arab world that I did not know about.
In my fourth year, after realizing that I will soon be done with the Arabic courses offered at Dalhousie and with completing my Minor, I began to feel a little sad. I had grown so attached to the Arabic department, the courses, and my fellow classmates, as well as Dr. Firanescu, and so I approached Dr. Firanescu to ask how I can continue to be involved with the Arabic program at Dal. To my luck, there was a position for a Teaching Assistant for the Arabic Culture class available and Dr. Firanescu had encouraged me to apply for it. Since then, I have been the TA for the Arabic culture class for two years, which has been a pleasurable experience for me. I love working with Dr. Firanescu, who makes the class such an enjoyable experience, with all its different components, and I also enjoy working with the students and supporting them as well as giving the non-Arab students as much perspective into the Arab culture as I can. This experience has encouraged me to pursue a career in teaching where I am now working towards my Masters of Education to hopefully be able to teach others the Arabic language and culture. I have already started giving private Arabic language beginner classes over the summer with a tutoring company and it makes me so happy to be able to share this beautiful language with others around. It is great knowing that my journey with Arabic does not ever have to end, being that even until now I continue to learn new things in the language.
There is so much beauty and richness in the Arabic language and culture that I would encourage any student to discover and enjoy it. It will take a lot of work and effort, but once you start and fall in love with it, you will not be able to let it go.