Nael Abd El‑Rahaman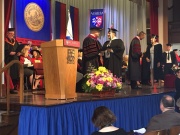 Nael Abd El-Rahaman has just obtained, on May 14th 2017, his Master's degree in Arts (Theology) from Acadia University, with a thesis entitled "A Comparison of the Doctrine of Satan in the Bible and the Qur'an". What a beautiful addition to his journey with Arabic and Religious Studies!
I foresaw, when Nael was taking Advanced Arabic with me at Dal, as well as the Arabic culture class, that he was about to embark on a longer, more adventurous, passionate, and rewarding journey with Classical Arabic, due to his vivid interest and love for the ancient texts written in the Arabic heritage language (the mother of nowadays' Standard Arabic). Hearty congratulations, Nael, and much good luck in the future, in your professional and private life! On May 14th, the entire family was so happy and proud: Nael's wife, Mona, and their four lovely daughters. I am tempted to push my prediction farther and say "Why not a Ph.D., soon?!"…
Dr. Rodica Firanescu
Naels' words:
In 2015, I graduated with a Bachelor of Arts (Double Major in Religious Studies and History with a Minor in Arabic Studies) from Dalhousie University. Later, I joined the M.A. program at Acadia Divinity College, (M.A. Christian History.) However, after one year at Acadia, I decided to study Theology. Inspired by a conversation about Satan and the world of Jinn in which we talked about the Satan in Islam during one of Dr. Daniela Firanescu's classes at Dal, my M.A thesis was under the title A Comparison of the Doctrine of Satan in the Bible and the Qur'an.
The thesis required the use of primary sources written in Arabic, such as commentaries along with the Qur'anic text. Therefore, I spent the last two years working on them, translating their authors' thoughts and ideas to be used in my thesis as references. Since my mother tongue is Arabic, using Arabic primary sources was not a problem. However, the texts were not written in Arabic dialects, which are considerably different from the Standard or Classical Arabic. The courses I took at Dal, which were offered by the Arabic Programme, were helpful; they helped me to rediscover the beauty of Classical Arabic language and to polish my understanding of Classical Arabic.
One of my goals was to become able to help in translating a part of the great Arabic heritage to English and introduce it to others so they could learn about it. I believe that my M.A. thesis was a step toward achieving that goal.