News
»
Go to news main
A dream to change the world
Posted by
stephanie Rogers
on March 30, 2023 in
News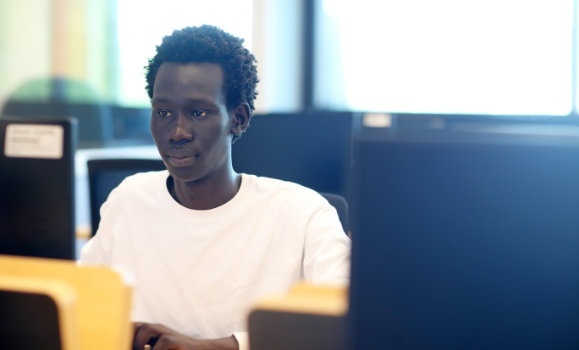 by Mandi Wilson

Yuot Chol Arok has overcome tremendous challenges to pursue his passion for engineering and continues to face challenges and triumphs with quiet resolve and confidence.
Yuot fled South Sudan at the age of two with his mother and sister as his country was ravaged by civil war. Yuot lived in the refugee camp with limited access to food and education until he was eight years old.  His uncle sponsored him to continue his education in Nairobi, where he lived with extended family.
"My mother and some of my siblings returned to South Sudan, as the civil war was over then.  But the war was not over for good; in 2013, my mother returned to a refuge camp in Kenya with some of my siblings," he recalls.
Yuot was able to help two of his siblings adjust to schooling in Nairobi while he attended school there. The educational journey for Yuot and his sibling was not easy. They all had to learn Swahili to be able to communicate with teachers and classmates.  But for Yuot this challenge only spurred his drive to excel.
When he was awarded a World University Service Canada scholarship to study engineering at the post-secondary level, Canada was his first choice. He started studying engineering on the Truro campus in the winter of 2021 and quickly excelled in his classes, impressing his engineering faculty members with his dedication and natural skill.
"Yuot is one of those students who has the rare ability to dig in-depth to the very essence of things, explained Dr. Alex Martynenko, P.Eng.  "He is not satisfied with superficial knowledge, and he does not take any statements for granted. I was impressed with his critical thinking. All this will make him a good engineer," added Dr. Martynenko who taught Yuot Electric Circuits in the fall of 2022.
As an engineering student, Yuot has a unique perspective on the field. He has seen firsthand how climate change has impacted food security, the environment and how technology can bring advancement. He is deeply committed to using his skills to make a positive impact in the world. He believes that engineering has the power to create a more sustainable future and is dedicated to promoting environmentally conscious practices in the field.
"The engineering community could be transformed by the way it responds to the dynamics of climate change and the threat it poses to our world," said Yuot.  "As a prospective engineer, I will have both an opportunity and an obligation to apply the unique skills that I would have learnt to develop solutions, facilitate communication, foster collaboration, drive innovation and shape climate change policies," he added.
Yuot was able to find connection with his classmates. He noted the closeknit student community and approachable faculty on the Truro campus as important factors to early success in his university career. He played soccer on the AC team, was a member of Dal AC Rotaract as well as the WUSC Committee. As well, Yuot was employed for two summers on campus, first with the International Office and in summer of 2022, he worked as an Engineering Student Assistant.
"The Engineering community both students and teaching staff makes engineering at the AC exciting," said Yuot.  "The students are welcoming and easy to interact with and most importantly collaborate on both school and non-academic activities. Most professors are approachable and ready to help," he added.  
This past year, Yuot's studies and hobbies took a backseat while he faced some health concerns. The students in the Engineering Department, faculty and staff checked in on Yuot regularly, but not as much as his mom, who still lives in Kenya. At his mom's request, he briefly considered going to live with an aunt in western Canada for the winter semester but with his typical stoicism and quiet dedication, Yuot received treatment in Nova Scotia while working online from hospital, maintaining academic excellence.
Yuot will continue his studies on the Sexton Campus in the fall of 2023, finishing his Bachelor of Civil Engineering. And he knows what he wants to accomplish in his life. He wants nothing less than to change the world.
"I have had my career trajectory mapped out ever since I started my undergraduate engineering studies. I'm highly ambitious about solving some of the world's pressing problems. In the next 10 years, I hope to be a fully licensed engineer and make relevant contributions to my career and the industry."