News
»
Go to news main
A celebration of creativity from scientific minds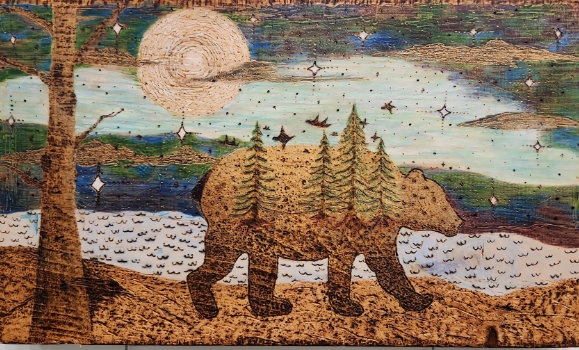 Dalhousie Agricultural Campus Community Fine Arts and Crafts Exhibit
The artistic talent of the Dalhousie Agricultural Campus community is on display once again.
COVID might have prevented the annual Dalhousie Agricultural Campus Community Fine Arts & Crafts Exhibit from taking place for several years, but it certainly did not dampen the creativity of its participants. The 2023 exhibit took place this month with a record number of submissions from faculty, staff, students and alumni.
"The past few years have been difficult for many reasons," says curator Stephanie Peach (Class of '12). "It makes my heart smile to finally be able to bring the exhibit back to campus. It's an enriching experience to be part of something so beautiful that brings people together."
The exhibit is a celebration of the creative abilities of the people who study, learn, and thrive at the Agricultural Campus. The first exhibit took place in 2013 under the direction of curator Crystal Fullerton (Class of '90 and '14), who led the show until 2018. When Crystal moved away from the Truro area, Stephanie stepped up to take on the role of curator. Her first exhibit ran in 2019.
"I really enjoy seeing the pieces," says Stephanie, of curating. "It makes me happy to watch the artists mingle and get to know each other. And it is my absolute pleasure to spend time in the library with the amazing staff, who so kindly lend a big helping hand."
The exhibit has been housed in the Cobequid Gallery of the MacRae Library every year since its inception. It would not be possible without the support of MacRae Library staff, including Elaine MacInnis, MacRae Library Head and Associate Dean, Library Services for Dalhousie. Elaine has been involved in planning the annual exhibit since 2012, when she was first approached by Crystal with the idea.
According to Elaine, the importance of the exhibit to campus culture is more evident than ever this year. "There is such a feeling of pride and Aggie spirit surrounding the exhibit," she says. "Having the art in the library space also provides a creative and calming environment for students during the most stressful part of their term. It's like a breath of fresh air in the library."
This year's exhibit ran from March 2-17th, 2023, with 64 submissions on display from 28 artists. The wide range of art and craft included paintings, sketches, fibre art creations, photography, wood working, burning and carving, mixed media, sculpture, and 3D modelling.
Although the submissions can change drastically from year to year, there is consistency in what the exhibit provides: community and perspective, according to Stephanie. "I feel this exhibit brings together old friends and provides the opportunity to make new friends," she says.
"We all have unique life experiences that lead us to view the world in different ways. This gives us a wide range of subjects and media that make this display of talent as special as the Faculty of Agriculture itself."