News
»
Go to news main
Where are they now?
Posted by
stephanie Rogers
on November 30, 2022 in
News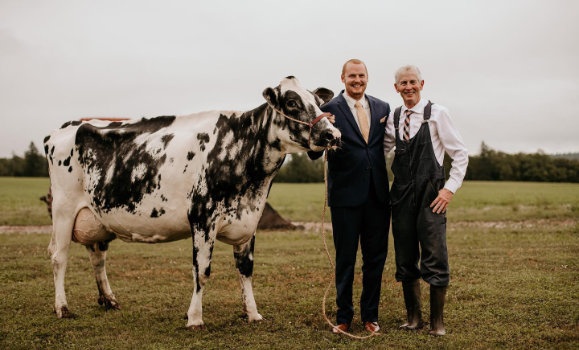 The Class of '13 was the first group of students to graduate from the new Dalhousie University Faculty of Agriculture. These students began their studies with Nova Scotia Agricultural College, continued their classes and experienced life on campus through the time of merger. For many, this was a time of unease, anxiety, and also excitement.

In keeping with the theme, 10YearsTogether, we decided to check in with a number of alumni from the Class of '13 to see where they are now and how they felt about NSAC merging with Dalhousie University.
Alex MacDonald
Growing up on a dairy farm in Crapaud, PE, Alex MacDonald wasn't the typical farm kid. 
"I wasn't involved in 4-H and instead, spend all of my free time on a dirt bike, or fishing," he recalls.
As his high school days drew near, he didn't know what he wanted to do for a career, or if he wanted to be involved in agriculture, at all. The same year, Alex's family suffered a barn fire, losing their dairy barn, all of their milking cows and calves.
"My father was 50 years old, at the time," says Alex. "He wasn't really sure whether he was ready to rebuild or go in a different direction."
Meanwhile, with some help and advice from family, Alex headed to NSAC to study aquaculture and plant science, earning his degree, at the time of merger.
Alex's dad had made his decision not to rebuild the family farm but wasn't ready to leave the industry. He entered a partnership with friends, in a nearby community, who were undertaking a large expansion. 
With his new degree, Alex headed further away from home, where he spent time working in BC. After the stint in aquaculture, he decided he wanted to dabble in his roots, gaining some different experience in agriculture, after all.
"I had a chance to work on two dairy farms, a potato farm, a Christmas tree operation and an agri-chemical research farm," says Alex, of his well-rounded experience, all at good timing. "My father's partnership was coming to an end and a decision had to be made on the farm."
Together, Alex and his dad decided to build, re-entering the dairy industry, on their home farm and the world they knew. They built a barn and started shipping milk from home again in the spring of 2017.
"Although I may not have appreciated it growing-up, agriculture is so important and has allowed me to return home and make a living in my hometown. I am inspired by my hardworking parents and everyone who is working in the industry."
Reflecting, Alex is pleased of his experience elsewhere, but couldn't be more proud of where he is today – Highlander Farm with his family.
"It's challenging," he admits, "trying to earn a profit with rising costs.  We recently had our year end review, and we are headed in the right direction."

When the announcement was made, that NSAC would merge with Dalhousie University, becoming the Faculty of Agriculture, what were your initial thoughts and feelings?
Looking back, how do you feel now?
At the time, I think we were worried about what the merger would mean and what would change. But as students (and looking back), it didn't change much for me. Certainly better than the campus closing!
What is your favourite memory from your time at NSAC?
Like many people say, I have lots of great memories from my time spent on campus. Hands-on work like in the greenhouse and raising fish in Haley stand out and pretty unique to the AC experience. I also have lots of great memories from Farmers Olympics and of course, pub nights at the Barn.