News
»
Go to news main
Second time is a charm for farm owner and operator Ella Oulton
Posted by
stephanie Rogers
on November 23, 2022 in
News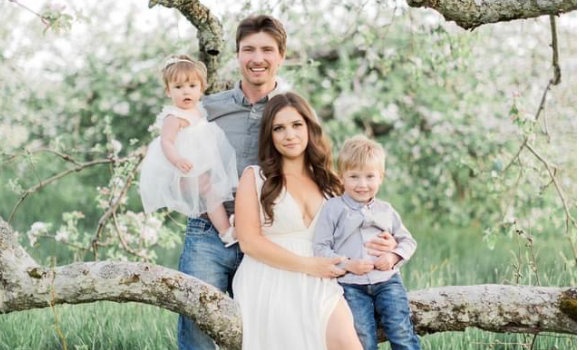 Ella Peck has wanted to be a veterinarian since the age of four and when she graduated high school in 2013 was attracted to the modest and kind community at the Faculty of Agriculture. 
Unfortunately, family tragedy changed Ella's trajectory. 
"My family experienced five deaths within a short period of time during my first year at the AC," explained Ella.  "Because of this, I felt very overwhelmed in school and decided to take some time away."
Time away including working as a herdswoman at Homtosta Holsteins in Bridgetown, Cornwallis Farms Ltd. in Port Williams, and as a farmhand at Oulton's Farm in Martock.  The Oulton farm belongs to the family of her partner Wyatt whom she met during her first year on campus.
During this time an opportunity arose that enabled Ella, now Oulton and her husband Wyatt to purchase a 40-acre farm in Martock and further diversify the 6th generation family farm.
"I had much hands-on experience, but the desire to finish my degree never subsided," said Ella.  "It was a balancing act returning to campus when our son was ten-months old as I continued to breastfeed, and it had only been a few short weeks since we had started our farm!"
Ella travelled three hours, each day, to attend class, while together, with her husband, helped to operate a beef, free-range turkey, and fruit crop farm in Martock along with their four-year-old son and eight-month-old daughter.

"Despite returning as a mature, distance-commuting student, the faculty welcomed me back with a lot of warmth and encouragement," added Ella.
Ella completed her Bioveterinary Science degree and graduated this past May.
Each fall, the Oultons raise free-range turkeys, and they plan on diversifying their farm further with sheep. This past September, they held their first annual online cattle sale with several lots and were delighted with the response and support of their community.
Ella has also learned over the past few years that she is also passionate about molecular genetics, immunology, epidemiology, and microbiology.
"I am very interested in biosecurity and its implications and am interested in creating better protocols for our farm as a preventative measure for optimum herd health and food safety," said Ella.  "Molecular genetics and microbiology courses were very hands-on and had an exciting laboratory component. My professors were very passionate about the courses they taught, and their enthusiasm was very infectious."
Before having the farm and her children, Ella used to work at the Aquaculture Centre on campus and volunteered with the Central Nova Animal Hospital. She also volunteered to milk at the Ruminant Animal Centre which started her love for agriculture.  Ella continues to volunteer at a clinic in the HRM and has been involved in the Hants County 4-H beef club.
Ella was the recipient of the Dr. Allan & Barbara MacKay Scholarship, the Kings Mutual Insurance Scholarship and an Alumni Family Bursary and while life may have set a different timeline for Ella, she is still passionate about her academic and career goals.
Ella's first career goal was and continues to be applying to the Atlantic Veterinary College after graduation to become a veterinarian. She is also not ruling out a job with the Canadian Food Inspection Agency.
"I want to use my skills to further the success of our business, whether I can use my veterinary skills for the care and welfare of our animals, or microbiology-based knowledge to implement important biosecurity protocols," Ella explained.