News
»
Go to news main
If you want it, you have to work for it!
Posted by
stephanie rogers
on April 15, 2021 in
News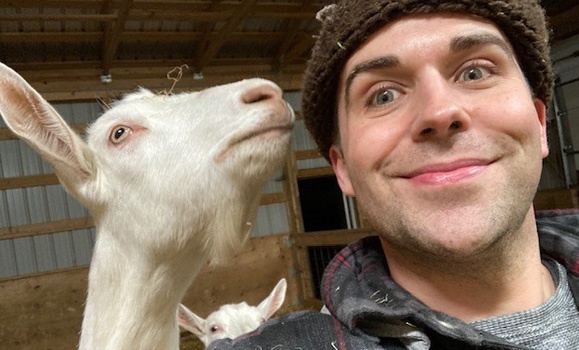 If you want it, you have to work for it
Adam Scanlan (Class of '06)
What's a kid to do when his parents won't let him get a Holstein cow as a pet? Start farming goats of course. At least that's what Adam Scanlan did as a 13-year-old in Whiteside, Cape Breton.
He's had a love of farming and agriculture ever since he can remember, and since graduating from the AC in 2006 he's been working in the agriculture industry. He's currently in Alberta farming part-time and working full-time at the Canadian Food Inspection Agency (CFIA).
One of Adam's childhood memories is spending summer vacations in Prince Edward Island. When his parents asked he and his siblings what they wanted to do, his siblings would choose days at the amusement park or the beach. Adam, however, would ask to spend the day watching a dairy farmer do the milking. His father would drive onto random farms and ask if his son could watch them the next time they milked, and there was never a farmer who said no.
"That was my idea of a great vacation!" said Adam.
Of course, he desperately wanted his very own cow, but his parents weren't on the same page.
"I got thinking about the dairy industry, which bumped goats right to the top of the list," said Adam. "I did a lot of research, and figured because of their smaller size and living requirements, they may be a better fit."
After a year of convincing, his parents gave in. His father built him a barn and soon afterward came his first two goats: A Purebred Registered Toggenburg doe and a Recorded Grade Toggenburg-type doe. He was 12 years old and was completely in love with his goats. His herd continued to grow as he did – balancing school, his herd and work to cover expenses through high school.
"I've always been stubborn and independent," he admitted.
His passion for goats followed him from Cape Breton to his undergrad at the AC, to grad school, and finally in his move to Alberta, where he continues to farm goats as well as chickens, pigs, and lambs.
"As a livestock producer in the West, one of the biggest things that affects management practices and is significantly different here from the east coast, is the lack of humidity. I find with the drier climate I see significantly fewer issues with parasite loads and respiratory issues," he explained.
After graduation, Adam attended graduate school at UPEI for a short time, but before finishing, he decided to head West to Calgary. There, he began a career with the CFIA, where he still works full-time today, currently as a Meat Import Specialist, providing guidance and support for technical issues surrounding meat imports and dealing with various issues that arise around meat imports into Western Canada.
"I feel very connected to my career with CFIA, it's allowed me to fulfill my love of science and agriculture," said Adam.
Through his work with the organization, Adam feels connected and part of a community in a role that allows him to fulfill his love of science and agriculture. "My job allows me to read and apply scientific concepts every day, which is one of my favourite parts of the job. I truly enjoy the challenge of each file and the dynamic nature of each day."
As a young person in farming and the agriculture industry, Adam isn't going to pretend it isn't tough.
"No one can truly prepare you for the work required to forge your own path, and you quickly become aware of how much you don't know and what you don't have as a new graduate," he said. "But instead of rushing to dismiss the entry-level phase of farming, embrace it. There's so much to learn if you pay attention. Accept that you will make mistakes, it's the best way to learn."
Adam also urges young people new to farming and agriculture not to compare themselves to others in their field. "Everyone's paths are different, and despite how we may set goals, life sometimes has other plans, and that's ok. You'll get there, and if you want it, you have to work for it!"
Adam's passion for and genuine love of farming and agriculture has led him to a fulfilling career and successful farm, with a day-to-day that's ever-changing and keeps him challenged and excited about his work.
"I always knew I had a passion for agriculture and somehow, someway I would turn that into something successful."
Learn more about our Animal Science program