News
»
Go to news main
Second time's a Charm
Posted by
Stephanie Rogers
on April 30, 2018 in
News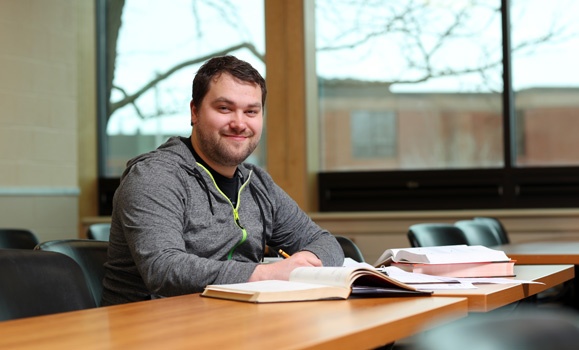 by Emma Geldart
Alan Fiddes initially began his engineering diploma program in 2009 at the Nova Scotia Agricultural College (now Dalhousie University Faculty of Agriculture) never expecting it would take the next nine years to truly finish what he started.
Math and physics always came easy to Alan and feeling pressured to pursue post-secondary education after high school, enrolled in the engineering program on the Agricultural Campus.  He eventually transferred to Memorial University in Newfoundland and spent a year studying a Bachelor of Science majoring in Mathematics.  
"After I left university I had always intended on returning someday" Alan explains. "However, I kept finding ways to avoid going back to school."
Alan worked several small jobs and purchased a small company in which to invest his time, however in his heart he knew he wasn't quite finished with school.
After struggling to find the right motivation to go back to school, Alan put his foot down and decided it was time to get back on track. Oddly enough, he found himself drawn back to where he started- engineering at Dal AC.
"After working a minimum wage job for six years and living paycheque to paycheque, it became significantly easier to find inspiration to put in the hard work," Alan explains with a smile.
Now, a mature student studying civil engineering, Alan is set to graduate with his diploma this May. After that, Alan plans to continue his education pursuing an engineering degree at Dalhousie University in Halifax.
After some hesitation in the beginning, Alan has finally found exactly what motivates him to succeed- his family.
"I own a house in the Truro area and my partner and I will welcome our first child in June," Alan happily explains. "My goal for the future now is to finish my degree and a get a good job that can support my family."
As a mature student, Alan admits that balancing academics and life at home has not always been easy. Both required a great deal of commitment and impeccable time management.
"Balancing home life and school has certainly presented more problems than I had anticipated," Alan explains. "There are always chores to do when I get home on top of homework and you can't let the pressures and stress of university impact your relationship."
Alan certainly didn't shy from the challenges. His newfound passion for engineering and his drive to succeed and support his growing family overpowered the challenges he faced as a mature student. The key, Alan admits, was staying on top of everything.
"The best way to approach keeping everything stable is to stay on top of everything," he shares. "While it is important to make sure all of your assignments and labs get completed, it is just as important that the dishes get washed, or that I can spend time relaxing with my girlfriend. Time management became an integral skill in maintaining a good home life in conjunction with a good academic record."
Despite balancing his workload and life at home, Alan still managed to get involved in extracurricular activities through Dal AC. He was both a player on the soccer team and the treasurer for the Engineering Society. His extracurricular activities required careful time management but were certainly worth it.
"The society helped me get involved in the engineering community and strengthened my bond with my younger classmates," Alan explains. "It can sometimes be difficult relating to my classmates as we are at very different periods of our lives."
Reflecting on his time spent at Dal AC, Alan is pleased with the route he took and wouldn't change anything. He chose Dal AC originally because of the proximity to his house in Truro and admits that the best part was the small class sizes and the personal relationships he developed because of this.
"I've found that the instructors at Dal AC are much more involved and interested in having their students not only succeed, but to also enjoy the learning experience," Alan says. "The small class sizes allowed for greater interaction with the professors, which can be a great boost to one's success."
Not only that, Alan credits some of his success to his network of friends that he made at Dal AC. He encourages anyone entering the engineering program to develop their own network of friends and take advantage of the resources the teaching staff offer on campus.
"Having a group of friends to help support you through your studies is immeasurably helpful," Alan says. "From comparing answers on assignments to helping with last minute study sessions, there is nothing more valuable than a good support group."
Although it may have taken Alan a little extra time to realize it, it turns out engineering was certainly the path for him.