News
»
Go to news main
The next 100: The Faculty of Agriculture looks ahead
Posted by
Stephanie Rogers
on April 24, 2018 in
News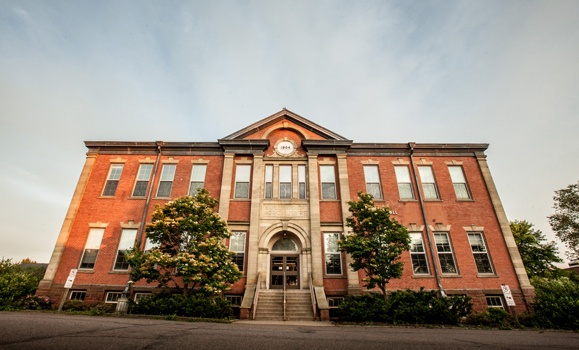 When Ashley (Shepard) Coffin ('07) was a student at the Nova Scotia Agricultural College, one of the things she cherished was the intimate small-campus atmosphere, and the close bonds among students. After earning her degree in Animal Science, Ashley got a job on campus, then left to work in industry, taking a position with Shur-Gain in Sussex, NB.
When Ashley came back in 2015 as a program manager in Extended Learning, NSAC had become the Dalhousie University Faculty of Agriculture – and Ashley was thrilled to find how strong those bonds remained. "I really felt that connection with the campus and the people here," she says. "Campus still very much feels the same as always – the same friendly, small community, family feel. It was like I never left."
In fact, she says the sense of collegiality may be even greater, since it now extends to her Dalhousie colleagues as well. "Dal's been great to us. My colleagues on the Halifax campus have been fantastic."
This year marks the 200th anniversary of the founding of Dalhousie University – a milestone few Canadian universities have reached. One of the themes for the celebrations is "The Year of Belonging" -- emphasizing diversity within the university and Dal's connections to its communities.
It's an apt slogan for the Faculty of Agriculture too. It may not have been part of Dalhousie for the university's first 200 years, but it's a key part of its future – looking ahead to a third century in an era in which agriculture will be increasingly important.
The five years since the Dalhousie-NSAC merger have seen significant investments on campus and have provided an opportunity for the two formerly separate institutions to share the best each has to offer.
"People often say, 'Well it's five years since Dal took over the Agricultural College,' and I'm very quick to clearly respond, 'No, it's five years since NSAC and Dalhousie merged,'" says Dean of the Faculty of Agriculture and Campus Principal, Dr. David Gray. "A takeover only goes one way, whereas a merger allows the flow and sharing of information in two directions. It's like pouring two liquids into a beaker and watching them mix."
That mixing has produced a new doctoral program (currently accepting students who will begin their studies in fall 2018), increased opportunities for multi-disciplinary research, and a wave of exciting campus improvements – some specifically tied to the Dalhousie bicentennial.
Dalhousie's AVP, Communications and Marketing, Catherine Bagnell Styles, says the bicentennial is an opportunity "to say a huge thank you to the people who have helped you along the way: the community, the alumni – and to lay out the welcome mat so people feel the celebration is happening with the community." The university asked each faculty to produce its own plans for bicentennial projects. "We gave them some funding and helped them with tools to build their plans – and they are as unique as the faculties themselves. We've had a tremendous amount of engagement," she says.
In terms of dollars, the biggest infrastructure program at the Faculty of Agriculture this year is the construction of the campus's new biomass heating plant. The $24 million project will see the replacement of the aging wood-fired boiler with a co-generation system will burn a wider range of biomass products, and will include a turbine to produce electricity at the same time. In addition to producing clean energy and a more reliable source of heat, Dr. Gray says the plant is a major step towards "our aspirations for this campus to be completely carbon neutral."
A new feed barn – replacing the one lost to fire in 2015 – is also in the works, with construction scheduled to begin this spring. Instead of simply replacing the old barn, Dr. Gray says the new feed centre will "incorporate a new space: an agriculture interpretive centre. Local groups, school groups – pretty much anyone will be able to come onto our campus and learn what agriculture in Atlantic Canada is. There are many misconceptions. Many people have no idea of the skills, the high tech tools, or the diversity of sectors that exist within agriculture in Atlantic Canada. It's going to be a very hands-on centre and allows us the opportunity to fulfill our responsibility to do community education."
Once the feed centre is done, Dr. Gray says the next phase, still a few years away, will be a new dairy facility.
While the biomass plant may be the most expensive current project on campus, it won't be as visible in students' daily lives as a couple of other new projects: the long-awaited learning commons and a new outdoor classroom, to be inaugurated as part of the Dalhousie Bicentennial Botanical Gardens. The commons provides an area for students to study and socialize in an informal environment. "Students are really looking forward to having that space on campus," says Ashley, who, in addition to her role in extended education is also a faculty champion for the bicentennial, and a residence life don. "They can gather in a common location, work on projects, or just relax. It's going to provide more of a sense of involvement outside the classroom atmosphere."
When it comes to the Bicentennial Garden, Dr. Gray says, "We have beautiful gardens across the campus, but we made the decision the they really need to be viewed and branded as a botanical garden." An outdoor classroom right in the centre of the campus, behind the Collins Building, and an alpine house featuring a unique environment for the study of rare plants are being added to the garden this year.
The gardens and outdoor classroom won't just benefit students and faculty, but also the community at large, says Dr. Gray. "We are seeing ourselves as a destination. Over the last five years we've seen more tourists visiting our campus, and we encourage the community to visit – we are an open campus."
As Ashley lists off some of the key events for the coming year – such as a September visit from Dr. Temple Grandin, including a public talk, student forum, and meet and greet – she keeps returning to the theme of welcoming alumni and community members to the celebrations. "We encourage alumni to be a part of all of the events and to join all festivities, whether in Truro or Halifax," she says.
Beyond the bicentennial, Dr. Gray says he's been pleased with the way Dalhousie has adopted some former NSAC practices and incorporated them across the university. "Dal looked at NSAC, identified good practices and adopted and implemented them across the university. And that made a big difference. We were being seen as an asset to the Dalhousie family." He points to two very different initiatives as examples – one academic and one social. On the social side, Dr. Gray says, "The president picked up on our strawberry social and adopted it for the whole university. It's good fun, and a great opportunity to get together as a campus, reflect on the hard work that's been done, thank people, and be together as a group." He adds that, from an academic perspective, "We had an academic grading scale NSAC had used for many years. Not long after the merger, Dalhousie wanted to review the grading scales across the university as a whole, looked at them all, and adopted ours."
Catherine says she is impressed by the range of faculty bicentennial projects and how they ensure "we are really inclusive across campus."
After the January kick-off for bicentennial events in Halifax (the university offered free transport for those in Truro who wanted to attend), Catherine says the message she heard repeatedly was, "I feel proud."
That's the key message Catherine wants everyone to take away from the bicentennial. Not just pride in the school, she says, but "I want people to feel proud of their association with the school."
And that remains true for all – whether or not a faculty has been part of Dalhousie for five years or for decades.