News
»
Go to news main
John Higgins Memorial Garden a Reality
Posted by
Stephanie Rogers
on April 11, 2018 in
News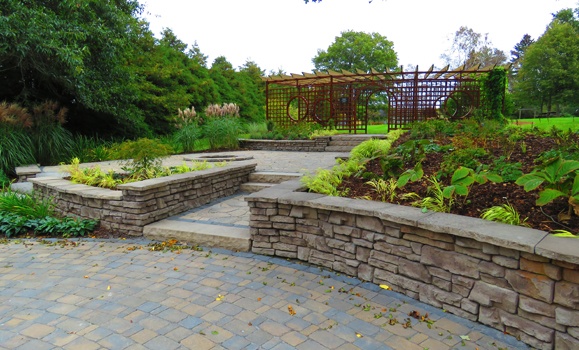 After five years of planning and planting, a beautiful addition to the Agricultural Campus was opened in October 2017 - the John Higgins Memorial Garden, located within the Alumni Gardens.
The space was previously designed by the late John Higgins, an instructor at the former NSAC and completed by Agricultural Campus staff, students and volunteers, in his honour. This tiered, paved space includes a decorative steel pergola, made possible by donations from the Class of '75. The steel structure replaced a wooden one, which was designed by John himself.
John Higgins was a familiar face on campus, as a professor of the Landscape Horticulture Technology Program from 1978 until 1998. The program drew students from all across Canada and further, training students through classroom theory and practical outdoor experience- sometimes in questionable weather. John was known to tell students, "This will toughen you up for the workplace!"
Former student, Jackalyn Darling agreed John's words paid-off, "He sure toughened me up. Good thing, because I worked for him for 14 years!"
Laziness and tardiness was not tolerated by John. Everyone was expected to work hard, regardless of the weather conditions. "I remember tree planting labs in a hailstorm, pruning labs in the rain and conducting a site analysis in a snow storm. We did not have time to wait for good weather- the curriculum couldn't wait," Jackalyn said.            
John Higgins is remembered as one of those rare people who could use both sides of his brain simultaneously. He could design a complicated deck design, whizzing through deck joist span tables, draw a sketch of it and teach it all at the same time! He loved plants just as much as his hardscapes.
"He had a particular love of weeping trees, curved cedar hedges, sugar maples and fashioning herbs and fuchsias into standards," said Jackalyn.
John's contributions to the landscape trade went beyond teaching. In 1996, John became a founding member of the Atlantic Association of Landscape Designers (AALD), whose membership includes practicing landscape designers and companies and anyone with an interest in landscape design and horticulture. John led the organization to develop one of the first Landscape Designer Certification programs in Canada. To date, the AALD remains very active and hosts regular workshops and garden tours.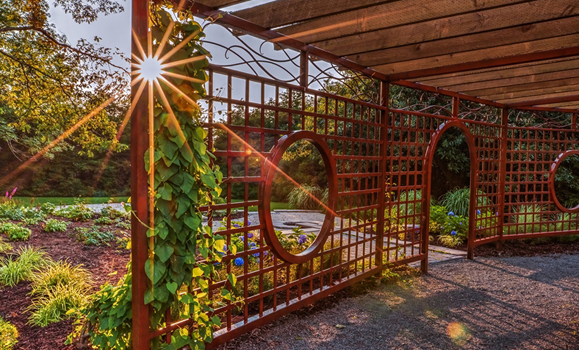 AALD member and treasurer Peggy Wright, says John was a huge asset to their trade. "The influence John has had on elevating landscape design and promoting good design in the Atlantic Provinces during his career at NSAC and beyond, has been immeasurable."
When John retired from NSAC in 1998, he started his own landscape design and consulting company and oversaw the development of the beautiful Fox Harbour Golf Course and Spa in Wallace, NS. When that project was complete in 2001, he became the instructor of the Landscape Design and Maintenance Program at the New Brunswick Community College in Woodstock, New Brunswick.
John passed away in 2006. Several years later, the AALD began the process of designing a memorial to honour his achievements.
"It was challenging to finalize a design with over a dozen creative minds and still end up with a cohesive design that represented what John stood for and loved," said Ellen Ruddick, AALD chair.
But design it they did. In the spring of 2014, the garden began its development on the site within the Alumni Gardens.
"I remember one Sunday in October planting bulbs in the pouring rain and saying John would be very proud of us," says Jackalyn.
The hardscape was installed first and over the next three years' shrubs, perennials and dozens of bulbs were planted – all varieties John favoured. Pavers and plants were donated by generous individuals and garden centres across the Maritimes. Staff and students of the Faculty of Agriculture assisted in between member visits.
The entire project was a true testament to John's ways. Countless people came together to work hard, donating time, product and money to create the beautiful space. The result, a unique place for visitors to enjoy, a backdrop for future weddings, graduations, special events and a place for people to come and remember John.   
Written with excerpts provided by Jackalyn Darling