News
»
Go to news main
Joy Galloway‑Jones named Lieutenant with Truro Volunteer Fire Brigade
Posted by
stephanie rogers
on December 5, 2016 in
News
Joy-Galloway-Jones, IFB Coordinator & Curriculum Mapping, has become the first ever female fire officer for the Town of Truro Fire Service.
Eight volunteer Fire Officers comprise the leadership team for the Truro Volunteer Fire Brigade on and off emergency scenes.  A Deputy Chief, an Assistant Deputy Chief, three Captains and three Lieutenants coordinate and supervise the membership within the Brigade.  
There are currently four active female volunteer firefighters.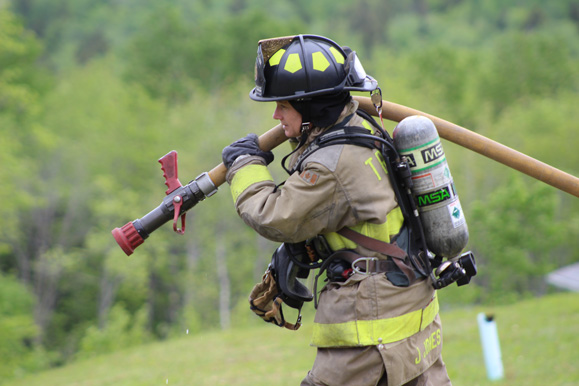 "We typically go from three to six females out of a membership of around 30 to 35," explained Joy.  "Last Thursday, I was affirmed as a Lieutenant through a vote of confidence.
As a Lieutenant, Joy will be part of the leadership team, will be the Assigned Officer-in-Charge on certain weekends and have the opportunity to take Incident Command, assist one of the Captains in leading a Ward and so on.
"I was very excited and am very honoured," added Joy.  "As for what it means, one of the other young women who is a volunteer and I were chatting in a group on a fire scene the other night and she expressed it well…she said that she not only put in the piece of paper that said "yes", she actually wrote "HELL YES!"
"Since joining the Truro Volunteer Fire Brigade/Truro Fire Service, Joy has excelled in all aspects of firefighting and membership.  As Joy's Captain for the past two years, I have seen first hand her commitment to obtaining the highest levels of training and her desire to learn and give 100% in every situation," said Captain Geoff Fisher.
 "Having Joy become the first female fire officer in the history of the organization is something we are extremely proud of.  Like all officers, Joy has earned her position as Lieutenant based on performance, ability and knowledge.  She is respected by volunteer and career members and prides herself in her work to ensure equality for all.  The members of The Truro Volunteer Fire Brigade pride themselves in fulling our mission of fire protection as well as being open and welcoming to all.  Having Joy in our officer ranks will only help us in reaching our future goals.  Personally, I look forward to Joy's contribution both on scene and at the station in her new role."

Congratulations Joy!
Photo Credit: Keltie Jones