News
»
Go to news main
First annual Atlantic Young Farmers event at Dalhousie Agriculture
Posted by
Stephanie Rogers
on February 19, 2016 in
News
By: Casey Spears  
While many people were preparing for a relaxing long weekend, dozens of young farmers from the Atlantic Provinces boarded planes and packed their cars to attend the Communicating for Results on the Family Farm workshop.
Held at the Dalhousie Agricultural Campus February 12-13, the workshop aimed to provide attendees with new vocabulary and improve the way they communicate on the family farm. Dr. John Fast's obvious concern for people and his commitment to increase the individual and organizational performance made him an effective and inspirational speaker to lead the event.
Extended Learning at Dalhousie Agriculture hosted the event with Nova Scotia, New Brunswick, Prince Edward Island and Newfoundland & Labrador Young Farmers associations. This is the first event that all Atlantic Provinces organized and participated in together.
"There is a direct linkage between the Agricultural Campus, its graduates and the Young Farmers. We don't want students to leave university, drop into the countryside and lose touch with their Young Farmers groups," General Manager of New Brunswick Young Farmers Forum Cedric MacLeod said leading up to the event.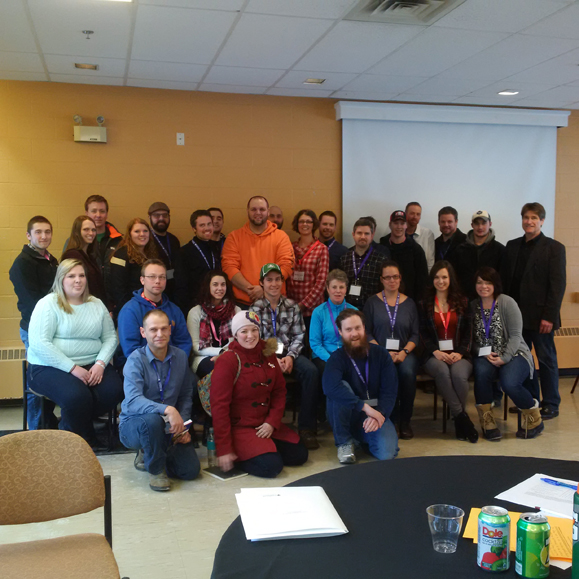 The weekend started Friday night with a dinner and networking at the Best Western Glengarry, followed by Dr. Fast's introduction and the first topic: Communicating with Emotional Intelligence. Saturday's topics included Active Listening, Managing Difficult Conversations, Negotiating for Success and Practicing the Power Principles of Communication.
Dalhousie Agriculture student Robyn McCallum attended the event and said, "The event was one of the best farm workshops I've been to. The entire event was well-organized and I'm glad that I attended."
Throughout the workshop there was lots of laughter, discussion and self-realization. Dr. Fast had participants take a self-awareness test Friday night to determine their emotional intelligence. This was eye-opening to many attendees. It became obvious to some participants why they may deal with family farming issues differently than their siblings or parents. An anonymous participant says she learned "how to communicate better and more respectfully and efficiently with little or no conflict and bittering with family members" because of the exercises and workshop.
With over 30 participants, the event was such a success that training for Atlantic Young Farmers will become an annual event. Save the date for February 10 & 11, 2017 for the second annual training event.