Director's message
Bill Robertson, Ph.D., P.Eng.

Director & Academic Director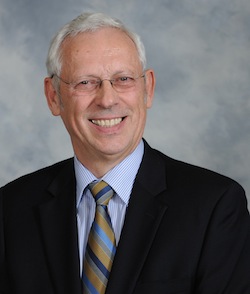 The Internetworking Program was first introduced in 1997, with the support of Cisco Systems Inc., as the first such Master level program in the world.  Needless to say, much has changed in 20 years.  Today an Internetworking Graduate needs a much wider knowledge base and have a much higher skill set than a graduate of even a few years ago due to the advent of virtual systems, software defined networks, programmed network devices, the increased security requirements of both wired and wireless systems, and the pervasiveness of the Internet of Things.  It is clear that no single program can cover all the bases today and in fact no academic program can keep up with the pace of change in the industry.  Our commitment to our students is such that we have devised a hybrid education and training plan which will give our students the opportunity to stand above others when they go out to the job market.  The plan is based on a solid and up to date academic program coupled with academic partnerships with various industrial providers.  The latter provides a co-curricular program which provides targeted training to students.  Together the Academic Program and the Co-Curricular Program ensure both a strong theoretical base and a strong practical skill set in line with industry trends.  
My colleagues and I take pride in our Program and in our graduates of whom there are now well over 1800 out in the work force.  We are indebted to them as they have worked hard and diligently and have provided our Program with a solid and well-earned reputation.  We are making a heartfelt statement when we say to new initiates that "Your success is our success" and over the years this has proven true year after year.  At a recent industrial event we had the pleasure of meeting graduates from 1998, 1999, 2004, 2013, 2015 at the same time as we met current students who were also in attendance.  There can be no greater tribute to our Program than to hear our Alumni relate how successful they have been in industry since attending our Program. 
Our continued relationship with Cisco Systems Inc., and our new Academic Partnerships with other providers are key to our ability to provide a well-rounded education and training program to our students allowing them to stand above others taking advanced degrees.  The resources required to deliver this complex program would not be possible without the unstinting efforts of my colleagues who step up unfailingly to the challenges of marketing, recruitment, building industrial relationships, and facing the challenges of new and emerging technologies to make it possible for our students to be the true Internetworking leaders of tomorrow.
My relationship with this Program has, for over 20 years, been the most satisfying part of my career of over 40 years in Academia.  I personally wish to thank our partners, students, alumni, and staff for making such a level of satisfaction possible.