News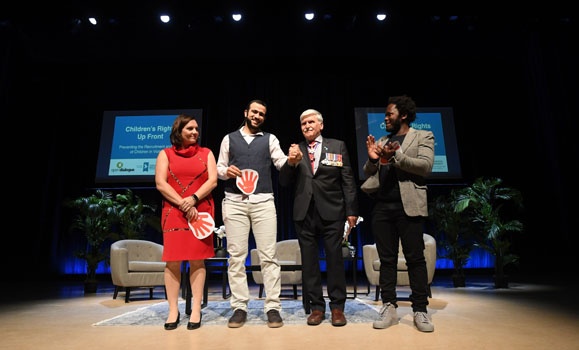 Former Guantanamo Bay detainee Omar Khadr spoke publicly on stage for the first time at a discussion event Monday night hosted by the Roméo Dallaire Child Soldiers Initiative. Read more.
Featured News

Thursday, January 30, 2020
Last fall, Dalhousie received the Lord Dalhousie Panel's scholarly report and apologized for its namesake's views and actions on race and slavery. That was just the beginning of a larger process of reconciling with the past and building a stronger future – a process overseen by Vice-Provost Equity and Inclusion Theresa Rajack-Talley.

Thursday, January 30, 2020
This month, a Dal team helped host the first-annual QAtCanSTEM Colloquium to help create a greater sense of feeling of camaraderie and freedom among scientists in the LGBTQ+ community.

Wednesday, January 22, 2020
The Iranian Students Society is honouring the memory of those who lost their lives aboard Ukraine International Airlines Flight 752 by raising funds for a new bursary through the projectDal crowdfunding website. Thanks to a $25,000 contribution from Dalhousie, the effort is well on its way — learn how you can contribute.
Archives - News