Today (September 12), Dr. Kevin Hewitt, a professor in Dalhousie's Department of Physics and Atmospheric Science, was announced as one of three inaugural Atlantic Chairs for Inclusion in Science and Engineering (A-CISE). In the new role, established by the Natural Sciences and Engineering Research Council of Canada (NSERC), he will join his co-chairs for a two-year term with the mission to help change the face of science, technology, engineering and mathematics (STEM) in the Atlantic region.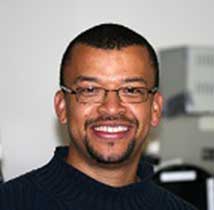 Together with Dr. Stephanie MacQuarrie from Cape Breton University and Dr. Svetlana Barkanova from Memorial University of Newfoundland, Dr. Hewitt (pictured right) will create STEM-focused opportunities and initatives to support women, Indigenous peoples, persons with disabilities, racialized groups, and members of 2SLGBTQI+ communities, with a particular focus on First Nations and Francophone communities, Nova Scotians of African descent and remote and rural communities.
"I've been involved in outreach to improve equity in STEM education for my entire career, going back to undergraduate," says Dr. Hewitt, who was also announced as the first associate dean, equity and inclusion in Dal's Faculty of Science in September last year. "But this award really provides the resources to be able to put into action and build on many of the things that I and my co-chairs have been working on for years."
Programming for success

The chairs will focus on recruitment into and retention within STEM fields by offering a variety of initiatives that build upon successful local programs, extending them regionally and nationally. Six programs will be scaled up to become regional flagships, offering continuity with successful programs offered by the applicants. This will include four programs currently offered by NSERC's Chairs for Women in Science and Engineering in Atlantic Canada, which is being folded into A-CISE. Dr. Barkanova's Physics in the Rural classroom program, and Dr. Hewitt's STEM curricula developed for the Imhotep's Legacy Academy will also be adopted.

Above, Dr. Kevin Hewitt observes an activity with the Imhotep's Legacy Academy. 
Four new regional initiatives will also be introduced, including:
·      An A-CISE scholar employment program which aims to address the critical grade nine/ten year when students make the decision to enter STEM;
·      L'nu Health & Science Program led by Cape Breton University's Unama'ki College;
·      A speaker series that will bring important voices to institutions across Atlantic Canada; and
·      A large-scale engagement program that will build on the occasion of the April 8, 2024 total solar eclipse to engage student imaginations.
"For more than two decades, Dr. Hewitt has been a champion of EDI efforts in STEM at the institutional, community, regional, and national levels," said Dr. Alice Aiken, Dalhousie's vice president, research, and innovation. "His work inspiring young people to pursue a life in science through his leadership of Imhotep's Legacy Academy has been transformative. By further empowering his educational innovation, passion, and dedication, NSERC has chosen a leader who will most certainly deliver positive change."
A mandate to lead

Beyond programming, Dr Hewitt says the new role provides a position of influence to engage leaders in the STEM community, from deans of science and engineering to leaders of public education at the middle and high school levels.
"A-CISE allows us opportunity and mandate to engage leaders to help shape policy," he says, noting that as a group, the three co-chairs provide a unique perspective to guide policy based on the range of their experiences and expertise.
The team will lead four policy and systemic change initiatives to address critical issues in STEM, including:
·      Creating STEM education recommendations in collaboration with departments of education;
·      Outreach to deans of science and engineering to address outreach in tenure and promotion processes;
·      Examining science fair structure and inclusivity in partnership with Youth Science Canada; and
·      Building a promising practice database with graduate students. 
"NSERC rightly created this initiative with a team of three, because it's that diversity of perspectives, that really brings innovation," said Dr. Hewitt. "We have three chairholders who have been doing work in partnership with Black and Indigenous communities, with women and other underrepresented groups. Together, we can bring a useful perspective on how to build on successful programs, create new ones, and document promising practice."
As an immediate next step, the team will recruit a new managing director for the initiative to be based at Dalhousie University, along with part time program directors at Cape Breton University and Memorial University. A-CISE funding will also support postdoctoral fellows who will work with the co-chairs to ensure their scientific research continues to progress.