Every year, Dalhousie shines a light on some of its most accomplished and celebrated instructors with its university-wide teaching awards.
These awards help showcase excellence in pedagogy, innovation, curriculum development and more. This year sees the addition of a new award for Excellence in Online/Blended Course Development, Design, and Delivery. 
Find out more about the winners of the 2023 University-Wide Teaching Awards below:
Sachin Seth
Dalhousie Alumni Association Faculty Award of Excellence for Teaching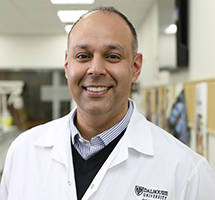 Dr. Sachin Seth, an assistant professor and associate dean of academics in the Faculty of Dentistry, is known for his helpful, open, and supportive way of working with students and colleagues. He has taught across all years of the dentistry curriculum and is a favourite amongst the students.
Since 2002, Dr. Seth has been involved with both clinical and didactic teaching, including operative dentistry, evidence-based dentistry, patient care, and communications. In 2018, he led various stakeholders to deliver an innovative new clinical teaching program that exposes students to a setting which more closely resembles private practice, with collaboration between dentistry and dental hygiene.
Dr. Seth's publications help pass on his expertise to colleagues and his YouTube videos of introductory operative dentistry techniques are a valuable resource to both Dalhousie and non-Dalhousie students alike. His innovative small-group practice model, which brought a diverse group of teachers and students together, has greatly impacted the education and the educational experience.
Lisa Berglund
Award for Excellence in Online/Blended Course Development, Design, and Delivery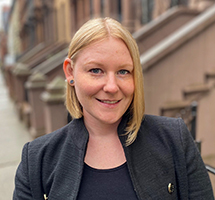 Dr. Lisa Berglund, graduate program coordinator and assistant professor in Dalhousie's School of Planning, focuses on urban design skills and the history and theory of urban planning and urban design in her teaching. She is being recognized for her exemplary teaching skills, including considerations for universal design for learning and accessibility.
Dr. Berglund has shown a purposeful effort in thinking through what teaching and learning activities can be moved to online, considering learning needs and content and what learning activities are best facilitated in person. She also developed curricula to support equity and cross-cultural competencies and enhanced the understanding of groups who have experienced historic and ongoing disadvantage and harm.
In her studio and theory courses, students are asked to solve planning problems from the perspective of underrepresented and historically marginalized groups, conducting research and reaching out to local communities to do so. This past year, she led field study courses in both Charlottetown, PEI, and New York City where students were able to gain applied knowledge from urban planning practitioners carrying out their work on site, with a particular focus on social justice in planning practice.
Adrienne Allison
President's Graduate Student Teaching Award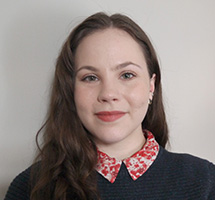 Dr. Adrienne Allison, who recently completed her PhD at Dal, spent almost a decade as a student at the university. She completed her BSc (Hons) at Dalhousie in 2016, and after a brief stint working in industry returned to pursue graduate studies. She was a member of the Dalhousie first-year chemistry teaching team during her graduate degrees, totaling 15 academic terms of teaching experience.
Throughout her tenure, she held the positions of teaching assistant, senior teaching assistant, and part-time instructor. She also helped develop online content for the course during the pandemic-induced transition to virtual learning. Her strong academic and teaching profile were well-developed for a graduate student.
Her dedication to professional development is evident in the many ways she has enhanced her teaching and communication skills, from completing the Certificate in University Teaching and Learning to engaging in external workshops and courses related to teaching and learning activities. Her students appreciate her hard work, which can be seen in the excellent student evaluation reports she has received.
Amy Mui
Early Career Faculty Award of Excellence in Teaching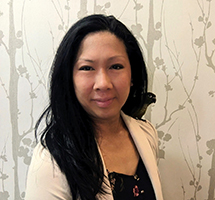 Dr. Amy Mui, a senior instructor in the Department of Earth and Environmental Sciences, is passionate about showing her students how to see the natural world through new perspectives and apply data-driven approaches to solving environmental problems.
Over her six years at Dalhousie, she has developed several courses aimed at building technical and numeracy skills in students through fun and interactive ways and finding innovative methods of communicating science. Her use of technology and blended learning is clearly advantageous to students' deep learning, motivation, and feeling of community. Her dedication to sustained innovative and inclusive course development, use of evidence-based practices, and overall quality of teaching are outstanding.
She teaches several courses in the Environmental Science program, where she is also an undergraduate advisor.
Tom Ue
Contract and Limited-Term Faculty Award for Excellence in Teaching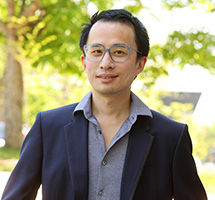 Dr. Tom Ue teaches literature and science in the Department of English. He is being recognized for his strong emphasis on inclusive excellence in his teaching and his valuable work with international students, particularly those students whose first language is not English.
Dr. Ue is known for his ability to use his research activities to inform his teaching practices, his commitment to his professional development, and his capacity to help students make connections across different disciplines.

Professor Ue cares deeply about equity and experiential learning. He has supervised numerous students in research projects and is currently at work on a new book about Ernest Cline's bestselling novel Ready Player One (2011) with a former student.