When National AccessAbility Week kicked off Sunday, people in our province were coming to terms with another pressing issue: the rapid spread of wildfires.
Dalhousie University responded quickly to offer supports for students, faculty and staff who might be impacted by the fires and, in doing so, exhibited its commitment to fostering a caring, kind, safe and empathetic campus community.
This proactive approach toward helping each other reflects the same spirit that lies at the heart of the Dalhousie University Accessibility Plan. This pivotal plan, released last year, provides a road map to making all of Dal's campuses "fully accessible by removing barriers to education, employment and research," with plans to go above and beyond the Accessibility Act passed in 2017 by the Government of Nova Scotia.
That provincial act "recognizes accessibility as a human right and outlines how the province will improve accessibility by preventing and removing barriers," with the goal of an accessible Nova Scotia by 2030.
"Since the legislation for sure, but maybe even before that, it really feels like finally Dal is acknowledging issues related to accessibility," says Dr. Judy E. MacDonald, director of the School of Social Work and assistant dean of equity and inclusion in the Faculty of Health.

"I present to social work students in our program and say, 'I can guarantee it: every single one of you will be touched by disability, either through family members, through situations that you find yourself in, perhaps through a temporary disability, or you'll be working with people with disabilities,' " says Dr. MacDonald, who is also founder of Dal's Staff and Faculty Disability Caucus.
'Disability is a human right'

Órla McDevitt, Dal's director of accessible employment, points to a pivotal quote from a Supreme Court of Canada decision that reflects how important employment is to a person.
"Work is one of the most fundamental aspects in a person's life, providing the individual with a means of financial support and, as importantly, a contributory role in society," the quote reads. "A person's employment is an essential component of his or her sense of identity, self-worth and emotional well-being."
Persons with disabilities in Nova Scotia are unemployed and under-employed, with more than 30,000 Nova Scotians between the age of 24 and 64 living with disabilities. These individuals have the potential to work under inclusive labour market conditions but are currently not due to barriers they face.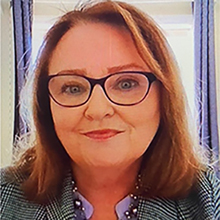 "Disability is a human right," McDevitt says, noting that one in five Nova Scotians age 15 years and older identify as having a disability — the largest percentage of any Canadian province. That includes not just visible and physical disabilities, but also "mental, intellectual, learning and sensory impairments."
Shown right: Órla McDevitt.
Dal's Accessibility Plan carefully aligns itself not only with the Nova Scotia Human Rights Act, but also with the Canadian Charter of Rights and Freedom and the Convention on the Rights of Persons with Disabilities under the United Nations.
Dal's plan focuses on the following six key focus areas:
·       The built environment;
·       teaching, learning and research;
·       goods and services;
·       information and communication;
·       transportation;
·       and employment.
In terms of employee resources, like those being offered as we work together to cope with Nova Scotia's devastating wildfires, Dal also offers referrals to confidential mental health and addictions services above and beyond EFAP, geared toward individual needs.
Other accommodations include access to specialized services offered by Nova Scotia Health (NSH) such as wellness navigators, referrals to physicians and specialists, and encouraging programs such as the Tranquility app, which is offered to all Nova Scotians at no cost.
"We also do OT (occupational therapy) referrals, ergonomic assessments, job site functional analyses and independent psychiatric evaluations," McDevitt said, adding Dal manages sick leaves and work injuries in-house, and works with providers such as LifeMark for treatment plans.
Other resources available for staff and students include accessible parking, assistive technology, Communication Access Realtime Translation (CART) and American Sign Language (ASL) interpreters, varied positive sensory environments and specialized safety precautions for those with physical disabilities — among many others.
"It's really important that we design employment spaces where disabled people are gainfully employed and included," McDevitt says. "And we need to invite disabled people and disabled employees into that conversation."
"It's nothing about us without us," she said. "That's important to keep in mind when you are creating those spaces, because these are the people that know what they need."
Identifying as (dis)Abled: Inclusive language is key

That includes people such as Dr. MacDonald, who identifies as (dis)Abled because she has long lived with chronic pain. For her, even the very language we use to describe those who identify as disAbled is pivotal to understanding differing perspectives.
"We have to change how we understand disAbility and how we see (dis)Ability," says Dr. MacDonald (shown below left), who believes "ability" should be emphasized in "(dis)Ability" by including an uppercase A.
"If people with (dis)Abilities have navigated the multiple barriers in coming to university, in getting employment, in finding accessible housing and transportation, then they have a whole lot of abilities that we better recognize," she says.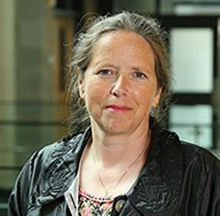 Dr. MacDonald also emphasizes that Dalhousie – and every institution— needs to take "responsibility to acknowledge the structural barriers promoted by ableism and work to dismantle them." That includes recognizing how Nova Scotia's wildfires will disproportionately impact (dis)Abled community members.
McDevitt agrees that inclusive language should be top of mind when creating an accessible on-campus environment. "We work with our colleagues in talent management and academic staff relations so that we can provide accommodations to employees."
"If spaces aren't accessible, what you're saying to people with disabilities is 'you're not welcome; you're excluded; you're not included," McDevitt explains.
A much-needed lens on intersectionality among disability and other identity groups is also pivotal to long-term systemic change, she says.
"We experience marginalization between those who have privilege and those who haven't," McDevitt said. "Persons from marginalized groups are disproportionately impacted by disability because of what they have to go through as being a marginalized person every day."
'Committed to an accessible educational environment'

Ashley Coffin, planner and project manager for Truro Start on Dal's Agricultural Campus and Accessibility Coordination Committee member, is one of many employees dedicated to creating safe spaces for these types of conversations about Dal's Accessibility Plan.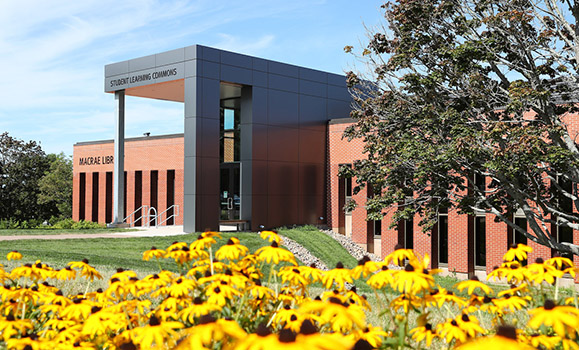 The Student Learning Commons shown on Dal's campus in Truro.
"We are committed to providing an accessible educational environment that supports all students, faculty and staff so that we can all thrive," says Coffin (shown below right), who also works in planning and analytics within the office of the Provost and Vice-Provost Academic on Dal's Agricultural campus.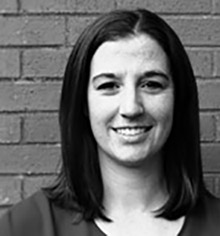 "Dal is doing this work from a place of a solid foundation, growing the programming and services that colleagues in Human Resources and Student Affairs have been building the foundation for over many years."
For Coffin, that means doing the nitty gritty groundwork to gather information for and from the committee to ensure Dal is meeting and exceeding those key accessibility recommendations and resources.
"The plan supports our aim to integrate accessibility across all work in departments, teams and faculties," Coffin said. "As a committee, we are ensuring first voice is represented around the table, and we are working collaboratively to ensure we raise awareness while advancing work to fulfill our intentions and expectations as an institution in working toward promoting a barrier-free accessible university."
That's also why taking time to recognize National AccessAbility Week annually, in addition to Dalhousie's own Accessibility Week held each fall when more students are on campuses and in classrooms, is necessary to help spark conversations, dispel myths and create that much-needed positive change.
"About one in every six students studying at the Truro Campus is eligible for accommodations through the Nova Scotia post-secondary accessibility program," Coffin said. "There are fewer than 800 students on our campus. These students need our support and advocacy." 
Whether it's directing students to health services, giving extra time for assignments or exams on a case-by-case basis, providing a specific physical environment so a student can complete work, or providing tutors or scribers, Dal takes its accommodations for students seriously.
"We try to reduce as much stigma as possible," Coffin said. "This is not going to damage your reputation. We want to make sure that your education, and your health and wellbeing, are top priority."
Sparking conversation and positive change

All three accessibility advocates agree that being willing to learn yourself and educate others is key.
And while National AccessAbility Week is a chance for us to talk about what we need to do together to be more accessible and inclusive, McDevitt points out that "it needs to be progressive, and it needs to be sustained."
The theme of this year's National AccessAbility Week, which runs through June 3, is Disability Inclusion: From Possibilities to Practice, with a focus on celebrating "the valuable contributions and leadership of persons with disabilities in Canada; the work of allies, organizations and communities that are removing barriers," and "ongoing efforts to become a more accessible and inclusive Canada."
And while Nova Scotia's wildfires will eventually be extinguished, for many of us, the mental health and other impacts will smolder for a long time to come. Students, staff and faculty shouldn't hesitate to reach out for any supports and resources they may need through this challenging time and any other barriers they may need to overcome in future.
"Change needs to be a movement, not a moment," says McDevitt.