This article is part of a series focusing on the grads of the Dalhousie Class of 2023. Spring Convocation runs from May 29 to June 7 in Halifax and Truro. Read all our profiles here as they are published, and for more information visit the Convocation website.
Kristin Ko didn't always want to be a doctor.
Introverted and shy as a teenager, she was content to operate behind the scenes. She planned a career in neuroscience as a basic researcher, following her undergraduate degree, and her subsequent master's in biomedical engineering. But with more than seven years of lab work under her belt, Kristin felt that something was missing.
"I started exploring more around my community, stumbling into things that felt interesting, simply by chance," recalls Kristin. "I came to learn I actually really like working with people and helping others."
Despite her introversion, Kristin volunteered extensively throughout her undergraduate training. She was a board member at the Loaded Ladle at Dalhousie, where she advocated for food security and community care; a volunteer at the Veteran's Memorial Hospital; a vision mate through the Canadian Institute for the Blind; and a high school math tutor for students completing their GED.
Though Kristin admits no single experience motivated her decision to apply to medical school, her realization that she enjoys helping others, combined with her volunteering and interest in neuroscience and physiology, ignited her curiosity for a career in medicine.
If she had any doubt she had made the wrong career choice, that was eliminated on her first day of pre-clerkship elective in neurology in Med 1.
"There is something so interesting and fulfilling about interacting with patients, synthesizing all the information you obtain, and troubleshooting through diagnoses and management with the ultimate goal of doing your best for another person," she says. "At that point, I knew I made the right decision pursing medicine and am so happy I gave this path a chance."
And not only did Kristin give it a chance — she gave it her all. She got involved in the student society; worked on projects such as the Atlantic Task Force, where she co-led research into physician recruitment and retention efforts in the Atlantic Provinces across different stages of a physician's path to practice; and was class treasurer.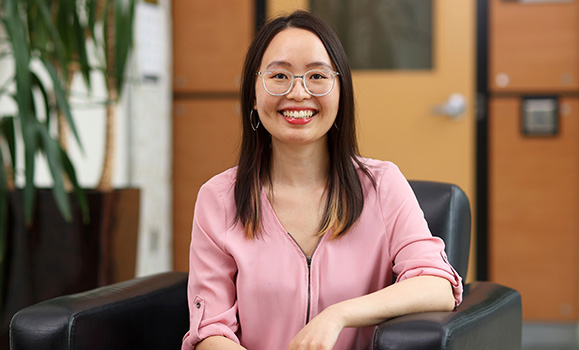 Lifting others up

What she's most proud of however, is her work with the Dal Students for Healthcare Providers (DHSP) initiative.  
"We essentially organized a volunteer organization in N.S. in the span of one week, which was quickly spread to N.B. through fellow med student Kathleen MacMillan, and then expanded to PEI by collaborating with the nursing student leaders there."
During the early days of the pandemic, as the demand for healthcare professionals increased, so did the need for childcare and other supports for these frontline workers. Student volunteers working with DSHP volunteered to alleviate pressure by offering anything from childcare, walking pets, to running errands and picking up grocery orders. Long after the DSHP ceased operations, Kristin learned just how impactful the work had been.
"Around two years after everything happened, I had a conversation with a healthcare provider," she recalls. "They spoke of the isolation and difficulty of COVID-19 but said knowing DSHP was there for support was uplifting and made them feel less alone."
Come July, Kristin will enter residency in anesthesiology here at Dalhousie. The specialty, like a career in medicine, wasn't where she expected to land. In her early medical school years, she applied for a pre-clerkship elective, and to her surprise, was swept away.
"I was very lucky to have an amazing attending, so I at first attributed my interests to simply having a good teacher," says Kristin. "However, I had to re-evaluate when I willingly walked 1.5 hours through a blizzard that closed the entire city just to avoid missing a half day of a pre-clerk elective."
What solidified her decision to pursue the specialty came not in the clinical environment however, but while out running errands. When someone suddenly collapsed right in front of her, she performed a quick assessment, obtained a history, and completed an abbreviated physical exam, determining the patient was fine. Kristin, however, was forever changed.
"I couldn't help but think of what would have happened if the patient was more acutely and critically ill, and in all the futures I envisioned for myself, anesthesiology came to the forefront," she says. "I essentially really wanted to be the doctor who would be helpful on a plane."
Kristin plans to explore all facets of anesthesiology and notes she will remain openminded to all paths given how her career aspirations changed over the course of her training.
"You never know where life may take you."