When Dal associate professor Margaret Robinson learned last fall that acclaimed Mi'kmaw editor, activist, and author Daniel Paul had been diagnosed with terminal cancer, she knew something had to be done to honour his ground-breaking work as a historian.
Elder Paul rose to prominence with his 1993 book We Were Not the Savages, an ambitious monograph that recast the history of European colonization in North America through a Mi'kmaw lens. It exposed the violence inflicted on the Mi'kmaq by colonizers and its enduring impact.
"I was saddened by the news," said Dr. Robinson, of the cancer diagnosis. 
Dr. Robinson, Tier 2 Canada Research Chair in Reconciliation, Gender, & Identity at Dal and program coordinator for the university's Indigenous Studies program, said We Were Not The Savages (now in its fourth edition) was the first book she read that portrayed the Mi'kmaq in a positive light. 
"His work meant a lot to me as a student, and his perseverance as a scholar is inspiring to me as an academic," she said.
After consulting with History Department Chair Krista Kesselring, Dr. Robinson reached out to Faculty of Arts and Social Sciences (FASS) Dean Jennifer Andrews and Dalhousie's Acting President and Vice-Chancellor Frank Harvey with an idea to have a painting commissioned of Elder Paul — who had previously received an Honorary Doctorate of Laws from Dalhousie in 2013. 
"Everyone I talked to was behind the plan, so it all came together pretty fast," said Dr. Robinson. "One of the great things about the process was I didn't have to explain. Everyone knew who Dr. Paul was, had read his book, heard him speak, or used his work in some way."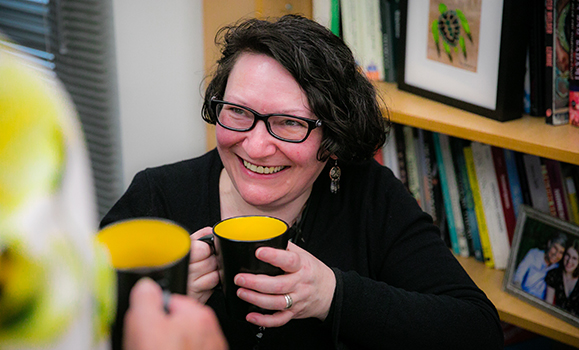 Dr. Margaret Robinson.
Telling the truth

Dr. Robinson and Dr. Andrews worked with colleagues in the Office of Advancement to initiate a campaign through Project Dal to raise enough funds to commission a portrait of Elder Paul to be painted by renowned Mi'kmaw artist Alan Syliboy, who agreed to undertake this project. 
The campaign's goal of $8,500 was reached within four days.
The portrait is now complete and was unveiled to Elder Paul earlier this week at a small gathering hosted in the FASS Dean's Office. 
"The portrait is not only an amazing likeness but pays direct and explicit tribute to Dr. Paul's work as a historian, through the inclusion of the cover of We Were Not the Savages," Dr. Andrews said in her remarks. "It is truly a gift that keeps on giving—every time one looks at it, there is some new detail."
Elder Paul, now 84, thanked the guests at the gathering, including Syliboy (who joined the celebration virtually), describing the portrait and recognition by the university as "very nice, indeed."
He added that back in the 1990s, when he would give guest lectures, he was "accused of reinventing history."
"But I was telling the truth," said Elder Paul, who is from Indian Brook First Nation. "So, over the years, it's great to see progress being made in that now, and I hope my book We Were Not the Savages had a lot to do with making life a lot better in Nova Scotia for the Mi'kmaq."
We Were Not the Savages was the Dal Reads book during the 2017-2018 academic year.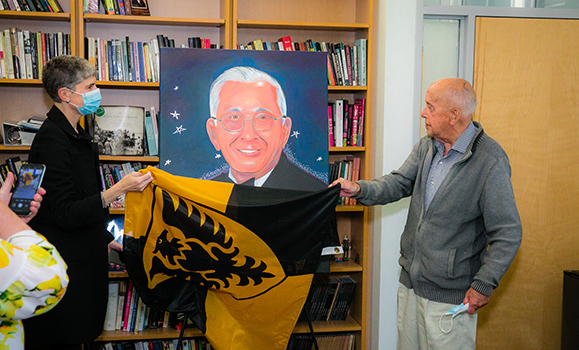 Dean Andrews and Elder Paul reveal the portrait.
In the spirit of truth and reconciliation

Acting President Harvey commented on how inspiring it was to see the initiative generate so much enthusiasm and such a strong commitment to move forward with the project. 
"It started with a brief email from Margaret to Jennifer and me with a simple but beautiful thought," said Dr. Harvey. "And instantly we realized how critically important it was for us to follow through, in a relatively short period of time, to be able to celebrate with Dr. Paul the installation of a beautiful portrait in honour of his many important contributions to community and Canadian history."
At the gathering, Dr. Harvey thanked Elder Paul on behalf of Dalhousie for the privilege of permanently displaying his portrait in the McCain building, thereby strengthening the university's relations with its Indigenous community in the spirit of truth and reconciliation and recognizing and engaging with Indigenous knowledge to correct colonial settler understandings of the history of Canada.
The portrait will be hung in the foyer of the Marion McCain Arts and Social Sciences Building along with an explanatory plaque at a later date. Dr. Robinson sees this as an opportunity to honour a beloved Mi'kmaw scholar and to celebrate his life and contributions. 
"Having Dr. Paul's portrait hang in the foyer of the McCain Building is also a way to help Dalhousie reflect its location on Mi'kmaw territory," she says. "Seeing our culture celebrated lets Mi'kmaw students know they belong here."
Elder Paul is the recipient of numerous honours for his work as a journalist, historian, and activist, including the Order of Nova Scotia (2002), the Order of Canada (2005), and the Grand Chief Donald Marshall Sr. Memorial Elder Award (2007) for his work in the Mi'kmaw community and Nova Scotia.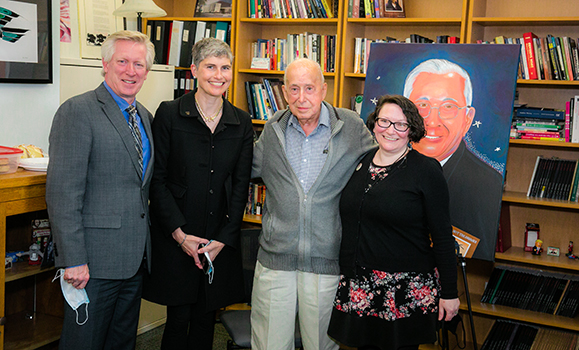 L-R: Acting President Harvey, Dean Andrews, Elder Paul, and Dr. Robinson.