The Steele Ocean Sciences Building has served as a hub for ocean research at Dalhousie since opening a decade ago. Now, an $8.2-million gift sets the stage for its further evolution into a cutting-edge educational space for the community as well.
The building will soon host the Beaty Centre for Marine Biodiversity, a first-of-its-kind interactive ocean research and discovery centre made possible through a transformative gift from entrepreneur and conservationist Ross Beaty.
Faculty of Science Dean Dr. Chuck Macdonald said the Beaty Centre will educate audiences on both the challenges facing marine ecosystems and the importance of our oceans.
"The Beaty Centre for Marine Biodiversity will be a fantastic facility for Dalhousie University to engage with the many communities of which we are a part," he said.
"It will provide a highly engaging and interactive experience that demonstrates how Dalhousie's world-leading research, teaching and training are advancing understanding about the critical issue of marine biodiversity. It will also inspire people to think about what they can do to help protect the ocean, its species and its delicate ecosystems."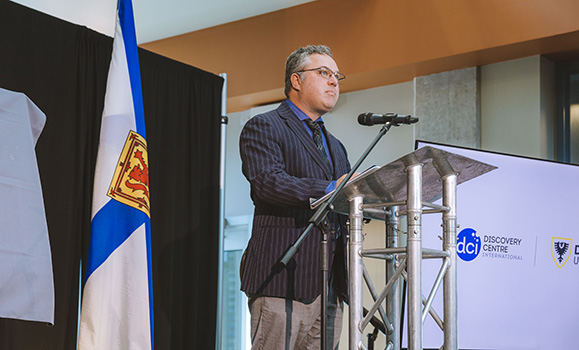 Faculty of Science Dean Dr. Chuck Macdonald.
Raising awareness about the ocean's marine crisis

Beaty, who previously supported the development of a biodiversity research centre at the University of British Columbia, said he was intrigued by the chance to establish a marine-focused centre on the opposite coast and shine a light on the changing ocean environment. 
"The ocean is under threat," he said at an announcement event for the project Wednesday morning in the Steele Ocean Sciences Building. "We just can't see it as clearly as we can on land."
Beaty said the space will serve as a tool to inform, educate and make people aware that there is a marine-biodiversity crisis. "We're losing species at an alarming rate because humans have too heavy a footprint," he said.
He mentioned the support of his family on this project while pointing out their connection to the ocean: his wife is a marine biologist and his daughter recently graduated with a PhD in marine biology from UBC.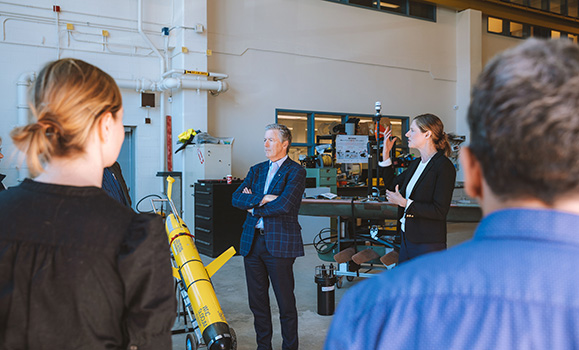 Donor Ross Beaty takes a tour of the Steele Ocean Sciences Building.
"This is very near and dear to our hearts," Beaty said. "I'm proud to be linked with Dalhousie on this project and I look forward to bringing my family back here to visit when it opens."
Construction of the Beaty Centre is scheduled to begin in January 2024, with an expected opening date of early 2025.

Inspiring the next generation of ocean researchers

The Beaty Centre for Marine Biodiversity will feature two floors of exhibits developed in collaboration with Discovery Centre International to engage youth and visitors from inside and outside Dal on today's most pressing marine biodiversity issues. Planned exhibits include a life-sized kelp forest, a climate change sphere, educational displays of species facing extinction, and aquaria filled with the diverse plant and animal life found off the coast of Nova Scotia. 
A blue whale skeleton suspended from the building's atrium will serve as a show-stopping focal point of entry into the centre. The display was previously announced as part of Dive In: The Blue Whale Project.
View a series of artistic renderings of what the space will look like below:
Students can also expect to benefit from the new space.
"The Beaty Centre for Marine Biodiversity will provide an incredible opportunity for all Dalhousie students to come face-to-face with the rich diversity of marine life that exists in Nova Scotian waters," says Dr. Derek Tittensor, associate professor in the Department of Biology and Jarislowsky Chair in Marine Ecosystem Forecasting. 
He says students in biology, oceanography, or other marine sciences will see classroom concepts brought to life through experiential learning. 
"Eventually, we hope to keep broadening the opportunities for students to be involved in a more hands-on manner, whether through leading public tours or helping with aquarium care," says Dr. Tittensor.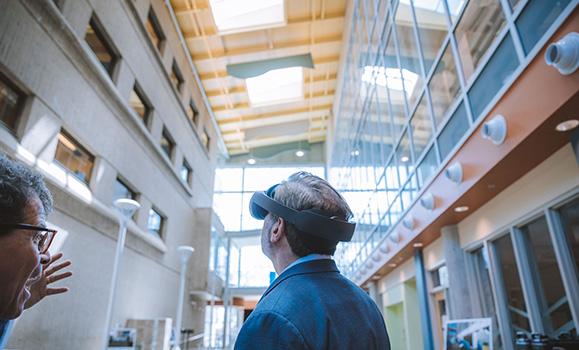 Undergraduate student Brogan Regier from Saskatchewan is on track to graduate this fall with a concentrated honours in marine biology. While she won't be on campus when the Beaty Centre opens, she is excited about the opportunities it will provide undergraduate and graduate students.
"The Beaty Centre for Marine Biodiversity will bring classroom learning to life," says Regier, who sought out Dal because of the experiential learning and research opportunities available to students. "This will help to inspire the next generation of marine biologists and ocean scientists."
"I can't wait to come back and visit when it opens."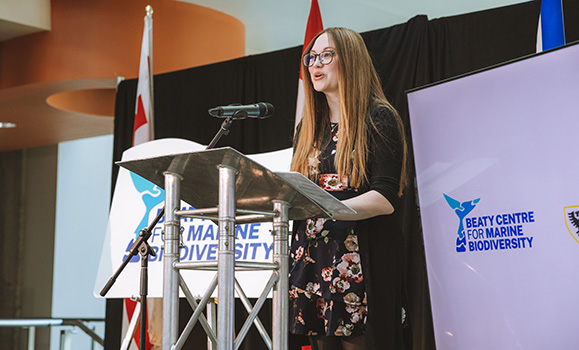 Student Brogan Regier.
Visit the campus development page on the Facilities Management website for ongoing updates on the project.