It's no surprise that Dal makes waves in oceans research. The university hosts several global research networks, is home to more than 100 faculty who conduct oceans research, and has produced some of the most read and renowned oceans scholarship in the world.

Now, the university has a dedicated space for those various currents to not only meet, but to grow even stronger and more powerful together.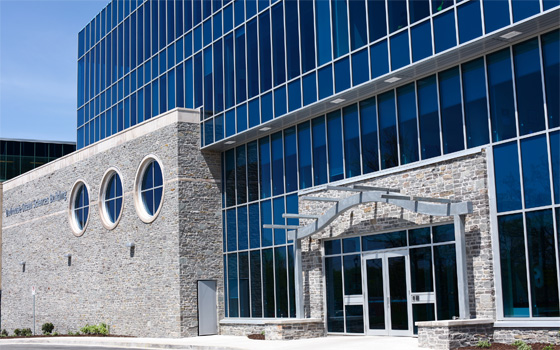 (Bruce Bottomley photo.)

The Dalhousie Ocean Sciences Building, located on the west side of Studley Campus facing Oxford Street, is a four-storey, 76,000-square-foot facility that will host offices and labs for several of Dalhousie's key oceans projects.

The building's opening was celebrated with an event Wednesday morning in its bright, three-storey atrium.

Martha Crago, Dalhousie vice-president research, said the building represents "a powerful collection of world-leading experts, together in a collaborative space, working on global solutions that transcend disciplinary boundaries and address the challenges facing our life-sustaining oceans."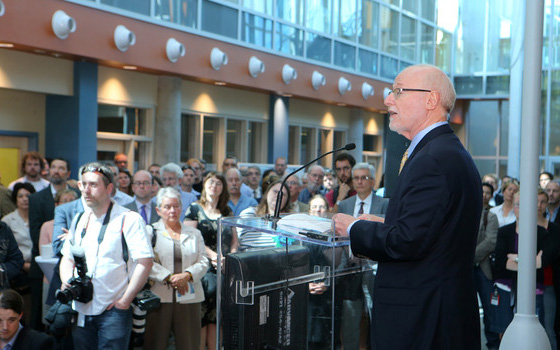 "This building represents an investment in our future — not the walls, or the very cool container bay behind us, but in the people who will work here," said Dal President Tom Traves. "This one-of-a-kind space houses world-leading experts and innovators and will fuel powerful, creative thinking."
Video: Dalhousie University: Global Leader in Oceans Research



The event highlighted some of this work, including a Wave Glider on its maiden mission to Sable Island, tracking animal movements (including seals and sharks) and documenting oceanographic conditions.
Read also: Desperately seeking sharks — and all sorts of ocean data
State-of-the-art research space

The Dalhousie Ocean Sciences Building's chief tenant will be CERC.OCEAN: the research group of the Dalhousie-hosted Canada Excellence Research Chair in Ocean Science and Technology.

CERC.OCEAN's principal research looks at the cycling of carbon, oxygen and nitrogen in the world's oceans. With the latest state-of-the-art equipment, the team aims to observe, understand and predict the complex interactions within these biogeochemical cycles and how they are changing — data that will help assess key implications for both marine life and the climate.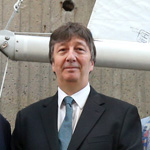 At the building's opening, Gilles Patry, president and CEO of the Canada Foundation for Innovation (CFI), made a national funding announcement and Doug Wallace (left), CERC.OCEAN's chairholder, was among the recipients. The CERC.OCEAN team will receive nearly $800,000 to support its unique laboratory space in the building.
Read also: Canada Foundation for Innovation announces funding for 12 Dal research projects

"This new building allows us the ability to integrate seagoing research with land-based research in a way I don't think has been possible anywhere else before," said Dr. Wallace.

Right beside the CERC labs, located on the building's first floor, is a container bay that will be home to five 20-foot modular lab spaces. Each of these "plug and play" shipping containers will be a fully functioning laboratory. Rather than having to tear down equipment and then rebuild it at sea — not to mention packing it up again to return to land — the team's lab arrives on both ship and shore, ready for work.
Bringing oceans researchers together

Also on the Dalhousie Ocean Sciences Building's first floor is a space that's already been in use for close to a year: an expansion to the Aquatron research facility, consisting of four new pool tanks. Three of the tanks, sized at 300 cubic metres, represent Canada's first ballast water testing facility, providing researchers from Dal and elsewhere with greater capacity to replicate and evaluate their experiments. The larger tank, crucial for Dr. Wallace's work, is sized at 400 cubic metres and creates a sealed environment to study the interaction between the atmosphere and the ocean.

The second and third floors will host offices and meeting space for some of the university's key oceans research projects. In addition to CERC.OCEAN, these include:
MEOPAR (Marine Environmental Observation Prediction and Response) a research network headquartered at Dal that is mobilizing the talent to perform the science necessary to anticipate hazards and improve response to marine emergencies.
The Ocean Tracking Network (OTN), a $168-million conservation project that tracks thousands of marine animals around the world — from fish to birds to polar bears — using acoustic telemetry technology, uniting leading ocean scientists around the globe.
The Halifax Marine Research Institute (HMRI), which brokers partnerships among industry, universities, government and private institutions to enhance both the competitive of the region's ocean industries and our overall knowledge base.
Further enhancing the building's sense of connection are the pedways bridging the Ocean Sciences Building directly to the Oceanography wing of the Life Sciences Centre (LSC). In fact, one of the atrium's walls was formerly the LSC's western exterior.
Wind at the sails

The building also includes bike facilities, an electric car charging station, efficient lighting and many other sustainable components. The university will be planting 200 trees and shrubs on campus to replace the trees that were cut down during construction, and you'll find wood from those removed trees built into some of the building's benches. (The building is targeting LEED Silver accreditation.)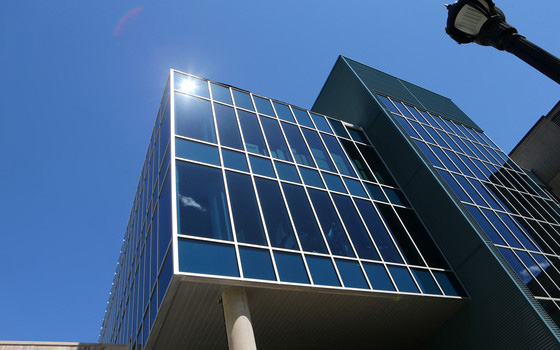 The Dalhousie Ocean Sciences Building was designed by the team at Duffus Romans Kundzins Rounsefell Architects Ltd. The project was managed by MHPM Project Managers with PCL Constructors Canada leading the construction effort. Its total budget was $41.5 million.

To mark the building's opening, Dr. Wallace was joined by Jim Hanlon, CEO of the Halifax Marine Research Institute, and Sara Iverson, scientific director of the Ocean Tracking Network, in raising a sail of special significance: it belonged to Nova Scotian paralympian Paul Tingley in his gold-medal race. As a symbol of success, it was a marker of the potential the building holds for Dal's oceans research community.

"The Dalhousie Ocean Sciences Institute provides hope," said Dr. Traves. "It will act as a catalyst that will enhance our position as a world leader in ocean innovation. And that is why this is an important day for Dalhousie, for our province, and for our country."
Learn more