A group of Dalhousie students has taken action to help peers struggling with housing and food insecurity thanks to a project that began in a classroom.
As part of their course work, students in the winter term's offering of Development and Activism — an International Development Studies course — worked together to tackle these two major intersecting issues.
The students had different ideas of the activities and priorities they wanted to pursue, so they established the Dalhousie Mutual Aid Society as an umbrella group to bring the separate, yet connected, intiativies to life. 
Third-year Bachelor of Commerce student Alexa de Koning, a Finance major with a minor in International Development Studies, was part of the working group that got the Mutual Aid Society ratified with the Dalhousie Student Union.
"This was to allow for the longevity of our project because we didn't want it to be something that we did for just 12 weeks and then have it sort of go away," says Alexa. "We wanted it to be based in solidarity, and not charity, so with the longevity, the society will be able to go on for many more years and have a lasting impact on the community."
The society's efforts were broken down into six working groups — Media and Communications; Community Outreach; Political Lobbying; Direct Action; the Dal Mutual Aid Society; and the Housing and Food Insecurity Resource Map group — each overseeing different projects that would work together as a whole.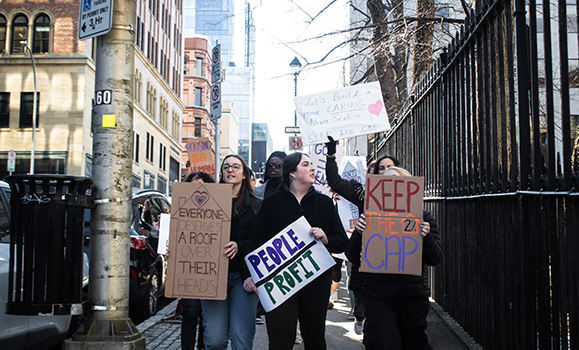 Impact through engagement

Their work has already had major impacts, including gaining the attention of local MLAs and being featured by the major local news media outlets (including The Coast, CTV Atlantic , and CBC Nova Scotia) for a protest they organized collaboratively and held at the Nova Scotia Legislature last month to lobby for the extension of the temporary 2% rent cap.
More than 40 students and community members gathered outside Dalhousie's Marion McCain Arts and Social Sciences Building and marched together to Province House to voice their concerns, and represent young people and students, over the housing crisis and to call on the provincial government to extend the rent cap and amend its fixed-term lease legislation.
Leading up to the protest, they held a poster-making party, prepared a press release and contacted a number of media sources. Third-year University of King's College student Katie Cheslock, who is doing a Combined Honours degree in Contemporary Studies and International Development Studies in the Faculty of Arts and Social Sciences at Dalhousie, was a media spokesperson for the protest and was interviewed by several different media outlets.
"The whole process ended up gaining a lot more momentum and visibility than we expected it to," she says.
The day after the protest, new legislation towards rent control (including an extension of the rent cap) was announced.
"I think we like to think that we were the last straw," Katie says with a laugh.
The following week, several of the students in the class went back to the legislature and spoke at the law amendments committee meeting to voice their concerns as student renters about the legislation of fixed term leases.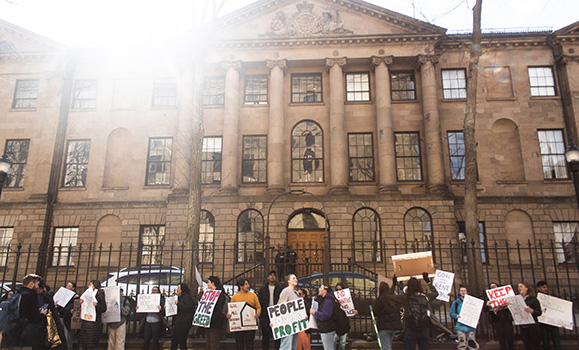 A great platform

Second-year student Caroline Scott, who is pursuing a double major in International Development Studies and Social Anthropology in FASS, was one of the students that spoke at the legislature. She says the Mutual Aid Society provides them with a really great platform.
"If we're speaking to the media or we're going to protest, we can not just say we're students concerned, but we're people, a part of the society, that's concerned," she says. "It's a really great place to direct people back to and to get more people involved."
Katie and Caroline were part of the working group of students that developed the Housing and Food Insecurity Resource Map, which will continue to be maintained by members of the Dal Mutual Aid Society. With support from the GIS Centre in the Killam Library, they developed an online map that provides an ever-growing list of resources pertaining to food and housing insecurity in the Halifax Regional Municipality that their fellow students and members of the community can easily access.
Katie adds that the Community Outreach group was successful in organizing a partnership with local grocers Noggins Farms and the DSU Food Bank. Noggins will transport weekly deliveries of food to the food bank, increasing the amount of food that will be available to students.
Professor Kate Swanson, Canada Research Chair in International Peace, Security and Children, was the instructor for the Development and Activism course this term, and she centered a lot of their readings around hope in difficult times.
"Because the world is so difficult right now, I wanted to help students feel more hopeful for the future. By teaching them how to engage in activism — from writing letters to organizing a protest — I wanted them to realize that the situation isn't hopeless, and that there are so many things they can do to work for positive change," Dr. Swanson says.
"I am so incredibly proud of what our students accomplished this semester, and I'm confident that many of them will keep this momentum going in the years to come."
Recommended reading: Food prices are not the only obstacle to achieving food security