Researchers at Dalhousie are enhancing their ability to identify water-borne pathogens with new genetic sequencing equipment that will allow them to process samples in-house and support rapid decision-making for partners. 
The team was awarded $1.1 million in funding from Research Nova Scotia for equipment that will eliminate the need to send water samples out of province, while developing a strong local capacity in processing environmental samples. The benchtop sequencer will allow timely analyses of various water surveillance samples and will increase the capabilities of the current water surveillance laboratory. 
The additional equipment complements wastewater surveillance work done by the team throughout the COVID-19 pandemic. Members detected several different variants of SARS-CoV-2 — the virus that causes COVID-19 — through advanced viral genetic sequencing from samples sent to various laboratories across the country. 
"Wastewater surveillance has been an important tool in monitoring SARS-CoV-2 and COVID-19 prevalence in populations and communities since the onset of the pandemic," says Graham Gagnon, director of the Centre for Water Resources Studies (CWRS) at Dalhousie. 
"Building on the success of this initial investment from Research Nova Scotia for wastewater surveillance, we're now working on applying the approach beyond wastewater and beyond COVID, to other water systems and other health threats in Nova Scotia."
On the ball

During the pandemic, the research team at Dalhousie worked with municipalities and universities across Nova Scotia to develop precision monitoring of viral loads in wastewater. The team quickly developed new prototypes for water sampling equipment, leading to new surveillance and treatment approaches to address unique water challenges. 
A key piece of that surveillance toolkit was the COSCa ball, a spherical, 3D-printed device developed by Dalhousie researchers that can be easily submerged in water to collect samples. Hundreds of the porous balls have since been shipped to public health agencies, labs and other parties around the world. 
"The foundational work completed as part of a pandemic response has provided additional opportunities to address a range of water issues important to Nova Scotia," says Stefan Leslie, CEO of Research Nova Scotia. 
"This work will not only continue to develop our capacity to monitor pathogens of concern in wastewater, but will also help ensure the safety of drinking and surface water."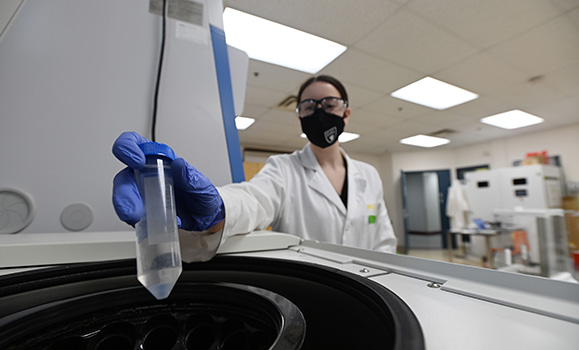 Prioritizing risks

In addition to the wastewater surveillance research, the CWRS team has been researching harmful algal blooms produced by cyanobacteria that have become a priority in Atlantic Canada. As a result of climate change, these bacteria are turning up at with great frequency for longer durations in lakes across Nova Scotia.
"Cyanobacteria can release toxins and other compounds that affect water quality," says Amina Stoddart at the CWRS. "Sampling and treatment approaches are needed to better understand, monitor and prioritize risks." 
The same technology used to monitor for pathogens may also help optimize the efficiency of treatment plants. Dr. Stoddart plans to test this precision monitoring technique to better understand how treatment equipment is working.  
"By directly monitoring water during the treatment process, we hope to identify methods for safely treating water that is also fast and energy efficient," says Dr. Stoddart. 
There is growing interest globally in identifying viruses present in water systems to stem the spread of disease and ensure safe water supplies. Environmental detection can provide results faster than individual clinical testing, and is often less costly. 
Recommended reading: Freshwater research supports water security in Canada's Arctic communities