In need of some new eye candy for your home or office? Still in need of a calendar for 2023? The latest Science as Art calendar has you covered, as usual.
Each year, a collection of striking photos are submitted by the Dal Science community for consideration for the calendar. Over the past thirteen years, the calendar has featured more than 150 photos by students, alumni, faculty and staff — all showcasing the beauty of science that unfolds everywhere from the research lab to rugged landscapes and the ocean
And this year, for the first time, a student photo has been chosen to adorn the calendar's cover. 
'Day at the Beach' features an endangered green sea turtle photographed by fourth-year marine biology student Vanessa Schiliro in Maui, Hawaii.
"The green sea turtle is common in Hawaii, and it has a lot of cultural significance," explains Vanessa. "They're an endangered species and historically they were poached for their meat, fat and eggs, which led to a population decline. A lot of their threats today are due to illegal poaching, plastic pollution and habitat loss."
In addition to a green sea turtle, the 2023 publication has a brand-new collection of photography. Readers can flip through month-to-month and find 12 breathtaking images of life on land and in the ocean.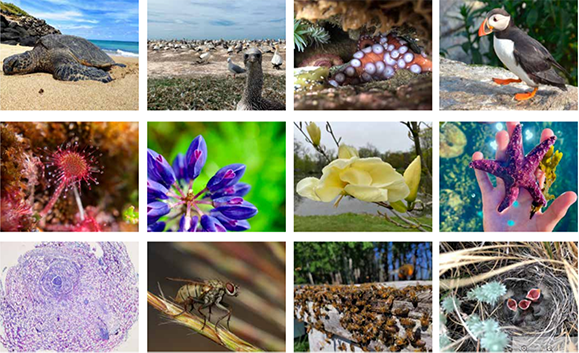 The calendar has become staple in households and offices around the world, mailed to 8,000 member of the alumni community and available for purchase by anyone. Calendars are available for $15. All proceeds from sales are directed to the Science Student Experience Fund, which supports the development of the Dalhousie Outdoor Ecolab.
About the cover winner

Schiliro, originally from Montreal, is completing her honours in Marine Biology under the supervision of Dr. Boris Worm, a marine ecologist and Killam Research Professor at Dalhousie.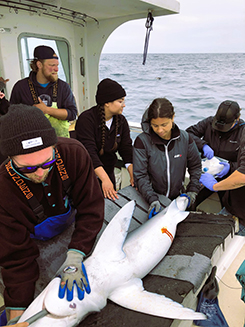 "The goal of my honours research is to provide an updated conservation assessment of the second-largest fish, the basking shark (Cetorhinus maximus), in Atlantic Waters by looking at trends in distribution, abundance, and known threats such as vessel strikes and entanglement," says Schiliro. 
The basking shark is an enigmatic species classified as vulnerable to extinction due to its very slow life history. It can be found around the globe and is commonly sighted in Nova Scotia during warmer months. Learn more about Schiliro's research and shark safety.
Following Dal graduation, Schiliro plans to pursue her passion for conversation and work abroad. 
The Dal Science community is invited to submit photos for the 2024 Science as Art photo contest. To learn more or to purchase a 2023 calendar, please visit dal.ca/science-as-art.
Recommended reading: Vanessa Schiliro on how to avoid great white sharks and what to do if you encounter one