As an inorganic chemist, Dr. Saurabh Chitnis says he explores the part of the periodic table that doesn't get a lot of attention. He looks past those superstars of organic chemistry — carbon, hydrogen, nitrogen, and oxygen — that hog limelight, to the 114 remaining elements that make up the rest of our universe.
But 114 is a lot too choose from. Where to start? In a word, beauty.
"It comes from my fascination with beautiful structures. Students in my lab and I are really drawn to molecules that exhibit structural attractiveness," says Dr. Chitnis. "It really starts from this point of beauty and then we tease out the chemical consequences of that structure. When we do this, we make fascinating discoveries."
This novel approach has attracted the recognition of the Alfred P. Sloan Foundation, which is awarding Dr. Chitnis with a 2023 Sloan Research Fellowship. The award is accompanied by $75,000 USD to fund research over two years. With Canadians sparsely represented in the fellowship, Dr. Chitnis is the just the second member of Dalhousie's faculty to receive the honour.
Fundamental appreciation

Dr. Chitnis says he is especially pleased to receive the fellowship as it is one of the world's few high-profile academic awards that recognizes the importance of fundamental science with no immediate expectation for real-world application.
"It recognizes that it's fundamental science that drives our collective knowledge base forward. And for us, it was a validation of our curiosity-driven approach, an approach that is all about just looking at the microscopic features of something and trying to understand the macroscopic consequences of its structural beauty."
So, what makes a molecule beautiful? Dr. Chitnis says it's something elemental that strikes humans instinctively. He says we crave symmetry. It's nature's way of saying things are in order. 
"There is something more aesthetically pleasing about a sphere than a random, oblong shape. The concept of symmetry is so deeply ingrained within us that we see manifestations of it everywhere, and particularity in structural chemistry. It's impossible not to see it."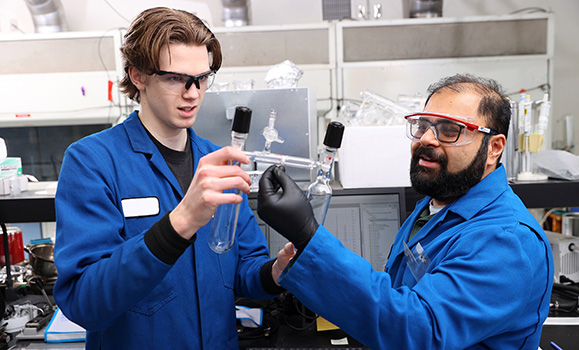 Dr. Chitnis works with a student in his lab.
Not beauty for beauty's sake

While Dr. Chitnis' scientific inquiry begins with a molecule that strikes his fancy, the process of getting to know it is often a lengthy and rewarding courtship. It begins on a computer, where a target molecule that has never been created in the real world is dreamed up and modelled. Then Dr. Chitnis and his graduate students are off to the synthetic chemistry lab to make the molecule a reality. In the process they learn a great deal about chemical interactions that push science forward. The work has seen many discoveries, including novel ways of making molecules used in the production of pharmaceuticals.
"We were the first to make a single bond between antimony and bismuth elements in a way that no one else has ever connected them before," says Dr. Chitnis, by way of an example. "So that's been the overall thrust of our research – to explore fundamentally interesting and beautiful molecules. In trying to explain to ourselves why these molecules are interesting, we end up discovering valuable properties for them."
Commercial appeal

While not the goal, sometimes their discoveries lead to applications that can make the leap from the lab. Currently, Dr. Chitnis is working with Dalhousie's Office of Commercialization and Industry Engagement to secure a patent for a molecular structure which promises to revolutionize the way we create materials.
"For the entire history of polymer and material chemistry, we've made some assumptions that you must make polymers out of hydrocarbons, fossil fuels, ethylene, and so on. Secondly, that you must make materials out molecules in one-dimensional chains or two-dimensional ring structures. What we've demonstrated is, that you can connect three-dimensional molecular cages together without a hydrocarbon backbone," says Dr. Chitnis.
It's a discovery that may catch the eye of industrial partners keen to leverage the new chemistry to build materials with desirable new properties currently not possible, and without the input of fossil fuels derivatives.
Dreamer of dreams

While Dr. Chitnis is excited about the potential for the discovery, he is happy to see it advanced and commercialized by fellow scientists and engineers. His first love will always be the molecules he dreams into reality.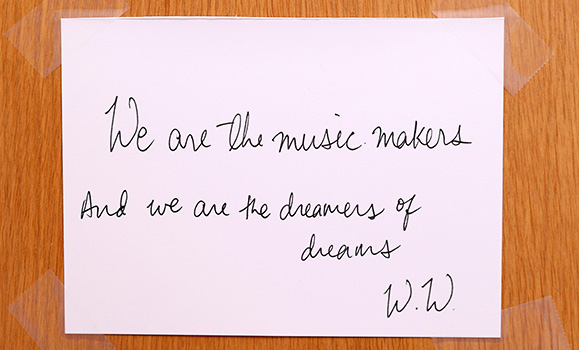 Words of inspiration.
He says he has a rule that he doesn't talk about chemistry before he goes to bed, for fear that he will lay awake all-night thinking about the molecules he wants to create.
"Envisioning and making, that's what we do. I have a little hand-written sign on my office door with a quote from the Willy Wonka movie with Gene Wilder. In the movie he says, 'we are the music makers, the dreamers of dreams.' That's very much how we consider our work," says Dr. Chitnis. "We just drive the dream. And then we let others take it the next step with our input, advice and collaboration."