The snapshot
 
Nova Scotian tech start-up Katchi aims to revolutionize commercial fishing with a precision fish harvesting system that has no contact with the ocean floor. It's a mission that Dalhousie has supported with programs, resources and talent.
The idea

Bottom trawling is a widespread international fishing practice that provides about a quarter of the world's wild-caught seafood. But the practice can impact the ocean floor, increases fuel consumption, and can lead to damaged equipment.
Katchi founder and CEO Marc d'Entremont couldn't help but wonder if there is another way while working for his family's fishing company in Yarmouth. He saw an opportunity to create a new approach to trawling that leaves the ocean floor undisturbed, and more efficiently and strategically targets the commercial catch.
The challenge

Joined by chief technology officer and Dalhousie engineering alumnus Mark de Jonge, they set out to design a smart trawling system. They wanted to give fishers the ability to use sensors and data to position nets close to the seabed without coming into contact. They also wanted to replace heavy trawl doors traditionally used to keep nets open with an option that produces significantly less drag.
"What we're doing is measuring how high the net is off the seabed, measuring cable payout, taking lots of sounds from a GPS scout vessel, and plugging it all into our algorithm which keeps track of where the net is in the water column relative to the boat," d'Entremont explained about the work that went into designing the system.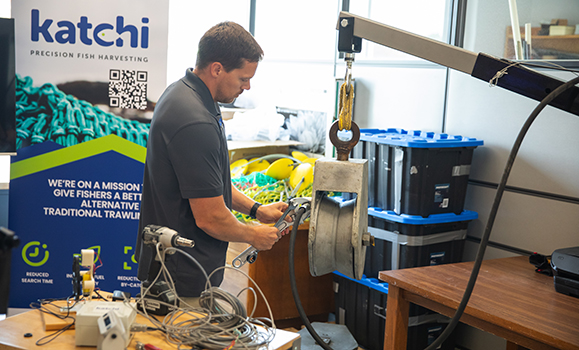 Katchi chief technology officer and Dal alumnus Mark de Jonge working on the company's sheave metering device.
The sophisticated technology required a significant investment in prototyping and experimentation. As an early-stage venture, they needed space, equipment, and entrepreneurial advice to get them moving in the right direction. They turned to Dalhousie's Emera ideaHUB last February to check all these boxes and note that 3D printing equipment was particularly valuable in the development of their sensors and electronics.

Interested in learning how Dalhousie can support your R&D needs. Contact our Office of Commercialization and Industry Engagement.
The solution

"For a start-up like us, having access to that equipment is huge because it's a cost that we don't need to incur. It helps you build your prototypes and build your proof of concepts, and that's a big struggle for startups," he says. "At the ideaHUB, you have the right people, and you have all of the equipment to build what you need."
With their tech defined and validated, Katchi was ready to start expanding their team and turned to Dalhousie again. Leveraging a Mitacs internship program managed through Dalhousie's Office of Commercialization and Industry Engagement (OCIE), the start-up brought on two graduate engineering interns, Kyle Smith and Mathew Adolph, to help develop their data-driven fishing technology.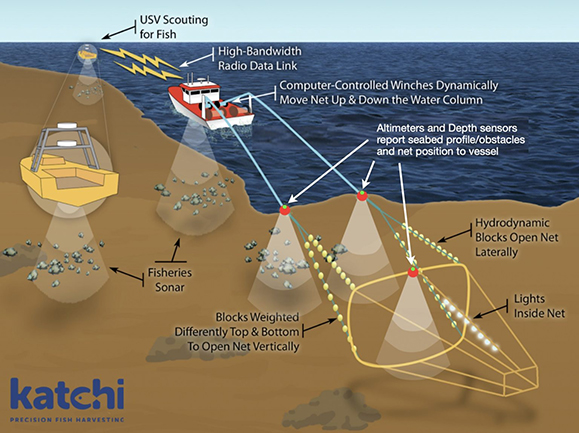 Katchi's innovative trawling system.
Mitacs is a national not-for-profit that works with OCIE to facilitate innovation through work-integrated learning internships. It helps companies identify the expertise they need to recruit, sources highly qualified talent from Dalhousie and its network of Canadian post-secondary partners and provides funding to share salary costs.
"Connecting businesses large and small with Dal's deep research talent is an important way OCIE helps the university to make an impact in the local and national economy," said Stephen Hartlen, Dalhousie's assistant vice president, industry relations. "Our researchers are solving R&D challenges across a range of sectors, from health to agriculture to battery science and much more. Placing the right researchers with the right companies can have a tremendous impact."
As a research engineer in the program, Smith is helping to build the sophisticated control system that will enable semi-autonomous fishing. He is focused on designing the new tech that deploys nets outfitted with sensors, and that allow them to be programmed to maintain a specific depth or altitude while avoiding obstacles.
"Developing a whole new method of commercial fishing is a complex job. Having the right talent with the right skills is crucial," says d'Entremont. "Mitacs allowed us to recruit smart, motivated young people to support our system design, and engage with the students' expert faculty advisor, who provided ongoing guidance for the interns throughout the project. It's an ideal mix that enabled us to advance our technology and find a new permanent team member at the same time."
The impact

Katchi has been an eye-opening experience for Smith, who will join the company full time after completing his internship and officially becoming a Dalhousie alumnus. "Being in ocean tech is an interesting place," he says. "In a larger company, you're restricted to one role, but with a start-up like Katchi you have many hats and get to expand your knowledge a lot faster."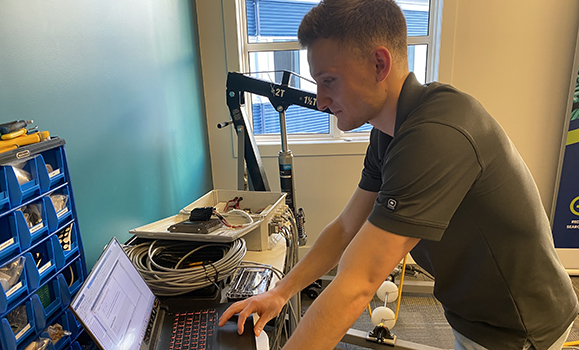 Dal engineering graduate student Kyle Smith contributed to the tech through a Mitacs internship.
The job is especially meaningful to Smith, who grew up in Sambro, a fishing community on Nova Scotia's Eastern Shore. "All my friends are fishers and most of the people are connected to the fishing industry in some way. It makes a huge impact when you're doing something innovative and seeing interest from people in the community. At the end of the day, we're a maritime province and we want our ecosystem and economy to thrive."
Undoubtably, Katchi is contributing to the thriving ocean economy in Nova Scotia, having been selected as one of five ventures to secure funding through Canada's Ocean Supercluster last year. Receiving $3.3 million from the Supercluster and other project partners, the company is expected to add 10 new jobs and aims to have their new smart trawling systems available for commercial sale in 2024.

This article is the first in a new monthly series called Idea to Impact that showcases how start-ups benefit from Dal's programs, resources and talent.