Instead of soaking up the sun last summer, Dr. Will Burt worked on a way for the ocean to soak up one billion tons of harmful carbon dioxide (CO2) from the atmosphere by 2045.
Dr. Burt is the Chief Ocean Scientist at Dartmouth-based Planetary Technologies, a company that is exploring the potential of adding alkaline materials to the ocean to enable it to pull more CO2 from the atmosphere.
"Approximately one-third of the carbon that we put in the atmosphere is naturally absorbed by the ocean," Dr. Burt explains. "But the ocean has become increasingly acidic because there is so much CO2 there now."
Adding alkaline material helps reduce the level of dissolved CO2, also known as carbonic acid, in sea water. This in turn creates a vacuum that enables the ocean to draw more CO2 from the atmosphere. Since industrialization, CO2 emissions have far eclipsed the amount of alkalinity that is being naturally, but very slowly, deposited in the ocean. If we can significantly accelerate that natural process that balances CO2 in the ocean and the atmosphere, it could be a gamechanger in addressing climate change.
A natural solution to harmful CO2

Planetary Technologies's solution, the Accelerated Carbon Transition (ACT) platform, has the potential to be that gamechanger. Using renewable energy, it will convert waste materials from mining operations into safe, pure dissolved alkaline substances and deliver that in bulk to the ocean through wastewater. This will help reduce the impacts of ocean acidification, remove CO2 from the atmosphere and store it permanently as carbonate and bicarbonate ions. Dr. Burt's role is to determine how to achieve those goals safely and successfully with a minimal carbon footprint.
"It is one thing to add something to the ocean and say that we have captured carbon, but it is another thing to prove it," Dr. Burt says. "I have been working on strategies for how we will add alkalinity, measure it, and account for the CO2 we manage to take from the atmosphere."
Finding his path

This is a passion project for Dr. Burt. Growing up in British Columbia, he gained a deep appreciation for nature through family road trips along the Pacific coast and an interest in science from his pharmacologist mother. But it was a summer job made possible by his stepfather, an oceanographer, that opened his eyes to the issue of increased ocean acidification in 2005.
"I spent five weeks collecting water samples on a Canadian Coast Guard icebreaker in the Arctic," Dr. Burt recalls. "It was the first time I had heard about ocean acidification and there was a sense that this posed an urgent threat, so I wanted to help solve it."
This desire to help led Dr, Burt to Dalhousie, where he met a community of ocean scientists who shared his
passion for studying climate change and the impacts of ocean acidification. Under the mentorship of Dr. Helmuth Thomas, Dr. Burt earned a PhD in chemical oceanography, with much of the data for his research gathered during a three-week excursion in the North Sea.
"My time at Dalhousie was incredible," Dr. Burt says. "The social fabric, the support I received from the department—it was a really positive experience.
Recommended reading: Transforming climate action -- Dalhousie's push to put the ocean at the centre of the global climate conversation
Taking on his dream job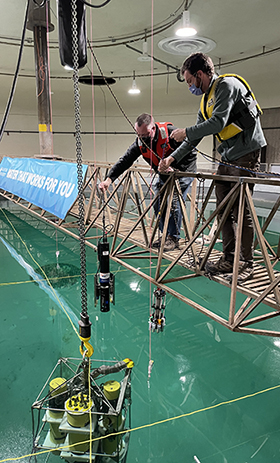 It was a few years after graduation, when he was teaching graduate-level chemical oceanography in Alaska, that Dr. Burt's dream job became available.
Ruth Musgrave, assistant professor with the Department of Oceanography and Canada Research Chair in Physical Oceanography, is one of a team of Dal researchers who are partnering with Planetary Technologies to measure, monitor, verify, and certify the company's ACT platform for effectiveness and safety in removing CO2 from the atmosphere. She reached out to Dr. Burt to let him know the company was looking for a chemical oceanographer to work on the platform.
"I could not believe it," says Dr. Burt. "This goes beyond deacidifying the oceans; we are talking about that and about combating climate change. That is the ultimate dream of any environmental scientist." Excited by the opportunity and eager to return to Halifax, Dr. Burt applied for the position and joined the company in January 2022.
Although Dr. Burt is living his dream, there is a lot of work to be done, and Dalhousie is facilitating that effort. Dr. Musgrave is part of a research team led by department professor Doug Wallace that is testing the safety and efficacy of Planetary Technologies's ACT platform in the laboratory, in Dalhousie's Aquatron—Canada's largest university aquatic research centre—and, eventually, in the Bedford Basin and Halifax Harbour. If all goes well, the results could be truly impactful.
"The climate target is to remove 10 gigatons of carbon from the atmosphere using these processes," Dr. Burt says. "That is the scale we need to aim for, because anything less than that is somewhat meaningless. If our technology works, we will be able to launch a network of carbon removal engines around the world. I likely will not see the impact of that in my lifetime, but I hope my kids will in theirs." dioxide from the atmosphere by 2045.