Ever wondered what it's like to work as a cook on a busy commercial fishing boat? Or how fishermen make sure they are properly hydrated while out at sea for days on end? Or how crews cope with everything from the difficulties associated with bathroom hygiene to the long-term trauma fishermen can suffer in the wake of life-threatening events?
The issues range from the banal to the profound, but are common to an industry that is known to be dangerous yet often operates out of the public eye.
Hannah Harrison, an assistant professor in Dal's Marine Affairs Program, is helping to address these questions by speaking directly to fishermen in a unique podcast about and for people working in the fisheries.
"This podcast has really enriched my understanding of fishermen's experiences," says co-host and producer Dr. Harrison, a human ecologist who joined Dal's Faculty of Science a few weeks ago.
"I've watched fishermen drink energy drinks to get through sleep deprived days many times, but through this podcast I can now also begin to understand how that caffeine intake might impact their brain health and decision-making.
"And I think that's really the point of the podcast — to share the lived experiences of fishermen and tease out some of the important health factors that are embedded in this industry through fishermen's stories and expert interviews."
The Fishing Forward Podcast focuses on health, safety and "staying shipshape" in the commercial fishing industry. New episodes are released every two weeks on most podcast streaming platforms, as well as at coastalroutes.org/fishingforwardpod.
Real voices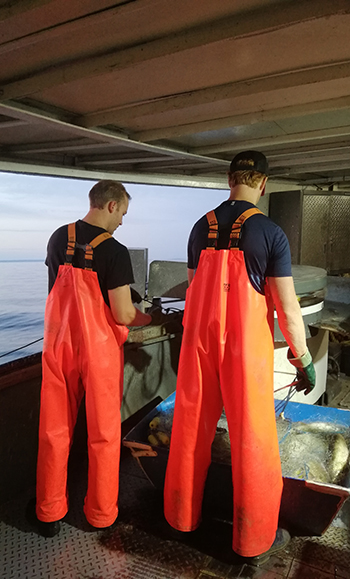 Started last January by the Coastal Routes Radio team and the Northeast Center for Occupational Health and Safety in the northeastern United States, the idea was inspired by another podcast that explored the impacts of the COVID-19 pandemic on small-scale fisheries around North America.
For Dr. Harrison and the podcast team, a critical part of making Fishing Forward was the inclusion of fishermen's voices, which will be featured in all of the 18 episodes before the podcast wraps up at the end of the summer.
The guest interviews cover topics relevant to modern-day fishermen's well-being, such as sleep deprivation, crew retention and managing stress and anxiety amidst chronic uncertainty. Each podcast also includes strategies for workarounds and solutions.
"This podcast has been a really remarkable experience for me as a researcher, as it's been a crash course in the important health and safety topics that fishermen really care about and want to understand," she says.
"Research-based podcasting is a really excellent way to be able to respond relatively quickly to what fishermen want to know, and share research in an accessible and digestible way."
Above right: Fishermen at work. (Hannah Harrison photo)
'Staggering' fortitude

In one episode about trauma, commercial fisherman and safety trainer Russell Kingman shares some experiences that he has had or that have been relayed to him from the fishermen he trains. He describes how one man got his sweatshirt caught in a machine and was being sucked into it. He was alone on the boat, had severed an artery, was bleeding to death and had broken his arm in multiple places. Yet, he managed to tourniquet himself, make a mayday call and stay conscious.
"The mount of fortitude it takes to stay conscious in a situation like that is staggering, but it's life and death and he managed to do it," says Kingman. "This is not uncommon. I've been involved in at least of five near-death experiences. You're more than 35 times likely to die as a commercial fisherman than a police officer. It's a very dangerous job."
The episode addresses the hidden wounds that that kind of trauma can inflict. One fisherman that Kingman worked with described how he had lost his best friend on board a fishing vessel, watching his friend slip through his hands and sink beneath the waves as he tried to save him.
"Traumas are stored," Kingman says in the episode. "And fishermen tend not to talk about it because they have to get back on the boat."
Further reading: Dalhousie Oceanography ranked best in Canada in global academic subject rankings
Offsetting the rigours of life at sea

The podcast also tackles more mundane issues like diet, hydration and sleep deprivation, which can suffer under the rigours of living on a boat.
Dr. Harrison describes in one episode how a fisherman discussed his caffeine consumption on a crab boat.
"In the peak of his crabbing career, he drank 30 to 40 cups of coffee A DAY, and he joked about having a permanent crook in his finger from holding a coffee mug!" she says.
Stay tuned for the last few episodes, which will be about hearing loss and vibration on fishing vessels, man-overboard and at-sea survival, and a wrap-up talking about how the joy of commercial fishing lifestyles can make all the risk worthwhile.