Environment
Bleached reefs still produce
A global team of researchers has found that coral reefs that become bleached by warming waters can still provide important fish nutrients to millions of people that rely on them for food.
The findings show that while reef ecosystems change after bleaching, they can still support diverse small-scale fisheries and the fish caught are rich in micronutrients vital to the health of millions of people in the tropics.
Aaron MacNeil, an associate professor in Dalhousie's Department of Biology and coauthor of the study, says this work is significant since coral bleaching events are becoming increasingly frequent and severe, placing greater stress on these vulnerable ecosystems. He adds that the work reveals that marine fish will continue to provide a valuable food source in the face of climate change, underscoring the need for effective fisheries management for many years to come.
The researchers caution that there is an urgent need to understand the long-term effects of climate change on reefs and acquire more data from other regions.
RESEARCHER: Dr. Aaron MacNeil, Faculty of Science
People
Black studies research gains new home
There's a new home for Black studies research at Dalhousie that will serve as a centre of excellence supporting the work of established and emerging Black scholars. By forging a robust and interdisciplinary research agenda, the new Black Studies Research Institute will encourage researchers to work across academic fields, including medicine and sciences, which often fall outside of the traditional scope of Black studies.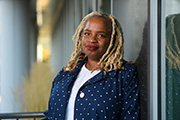 OmiSoore Dryden, Dalhousie's James R. Johnston Chair in Black Canadian Studies, Keisha Jefferies, a Dal PhD candidate in Nursing and co-chair of the BSRI committee, along with a committee of Black scholars championed the creation of the Institute.
Dr. Dryden says, "We hope that by creating an interdisciplinary environment focused on the social, political, historical, cultural, and economic experiences of Black Diasporic and African Nova Scotian communities, BSRI will foster the development of transdisciplinary areas of study that are not currently highlighted within the sciences."
RESEARCHER: Dr. OmiSoore Dryden, James R. Johnston Chair in Black Canadian Studies
Science
Fido may know more than you think
They are cute, beloved by their owners and could have a vocabulary that is far more advanced than humans appreciate.
New research out of Dalhousie University shows canines can respond to an astonishing 89 words and phrases on average, with some responding to many more.
Sophie Jacques, an associate professor in the Department of Psychology and Neuroscience, and colleague Catherine Reeve surveyed 165 dog owners around the world on what English words and phrases their pets responded to.
Their paper describes how the various mixed and pure breeds responded to 89 terms on average, with commands comprising the greatest responses. Those included such basic orders as 'come,' 'roll over' and 'down,' with responses ranging from the animals becoming excited or whining to wagging their tail.
Overall, the study shows that dogs responded to between 15 and 215 words and phrases.
RESEARCHERS: Dr. Sophie Jacques, Catherine Reeve, Faculty of Science
Environment
High altitidue microplastics
There may be no final resting place for microplastics, only temporary stops before they carry on in a continual cycle, say researchers who found the tiny plastic particles in the pristine air high in the French Pyrenees.
The international research team, led by Dalhousie's Steve Allen, sampled air 2,877 meters above sea level at the Pic du Midi Observatory. They tested 10,000 cubicmetres of air per week between June and October of 2017 and found all samples contained microplastics—tiny plastic fragments less than five millimeters in diameter.
Dr. Allen, an Ocean Frontier Institute researcher in Dalhousie's Department of Earth and Environmental Sciences, determined that the captured particles came from as far away as North Africa and North America. They also sourced the microplastics to the Mediterranean Sea and Atlantic Ocean, suggesting plastic that leaves the ocean can reach high altitudes.
The discovery suggests microplastics in the free troposphere—an atmospheric superhighway above the clouds—can likely travel greater distances and reach more remote parts of the planet.
RESEARCHERS: Dr. Steve Allen, Faculty of Science
People
Foregrounding Indigenous perspectives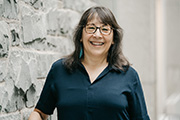 Dal researcher Sherry Pictou will help lead a $24 million project to foreground Indigenous perspectives on biodiversity and the well-being of Indigenous Peoples in Canada and around the world.
The project, titled Ărramăt, will involve over 150 Indigenous organizations, universities and other partners. It will empower Indigenous Peoples in countries including Canada, India, Vietnam, Thailand, Uganda, Mali, Brazil, and others to address issues such as food security, human-wildlife management, and the decolonization of science.
Dr. Pictou says it is an important opportunity to bring forward Indigenous voices and concepts about humanity's relationship with biodiversity to reveal new and urgently needed solutions.
"My hope is, that if you look deeply into Indigenous concepts and practices there is something fundamental within Indigenous worldviews—this worldview based on a reciprocal, respectful relationship with the ecosystems that we live in—that can inform the way that we're doing things and change things for the better."
RESEARCHER: Dr. Sherry Pictou, Faculty of Management
This story appeared in the DAL Magazine Spring 2022 issue. Flip through the rest of the Spring 2022 issue using the links below.