PUT ON YOUR FAVOURITE SONG. Doesn't matter the medium: playlist, CD, mixtape, vinyl, 8-track. Whether it's through hi-fidelity headphones or tinny computer speakers, something happens to you the moment an infectious rhythm kicks in or that familiar melody starts to soar. It's recollection, it's transformation, it's chemistry. And it's all in your head.
Not just your head, of course. Music is a defining part of the human experience, traversing countries, cultures and civilizations across millennia. It's part of celebrations and tragedies, of mass gatherings and our most intimate moments.
"Music is ubiquitous, whether we recognize it or not," says Dr. Wendy Stewart, a pediatric neurologist with Dalhousie Medicine New Brunswick who researches how music and the arts affect the brain. "There's something about it that draws people in. We're built for music. It's very important for us as human beings."
Many researchers believe we've only scratched the surface when it comes to understanding that importance, but what we've learned already suggests music can help unlock skills, improve health outcomes and forge stronger bonds with others. Saying that a song can change your life may sound like hyperbole—but it's not far off the beat.
Music lights up our brains.
Neuroimaging studies give us a sense of just how powerful music is. "Much more of the brain becomes activated when we engage with music than in most other activities," says Dr. Stewart, a classically trained piano accordion player who plays in various musical groups. "When you play music with other people, you activate even more of your brain. You also activate your reward system. Our reward systems of the brain are the feel-good parts."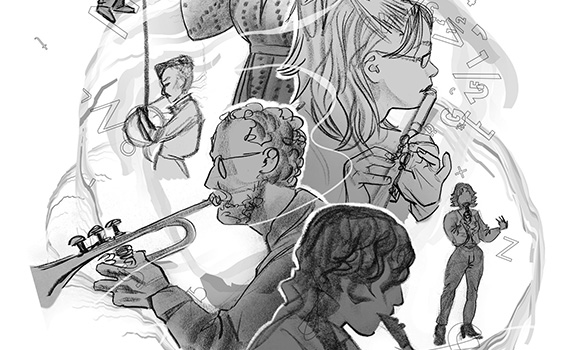 Music's power comes from its complexity.
Many species on earth respond to music—but our ability to anticipate its patterns and build on them occurs in uniquely human ways. "Music is a complex element in the scope of human development," says Andrea Curry, a graduate of Dal's Fountain School of Performing Arts (BMus'06) who's now a practicing music therapist. "Music has context. It has rhythm. It has melody. It has memory and history. If it has lyrics, it has a meaning… Our own memories and abilities and experiences will interplay with how we experience a piece of music and how it works or doesn't work for us."

Music can make us better at certain kinds of tasks.
The feel of a song is another factor in how it works. In a study co-authored by another Dal medical researcher, Gabriela Ilie, participants who listened to high-pitched classical music were more successful at completing a task focused on creativity—and reported being in a more pleasant mood while doing so. And when it came to completing tasks that required rapid decision-making, people who listened to faster-paced music did better than those who listened to slow music. The results illuminate music's ability to impact our mood and arousal. Try completing your household chores with a more upbeat soundtrack next time and see how it goes.
Music brings people together.
Dr. Stewart, who also serves as co-director of Dalhousie Medical School's Musical Humanities HEALS program, is particularly interested in the role music plays in the lives of emerging health care professionals. As part of the Research in Medicine program, she has supervised research on the similarities between health professional teams and singing or playing in a musical group. In another project, she's explored how the COVID-19 pandemic has affected a capella groups unable to sing in person. "If you've sung beside someone in harmony, it really shifts something in another setting. It really promotes that ability to interact with them. I'm really interested in professional choirs in health care—how people can actually get to know one another in that setting and sing and have fun together, and how that influences their interactions in the workplace."
Music can help us heal.
Research has shown music to have a remarkable power when it comes to addressing both physical and mental ailments—something Curry gets to see every day as a music therapist.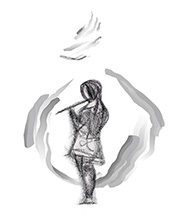 She explains that what distinguishes using music to feel better or differently and doing formal music therapy with a therapist is the clinical intent and experience. "It's using music as the therapeutic tool to reach non-music outcomes, whether that's a physical goal, a mental health goal, an educational or  developmental goal or overall wellness." She's gotten to make and share music with adults trying to re-learn movement after a brain injury, and kids working through speech deficits. Whether it's making music with a guitar, piano, or voice, or even just listening to recordings, she says it's immensely fulfilling to see how music can be a tool on people's journey towards living a better life on their own terms. "We say that music meets you where you are, and it can take you where you want to go."
This story appeared in the DAL Magazine Spring 2022 issue. Flip through the rest of the Spring 2022 issue using the links below.