Nova Scotia's first satellite has started its mission to space.

Engineering students from Dalhousie's Space Systems Lab (DSS) are in Montreal this week to transport a spacecraft they designed and built to the Canadian Space Agency (CSA) headquarters.
Their nanosatellite, also known as LORIS (Low Orbit Reconnaissance and Imagery Satellite), is making a big impact on Atlantic Canada. Once launched into space, LORIS will be the first satellite in the region to go to orbit.
That mission is set to take place sometime between August and October.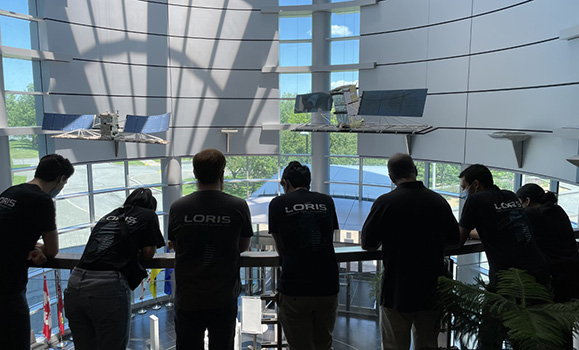 Dal's LORIS team pauses for a moment in the atrium at the Canadian Space Agency outside Montreal. (Provided photo)
A first for Dal students

In 2018, several universities across the country received federal funding from the Canadian Space Agency to design, build and launch nanosatellites and engage students in space exploration. The University of Victoria and Dalhousie University are the first to complete their projects.
While many of these universities already had experience building nanosatellites, this was the first time students at Dalhousie have undertaken a project in space engineering.

"Dal was one of the underdogs and that's why I really love this story. We've never touched a project like this," says Arad Gharagozli, founder of DSS and lead of the LORIS project. "Now, not only have we finished, but we are also one of the first to finish it in the country. That says a lot about our university and the things that we can achieve here at Dal."

Gharagozli founded DSS while completing his undergraduate degree in engineering at Dal. The group gives students the chance to explore opportunities and design challenges in space engineering. Through its different divisions such as the satellite group and a new rocketry group, DSS has engaged more than 200 students across all faculties on campus. The LORIS project had almost 90 students on board its mission.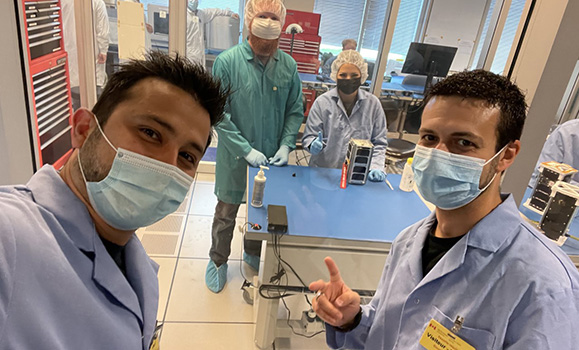 Gharagozli, founder of Dalhousie's Space Systems Lab, shown left with members of the LORIS satellite team in Montreal. (Provided photo)
Testing out space tech

Weighing in at about four pounds four ounces, the LORIS is similar in size to a milk carton. Although tiny, the compact spacecraft packs a significant amount of new technology including an onboard computer system and two cameras, which will send back data and images of the Halifax peninsula once in orbit.

Utilizing the Faculty of Engineering's expertise in additive manufacturing, energy-storage technologies and robotics, Gharagozli says many of the satellite's electronic components were designed at Dal and will be tested for the first time in a space environment. The satellite also includes new instruments designed by GALAXIA Space Missions, a space technology company Gharagozli founded in 2020.

"The most important roles that LORIS played for us were educating students, generating interest in space engineering in academia and hopefully creating more partnerships with companies to do research at Dal, and enabling companies such as GALAXIA to test their equipment in space."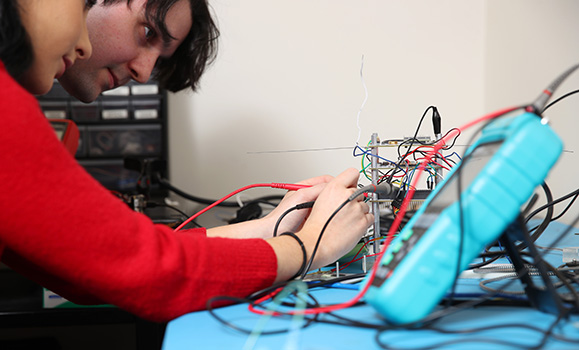 Engineering students work on the satellite earlier this year. (Nick Pearce photo)
Mission to space

Now in the hands of the CSA, LORIS will be integrated into a deployer system that will then be transported to NASA in Houston, Texas before being sent to Florida for its final launch into space.

"It'll be launched using a SpaceX Falcon 9 rocket on a re-supply mission to the International Space Station," says Gharagozli. "So they will bring the satellite along with food, research and other supplies."

Gharagozli says it'll take 14-20 hours for the rocket to reach the International Space Station. Once there, LORIS will begin its orbit around earth.
"Each orbit takes approximately 90 minutes, at about 420 kilometers above the Earth. That's about 7.5 kilometers a second," explains Gharagozli. "To put that into perspective, it takes LORIS about 2.5 minutes to fly from Toronto to Halifax.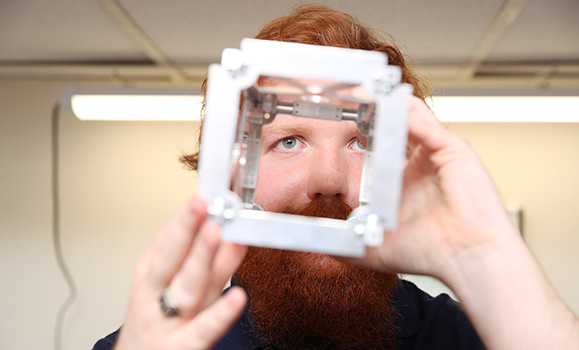 Small package, fast speeds. (Nick Pearce photo)

And what happens if LORIS fails to function once in orbit?

"A lot of people ask me that," he says. "It would be disappointing, but I also feel we've already completed our mission having had so many engineering students here in Halifax doing such a great job and completing a project to a point where we can say this was a successful four years of work and we finished it."

"We tried to create a positive environment and we tried to hold the students to very high standards, and for that reason, a lot of them ended up having great careers as soon as they left Dal."