This article is part of a series focusing on the grads of the Dalhousie Class of 2022. Spring Convocation runs from May 24 to June 3 in Halifax and Truro. Read all our profiles here as they are published, and for more information visit the Convocation website.
When Eptehal Nashnoush walked through the hallways of Dalhousie's Engineering buildings, she never felt out of place. She was a woman. She was of a visible minority. And she belonged.

Leadership, faculty members and staff all played a role in helping Sexton Campus feel like home. And for Eptehal, that made all the difference in the world.

"There has been a huge shift recently in gender equality, and I think the campus and the professors are very supportive," she says.
This support and encouragement inspired Eptehal to become actively involved in her community, and throughout her electrical engineering degree, she searched for opportunities to advocate for women and equity-deserving groups. She also wanted to showcase to aspiring students what it meant to be a modern-day engineer. 

"Growing up, I never had a role model to look up to in the engineering field, so I took it as an inspiration to be one. This manifested through my various involvements on campus and other national student led initiatives," she says.  "The thing about Dalhousie University is that it's very open to new innovative ideas. That gave me the confidence to think outside the box and bring new initiatives to the engineering campus."
Leading by example

These initiatives included her work with the Women in Engineering (WIE) society where she raised the profile of their Go Eng Girl conference. The annual event, which showcases to female high school students opportunities within the engineering field, went virtual for the first time in the Fall of 2021.

"We had women speakers from across Canada and the Caribbean. High schoolers joined us from all over the Maritimes. The impact was so big, that the Engineering society at the University of New Brunswick contacted us for assistance in beginning their own Go Eng Girl conference," says Eptehal.

Eptehal also played an important role with the Faculty's IEEE Student Branch (Institute of Electrical and Electronic Engineers) where, as vice president and then president, she executed events and opportunities that helped her fellow peers bridge the gap between academia and industry.

"With the pandemic, students were finding it difficult to land co-ops and interviews, so we really got to impact the engineering student body by hosting technical workshops, networking opportunities, panels, and resume roasts. It was motivating for me to fulfill that need."

Her involvement with IEEE sparked two significant moments in her academic journey. In the summer of 2020, she and fellow IEEE members (Megan Fudge, Anika Benson, Yara Martakoush, Sierra Sparks, and William Luton) drafted and published a report about the state of ethics in education in the Dalhousie Undergraduate Engineering Program. The report summarized gaps within the system, the importance of diversity, equity and inclusion, student testimonials, and proposed changes for the Faculty of Engineering.

"This was inspired through the Black Lives Matter movement in 2020. We addressed issues such as PPE (personal protective equipment) for women, multi-faith and racism.

We shared the report with the Faculty and got amazing responses. Departments were impressed by the report," recalls Eptehal. "Changes were made to the curriculum immediately. That was very powerful and a testament to how much professors care about this topic."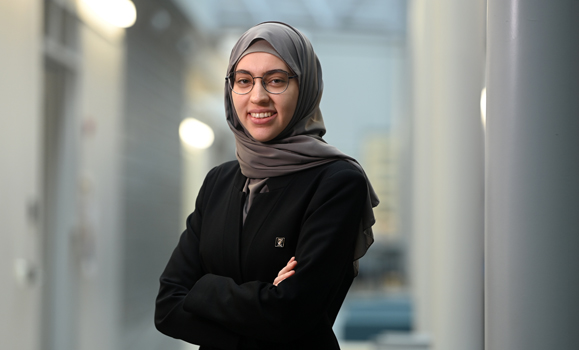 This past winter, IEEE was recognized for their valuable contributions on campus, winning the 2022 President's Equity, Diversity, Inclusion & Accessibility IMPACT Award. Each year the Dalhousie awards celebrate outstanding students and student groups that impact their community.

Drawing from the research collected in the ethics report, and experiences gained through her co-op work terms, Eptehal presented a TEDx talk last February exploring the challenges women in STEM face within the workplace.

"As a woman who is a recent engineering graduate, I was asked by an employer what I look for in a company? This question sparked so much thought in me. Corporations are struggling to attract new talent and retain existing employees, particularly women in STEM fields. This inspired me to introspect and investigate as to why that is. What I discovered was so profound that I had to share it with my community through a TEDx talk," she explains. "My talk explored strategies corporations can adopt to support and empower women to pursue and stay in STEM fields. I addressed topics such as menstrual leave & menopause in the workplace, multifaith space, and personal protective equipment (PPE) that actually fits!"
Moving forward

Although her journey at Dalhousie is now coming to an end, Eptehal says she'll continue advocating for women when she moves to Toronto this fall to complete her Masters of Management Analytics at the University of Toronto.

Excited to pursue her passion for data science and research, she says her electrical engineering degree at Dal has set a solid foundation for her future. In the third year of her degree, she was introduced to the world of Data Science and Artificial Intelligence through an online course at the Massachusetts Institute of Technology (MIT). At that same time, she also had the opportunity to join the Laboratory for Computational Physiology (LCP) at Harvard-MIT as a Remote Research Assistant where she examined how adults in the United States were selected for liver transplantations.

"The study revealed alarming metrics indicating African American and Hispanic patients with cirrhosis were less likely to be selected for liver transplantation procedure. This sparked my interest in Artificial intelligence (AI) and data science."

Her love for the field grew even stronger in the final year of her degree when she completed her senior year Capstone Project. Collaborating with a local medical technology start-up called Alentic, she worked on an innovative portable device designed to produce various diagnostic results such as a complete blood count from a single drop of blood. Her goal was to enhance the device's intrinsic image resolution and quality using machine learning algorithms.
"My main task in the project evolved to evaluating the reliability and effectiveness of the model we developed through statistical metrics. Here, the power of data science in establishing a device's dependability was eye-opening for me," she recalls. "That's when I decided to pursue a master's degree in analytics. I was extremely lucky to have worked with an exceptional capstone team and a supportive external supervisor like Dr. Alan Fine (founder and CEO of Alentic). My capstone project team and project were the highlight of my engineering degree."

"It's bittersweet to leave Dal, but the connections and memories I've made during my time here will remain with me forever," she adds. "I am excited to pursue my master's degree at the University of Toronto, and I can't wait to carry all that I've learned from my time at Dal to this next chapter of my life."